Nature's Own Is Recalling 3,000 Loaves Of Honey Wheat Bread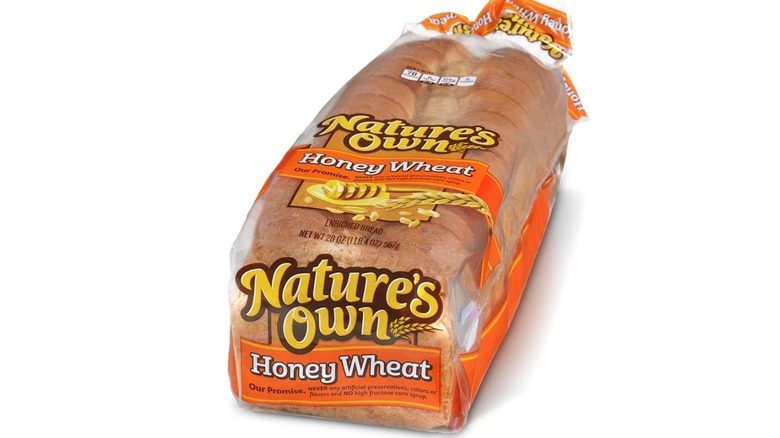 Nature's Own
On December 17, Flowers Foods, a 100-year-old company whose brands include Tastykake, Wonder, and Sunbeam Bread, among others (via the Flower Foods website), announced it was issuing a voluntary recall of 3,000 loaves of Nature's Own Honey Wheat bread (via a Flower Foods news release). On December 20, the FDA re-posted the company's announcement on its website, as a public service – something the FDA attempts to do whenever a company announces a recall, market withdrawal, or other safety alert (via FDA). The recall was initiated because of the actual presence of "undeclared milk" in the bread loaves, and consuming milk can be dangerous for people who have an allergy, or even just a severe sensitivity, to milk. In fact, as the company points out, "People who have an allergy or severe sensitivity to milk run the risk of serious or life-threatening allergic reaction if they consume this product." 
The recalled bread was sold throughout Arizona, Colorado, New Mexico, and Wyoming. They were also sold in the California cities of Blythe, Brawley, Calexico, Calipatra, El Centro, Needles, and Westmoreland, and the Nevada city of Laughlin. In addition, the recalled bread was distributed in Mexico via a California distributor. If you are allergic to milk or have a severe sensitivity to milk, you should not consume the recalled loaves. Here is everything you need to know about the recall.
Please read if you have a milk allergy or sensitivity
According to Flower Foods' news release regarding the recall, the company inadvertently packaged some 3,000 loaves of Nature's Own Butterbread, which does contain milk, in packages labeled for "Honey Wheat," which does not, and is not supposed to, contain milk. Neither Flower Foods nor the FDA disclosed how the mistake was discovered, but what is known is that it was NOT discovered in connection with any reported illness or incident. At this time, no illnesses or incidents have been reported with regard to the recalled bread loaves. 
However, if you are allergic to milk or have a milk sensitivity, you should not consume any of the recalled bread. Instead, you should discard it or return it to where you purchased it in return for a full refund. According to the Mayo Clinic, a person with a milk allergy may experience such symptoms as tongue or throat swelling, vomiting, hives, or wheezing in the immediate aftermath of ingesting the allergen. Symptoms that may emerge later include but are not limited to abdominal cramps, watery eyes, and a runny nose.
The 20-ounce single loaves bear a UPC of 0-72250-03706-8 and product codes of 128 346 03:00 through128 346 05:00.  The 40-ounce packages of two bear a UPC of 0-72250-00539-5 and product codes of 128 346 03:00 through128 346 05:00. All of the recalled loaves bear a "best by" date of December 26, 2021.