Costco Shoppers Are Buying These Festive Nutcrackers By The Case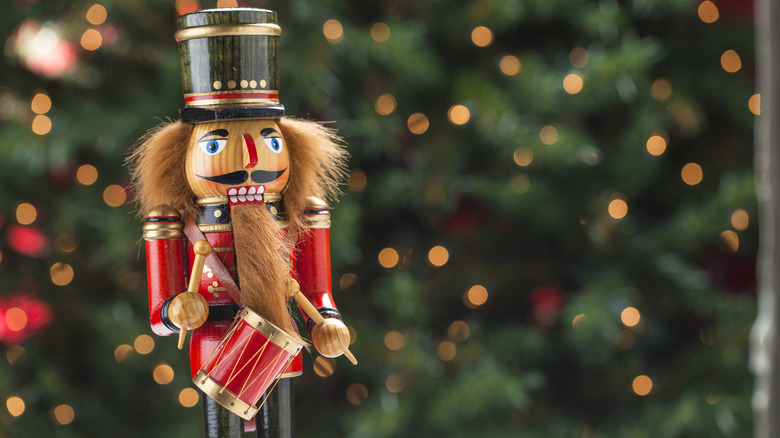 Dan Kosmayer/Shutterstock
Nutcrackers have been around since at least the 4th century B.C. when even the most rudimentary version of the tool — originally made from iron — was invented with the purpose of making it easier to, of course, crack nuts, according to The Nutcracker Museum. However, these days, the trinkets are probably much better known as festive Christmas décor more than a kitchen utensil when, around the holidays, many people decorate their homes by displaying their collection.
But these little wooden figurines only became associated with Christmas in the 19th century. While European artists began crafting beautiful wooden nutcrackers by around the 15th century, these treasures were not linked to any particular holiday until Tchaikovsky's "The Nutcracker" ballet was released in 1892. Because the production is set around Christmastime, people soon began associating its namesake figurine with the holiday, and the rest is home décor history, according to Better Homes and Gardens.
Even though it has been more than 100 years since Tchaikovsky's famous ballet was released, people still continue to incorporate nutcrackers into their Christmas celebrations. And this year, many have found the perfect one to add to their collection at Costco. The popular wholesale store is selling colorful tin nutcrackers painted with festive holiday attire — but these are no ordinary figurines. Inside each is a bag of rich chocolate truffles, and they are certainly a hit with Costco shoppers, as seen with this fan group on Tik Tok.
These Costco nutcrackers could make a great gift, too
One Costco shopper saw these tin nutcrackers flying off the shelves, and they couldn't help but share the news with their fellow fans online. Reddit user u/Eastcoastpal posted a photo, calling it "the most popular item today," explaining that they saw "two carts with multiple cases of them" pass by within just 10 minutes. While Reddit users had plenty of jokes to make about the nutcracker, they could also understand the popularity of the festive item. "It's that charming smile," joked one person, while the original poster agreed, adding, "It was surely seducing everyone to take him home!"
However, another Redditor had a different idea. "They would make excellent gifts for all those people you aren't really friends with but have to give them something, coworkers, teachers, that annoying neighbor that you avoid but they put a gift on your porch..." So if you've been searching for last-minute gifts for people on your list, perhaps this charming item is the perfect thing to leave under the tree (or on their porch). 
If the recipients on your holiday shopping list are not into nutcrackers, have no fear — there are plenty of other great holiday items at Costco, including festive decorations, toys, gifts baskets, or even tasty snacks and desserts.