Gingerbread Milkshake Recipe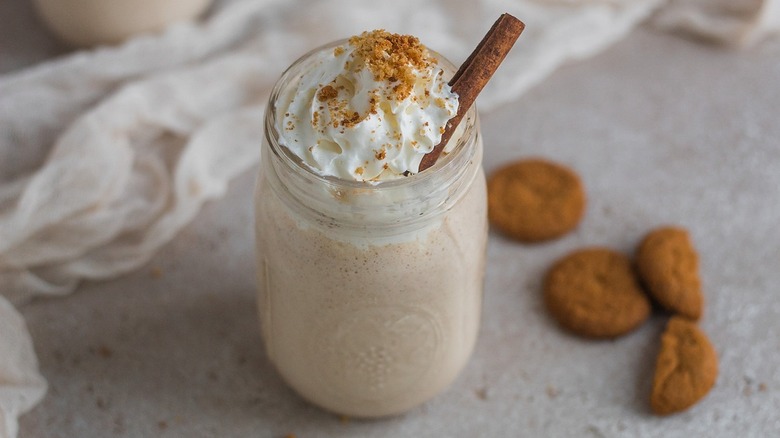 Jaime Bachtell-Shelbert/Mashed
There's something about gingerbread that feels most appropriate during the holidays. Could it be the warming spices? Or, is it one of those flavors that simply feels festive for no apparent reason? Whatever the case may be, gingerbread flavored foods are everywhere around the holidays, and we've got perhaps the most exciting iteration thus far: a gingerbread milkshake. That's right — you get all of the warming flavors of gingerbread, along with the cool, rich creaminess of a milkshake. Sorry, gingerbread cookies, but gingerbread milkshakes may just be the most delicious dessert of the season.
Recipe developer Jaime Bachtell-Shelbert of Wholly Nourished came up with this gingerbread milkshake recipe, and it is just as decadent as it sounds. "It's a sweet, creamy milkshake with the delicious flavors of vanilla and gingerbread," Bachtell-Shelbert describes. And, if it was any mystery whether or not those flavors taste pretty good together, the answer is a resounding yes. "My favorite thing is how tasty it is," Bachtell-Shelbert raves. "It's such a fun way to change up a milkshake and make it festive for the holidays!" We couldn't agree more, and we love how easy it is to whip this dessert together. With just a few ingredients and five minutes of time, you can make two servings of this tasty treat. So, let's dive right into this rich, sweet, and creamy gingerbread milkshake recipe!
Gather the ingredients to make gingerbread milkshakes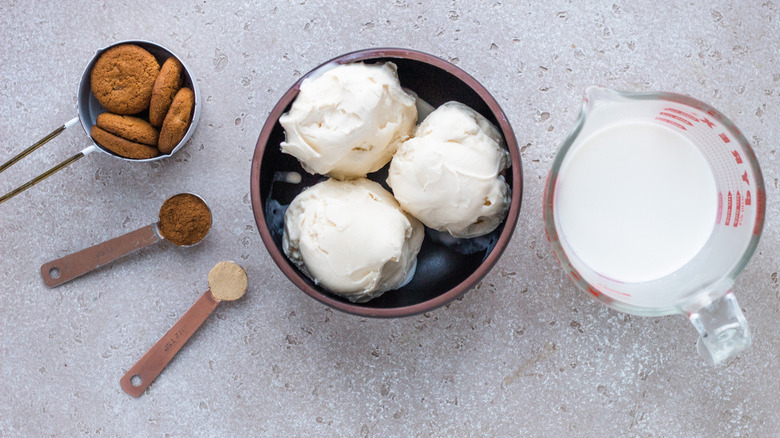 Jaime Bachtell-Shelbert/Mashed
Like most milkshake recipes, vanilla ice cream is the base ingredient, and this gingerbread milkshake is no exception. Aside from vanilla ice cream, you'll also need some gingersnaps, milk, ground ginger, and cinnamon. Optionally, you can top your milkshake off with whipped cream and crushed gingersnaps. As for ingredient modifications, Bachtell-Shelbert notes that you can switch up what kind of milk you use and opt for heavy cream, half and half, or even a non-dairy option. "I always encourage playing in the kitchen and modifying recipes to make them your own," she explains. 
Start by crushing the gingersnaps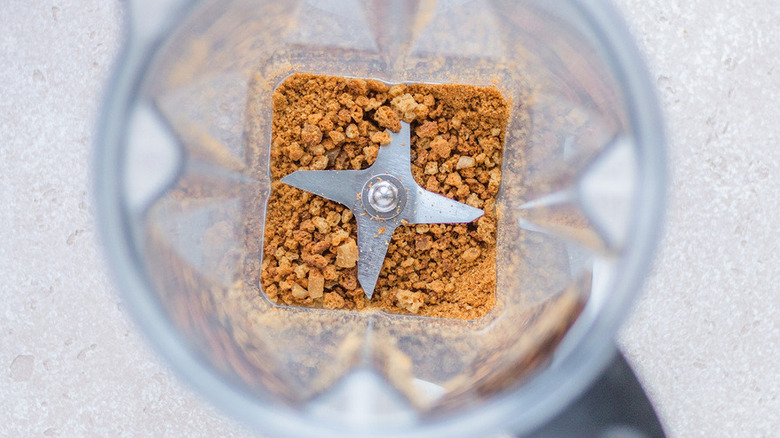 Jaime Bachtell-Shelbert/Mashed
The main ingredient that will give this milkshake a gingerbread flavor is the gingersnaps, so you'll start by working with those. Grab a blender, and add the gingersnaps in. Blend them up until they're crushed into small bits, as shown in the picture. Not only will crushed gingersnaps contribute to the milkshake itself, but they'll also serve as a garnish, adding both flavor inside and outside. And, of course, they'll help give the milkshake that wonderful golden brown color that we associate with gingerbread. 
If you want to use crushed gingersnaps as garnish, you may want to take a small amount out of the blender before adding the other ingredients. Otherwise, you could simply crumble some with your hand and sprinkle them on top of the milkshake.
Add the rest of the milkshake ingredients, and blend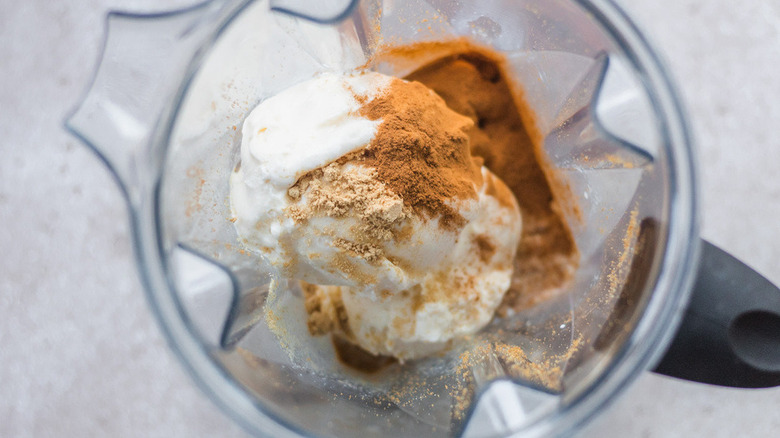 Jaime Bachtell-Shelbert/Mashed
Now that the gingersnaps are all crushed up, you can add the rest of the milkshake ingredients. Into the same blender with the crushed cookies, add in the vanilla ice cream, milk, ginger, and cinnamon. Blend these ingredients, ensuring that they evenly mix together and form a smooth, cohesive milkshake. If your milkshake isn't quite coming together, add in a little more milk. If you prefer it on the thicker side, go light on the milk — it all comes down to personal preference!
Garnish your gingerbread milkshake, and enjoy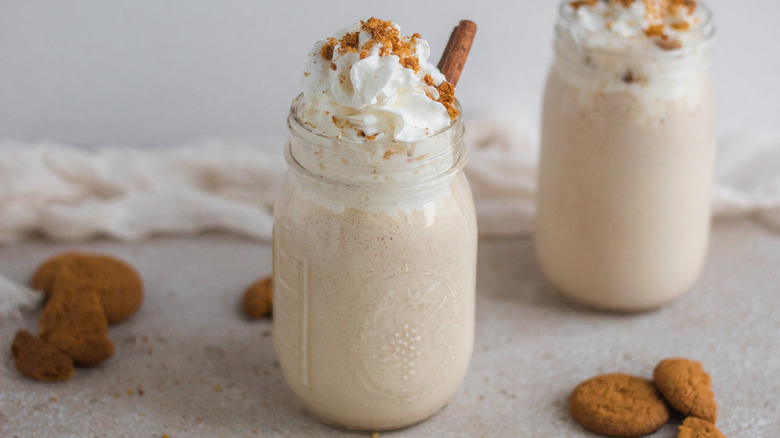 Jaime Bachtell-Shelbert/Mashed
Once your milkshake reaches a desired consistency, pour it out into two glasses. Bachtell-Shelbert serves her milkshakes with whipped cream and extra crushed gingersnaps as garnish, though you can get creative and opt for something like chocolate or caramel syrup. Or, you can simply enjoy the milkshake as-is! 
Despite being a cold beverage, the flavors of ginger and cinnamon are sure to warm you, and you'll revel in how easy it is to make. Gingerbread houses may be fun, and gingerbread cookies are a quintessential holiday treat, but this milkshake may just become your new favorite gingerbread treat!
Gingerbread Milkshake Recipe
This gingerbread milkshake recipe is a sweet, creamy treat with the delicious flavors of vanilla and gingerbread.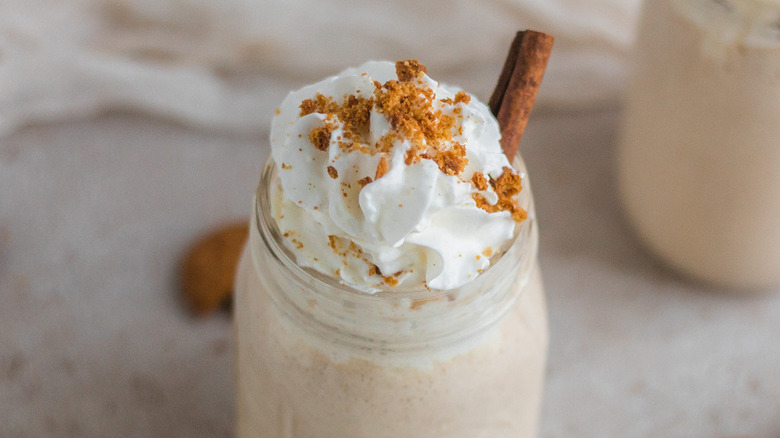 Ingredients
⅓ cup gingersnaps
3 cups vanilla ice cream
1 cup milk
½ teaspoon ground ginger
1 teaspoon cinnamon
Optional Ingredients
whipped cream, for garnish
crushed gingersnaps, for garnish
Directions
Place the gingersnaps into a blender. Blend until crumbled into small bits.
Add the vanilla ice cream, milk, ground ginger, and cinnamon. Blend until smooth.
Pour into 2 glasses, and top with whipped cream and crushed gingersnaps as desired.
Nutrition
| | |
| --- | --- |
| Calories per Serving | 529 |
| Total Fat | 26.8 g |
| Saturated Fat | 16.0 g |
| Trans Fat | 0.3 g |
| Cholesterol | 99.4 mg |
| | |
| --- | --- |
| Total Carbohydrates | 61.2 g |
| Dietary Fiber | 2.2 g |
| Total Sugars | 51.7 g |
| Sodium | 249.7 mg |
| Protein | 11.3 g |