Why Alcohol Might Be Banned On Flights Forever
Jaromir Chalabala/Shutterstock
Alcohol is becoming a real problem on planes. "There are more than 5,000 incidents already that have been violent in nature on planes, and so many of them are tied to alcohol," Ed Markey, the Democratic senator of Massachusetts, exclaimed to Yahoo! Finance of the 2021 tally.
Indeed, according to data shared by the Federal Aviation Administration, 2021 saw a massive upsurge in investigations into unruly-passenger incidents. Markey notes that much of the unruliness comes from an ideological opposition to wearing masks on flights. But as the government seems unable to enforce a mask mandate on airplanes, preemptively reducing the aggression directed towards staff who try to enforce their mask policies by cutting all alcohol available to passengers seems to be the best option. "If that opposition is then fueled by alcohol on that plane, it creates a dangerous situation, not just for the flight attendants, but for the passengers on that plane as well," Markey explains.
While the still hypothetical ban may be watered down to a strongly regulated alcohol supply in airports, the days of boozed up flights still seem numbered.
Restrictions seem to have been a long time coming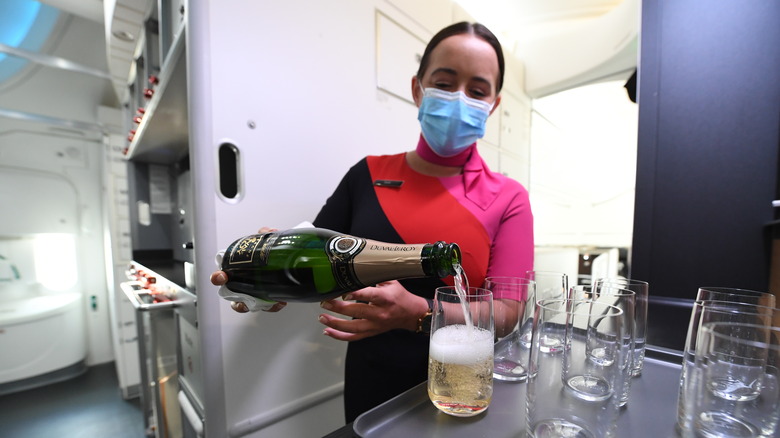 James D. Morgan/Getty Images
The idea of clamping down on alcohol in airports and airplanes has been bubbling for the better part of this year. After all, incidents recorded by Federal Aviation Administration seem to have skyrocketed.
In fact, CNN reported in May that American Airlines had joined Southwest Airlines in suspending the service of alcohol on their flights. This was after one drunk passenger struck a flight attendant, causing them facial injuries and the loss of two teeth.
The proposal has an industry-wide appeal though. Talking to NPR in August, Sara Nelson, international president of the Association of Flight Attendants-CWA, suggested limiting the sale of alcohol to passengers in airports and on planes. "I don't want to say that alcohol is always the cause for these events, but alcohol is the biggest contributor to them," she said. The issue, she continues, is that because fears of the coronavirus kept people from flying for so long, many have forgotten that the difference in altitude causes alcohol to hit harder in the air. Moreover, many are drunk before they even get on because they've been drinking while waiting for a delayed flight. Cutting the supply should stop the worst of the aggressiveness air crews experience.