TikTok Is Stunned At This Airbnb View That's Actually In A Restaurant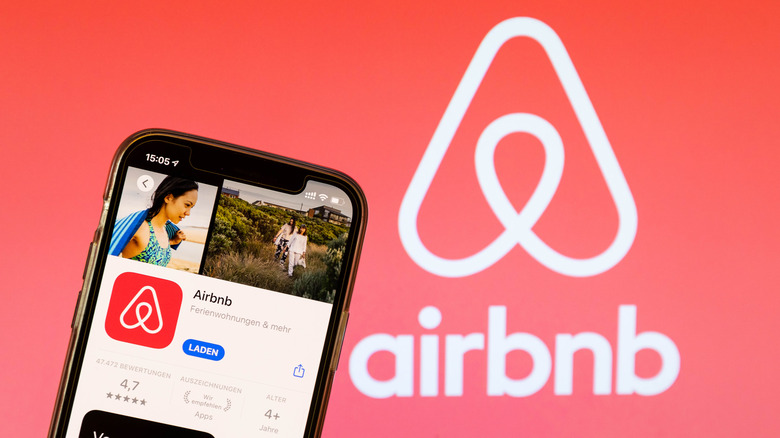 Defodi Images/Getty Images
Creative Airbnb experiences have stunned us before, but the view outside this room window is a true shocker. First shared by Desiree Rose Baker on TikTok, this now viral video gives new meaning to the term "onsite dining." Captioning the post, "HOW IS THIS LEGAL you literally can not make this up. I can open the window and touch their table," Baker takes viewers on a tour of the room to the window by the bed, where a window looks directly onto a couple dining in a restaurant outside. Viewers are as stunned as Baker with one commenter writing, "I SCREAMED... When you said 'in a restaurant' I did not anticipate people RIGHT THERE." 
In a follow up video, Baker shared more of the room and corresponding restaurant. While it does appear the window features one-way glass so diners can't look in, the window also opens so closely a guest could touch the tables (via TikTok). Commenters noticed that there seems to be a serious lack of security for both the restaurant and the overnight guests. "Couldn't you just go in the restaurant through the window after they close?" one person asked.
Simply put, this just doesn't feel right — and there's more.
An Airbnb room with a view?
The restaurant view is the Tempura in Times Square, which serves delicious-sounding sushi and small plates (via the Independent). Indeed it is real as the woman diner in the first video has reportedly reached out about the story. The room itself is part of the Cassa Times Square Hotel and Residences. Baker contacted her host "Kristina" about the situation, who reportedly said it sounded like "everything went and is going well." So, Baker reached out to Airbnb, who she said offered a credit towards a future stay. Baker reported that Airbnb told her, "Needless to say it definitely shocked us and it's not the experience we want our guests to have. We will definitely be following up with your host."
Further sleuthing has discovered more about the hotel and its policies, noting that perhaps the restaurant does not always extend so far onto the patio and that it might be possible to have the advertised city views. However, as Pix11 shared, these are considered discount rooms. Hotel manager Yulia Letenko shared a statement with Nexstar, which read, "Only six out of our 86 rooms are terrace-facing, and our policy is to place guests in those rooms only when no others are available, or upon request. These rooms are offered at a discounted price, guests are notified in advance about the restaurant, and we allow guests who do stay in those rooms to move as soon as another room becomes available."