How Geoffrey Zakarian Makes His Bolognese
Dave Kotinsky/Getty
If you're even a casual viewer of the Food Network, you're likely familiar with Geoffrey Zakarian, one of the network's top stars. A regular judge on the hit cooking competition "Chopped," a co-host on the food-themed talk show "The Kitchen," and an Iron Chef 2011 winner (as seen on the Food Network site), Zakarian is a constant fixture on the channel and is noted for his extensive expertise in professional kitchens, with a restaurant career that spans nearly three decades as well as a number of top-selling cookbooks (per his website). 
Like many food television personalities these days, including fellow "Chopped" judges Alex Guarnaschelli and Marcus Samuelsson, Zakarian maintains an active Instagram page, where he frequently shares his adventures in home cooking. From a pumpkin chiffon pie in this post (using Guarnaschelli's mother's recipe) to a photo of a zaatar-roasted chicken, the chef's creations always look super-tasty — and a recent image he posted of a huge holiday batch of bolognese sauce was no exception. Luckily, Zakarian shared a basic method for how to make the rich meat sauce — read on to find out what his secret is.
Zakarian's method for the perfect bolognese doesn't have a recipe at all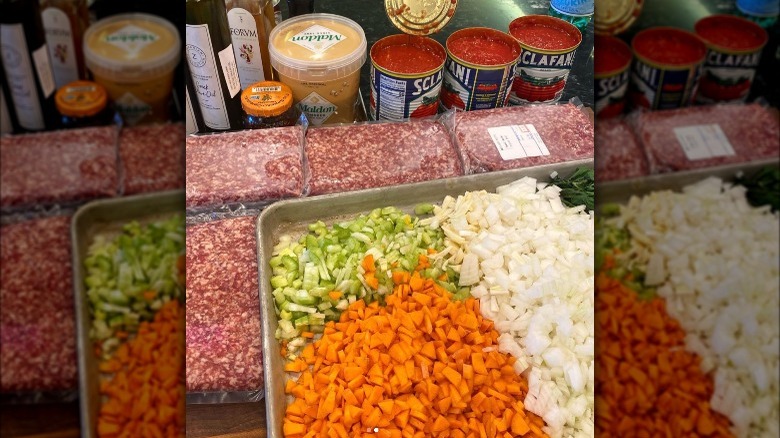 Instagram/geoffreyzakarian
If you've ever twirled your fork around a pasta laced with bolognese, then you know that this rich, meaty sauce is a classic for good reason. Typically built upon a hearty base of sautéed vegetables and diced pancetta, bolognese is cooked down until thick before being stirred into spaghetti, fettuccini, pappardelle, or any other pasta. It's a fairly simple recipe that can easily be made in bulk — which chef and Food Network host Geoffrey Zakarian demonstrated in an Instagram post. In a photo he captioned, "Scenes from yesterday's bolognese feast!!" you see a whole lot of fat-rich ground beef, several bottles of olive oil, loads of chopped veggies, and a few cans of tomatoes that are laid out ready to go.
When Zakarian's followers prompted him for the recipe, the chef added his method in the comments, noting that he doesn't really follow a recipe per say. "Celery, onion, carrots, garlic — all finely minced," he wrote. "Sear ground beef in olive oil until very crisp and brown and all water evaporated ... add all the vegetables. Sweat for an additional 15 minutes. Then add crushed tomatoes, salt/pepper, and optional milk. Add a parmesan rind, simmer slowly for an hour and a half."
Finally, Zakarian notes to add plenty of fresh basil, stir the sauce into pasta, and top with grated pecorino romano. "Love it! I did the same this week!" commented one follower. We're thinking we might need to bust out our largest pasta pot and get to work as well.