The Untold Truth Of Bar Louie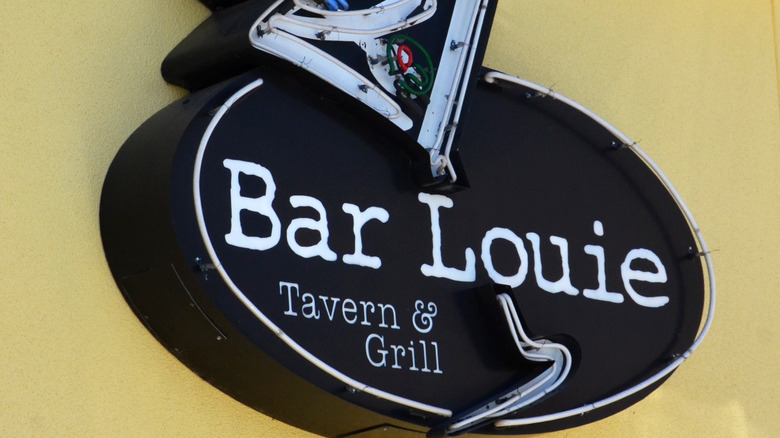 Susan Montgomery/Shutterstock
To paraphrase Mark Twain — or whoever it was that said it — reports of Bar Louie's death are greatly exaggerated (via Dictionary.com). Did it suffer one of the worst years of any restaurant chain ever in 2020, closing nearly half its stores and declaring bankruptcy? Yes. Did it close so many stores that people left without one nearby may have rightfully assumed it had gone the way of Bennigan's? Also yes. But lest we forget, Bar Louie is from Chicago. And if there's one thing a city full of Cubs and Bears fans knows how to do, it's deal with disappointment and press on.
Like a Chicagoan shedding their winter bod for beach season, Bar Louie has trimmed down considerably. The newer, sleeker version has risen from bankruptcy, and with the help of a couple of virtual concepts, some new art, and a couple of inventive chefs, is poised to return to its former late-night glory. But how did Bar Louie go from neighborhood staple to COVID-era catastrophe, and back again? Read on to learn the history of Bar Louie, and how it's looking forward to a better-than-expected future.
Bar Louie was born in Chicago in 1990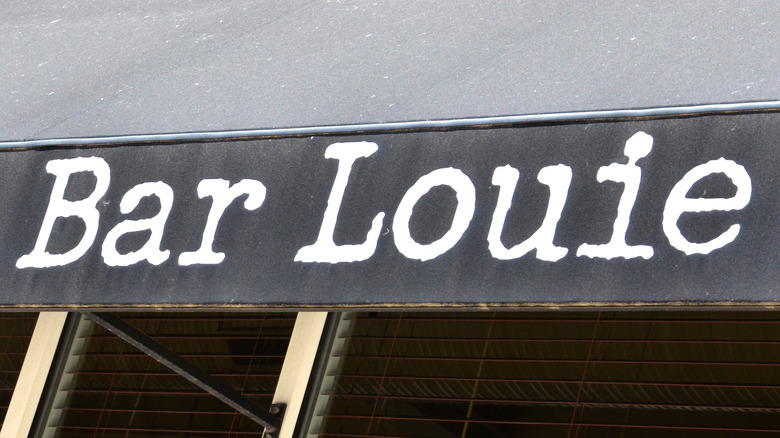 Susan Montgomery/Shutterstock
Much like yellow pencils, the telephone, and Lupe Fiasco, Bar Louie is a product of the Windy City (via WBEZ). According to the Chicago Tribune, its very first location opened in 1990 in Chicago's Near North neighborhood and immediately gained critical acclaim for its quality food and corner tavern atmosphere. The originators were Roger Greenfield and Ted Kasmir, longtime Chicagoland restaurateurs who wanted to open a more homey-feeling establishment.
"The first Bar Louies were neighborhood bars, maybe 20 seats max," Bar Louie Marketing Manager Amanda Star Cline told Mashed in an exclusive interview. "They were like a 'Cheers' kinda bar, where everybody knew everybody, where all the locals went."
The original Bar Louie location was situated at 226 W. Chicago Ave. in Chicago. While it was the originator of one of America's more unique restaurant chains, that location ultimately closed, according to Cline, and its Yelp page is a wasteland.
The original concept was based on big portions and eccentric attire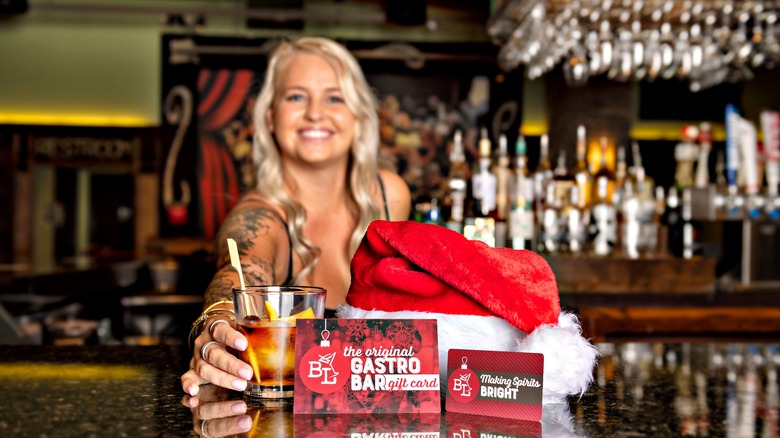 Bar Louie
Anyone who's ever stopped into Bar Louie for a quick after-work drink that led to two drinks and then a hamburger knows the portions here are no joke. Though not exactly Cheesecake Factory-sized, it's the kind of place where few ever leave hungry. This, according to marketing manager Amanda Star Cline, was always the intent, and the original locations brought people in with massive portions at a good value.
Beyond giving their customers enough food to last for a week, Bar Louie also encouraged their employees to show their freaky side long before tatted-up chefs and pink-haired servers were the norm. "In the '90s and early 2000s, tattoos were edgy, people didn't want to see piercings or colored hair," Cline told Mashed. "Bar Louie was on the front end of being inclusive, welcoming and appreciative of differences, and encouraged tattoos and piercings and colored hair in the early 2000s."
That mentality persists today, she says, as employees are still encouraged to express themselves in their appearance and presentation even as the rest of the world has caught up.
Bar Louie began expanding in 1998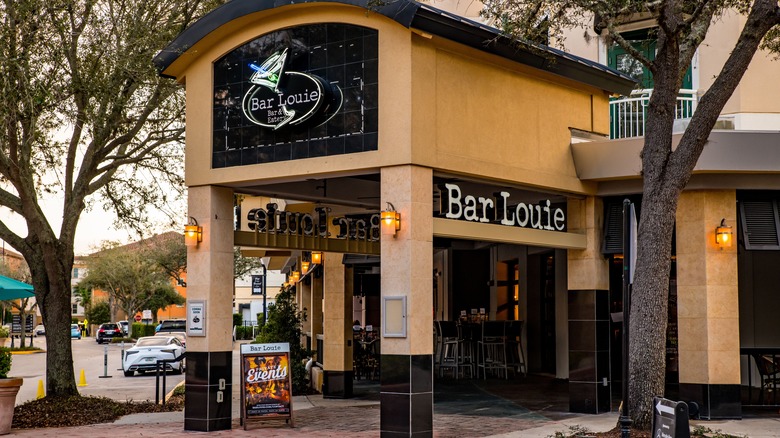 Bar Louie
The combination of big food and bigger personalities was a hit, and within a few years, Bar Louie outgrew its couple-dozen seats on Chicago Avenue. Eight years after opening its doors, Bar Louie began to spread throughout Chicagoland, reaching seven stores throughout the cities and suburbs, according to the Chicago Tribune.
Not satisfied to merely be a regional powerhouse, Roger Greenfield and Ted Kasmir set their sights outside Chicago. By the next decade, they expanded Bar Louie's reach throughout the country, ultimately reaching 44 restaurants by 2010. Their success caught the attention of some serious investors, and that year Greenfield and Kasmir sold the concept to Sun Capital Partners for an undisclosed amount of money. Sun Capital also began the franchising era of the company, which was integral to its growth during the years that followed.
With increased financial backing, the new owners of Bar Louie took the operation even wider, expanding to a peak of over 140 locations throughout the United States. While that number was impressive, it was ultimately not sustainable, and the overly-ambitious expansion led to serious problems.
Bar Louie grew a little too fast and brought in new management in 2018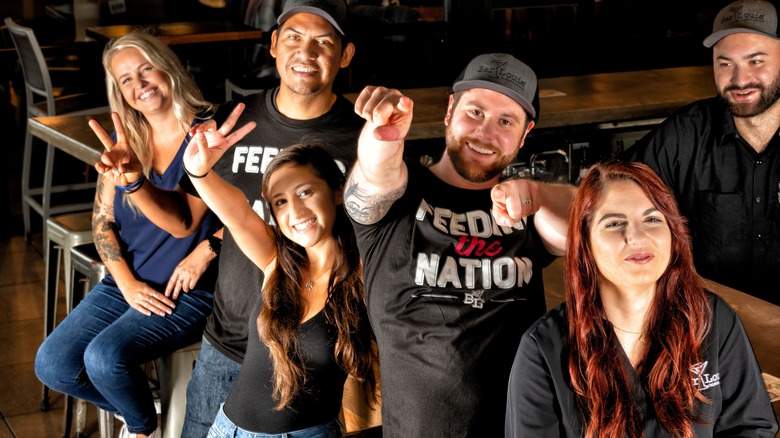 Bar Louie
Growing pains are tough, especially when you expand nearly fourfold in under a decade. By 2018, Bar Louie had pushed its numbers to 110 corporate-owned stores and 24 franchises spread across 26 different states, according to FSR magazine. Managing an operation that large proved tricky. While some locations were booming, others were not doing as well, and the have-nots were weighing down the haves.
Bar Louie brought in new CEO Tom Fricke to try and turn things around. The chain started implementing new features like the Louie Nation Loyalty Program for frequent guests. They also added covered patios to increase all-weather outdoor dining capacity. In about three-quarters of the corporate-owned stores the program was working, according to FSR. The problem was, Sun Capital didn't have quite enough ... capital to make the changes everywhere. So while the changes worked, not enough restaurants were able to implement them.
In 2020, Bar Louie declared bankruptcy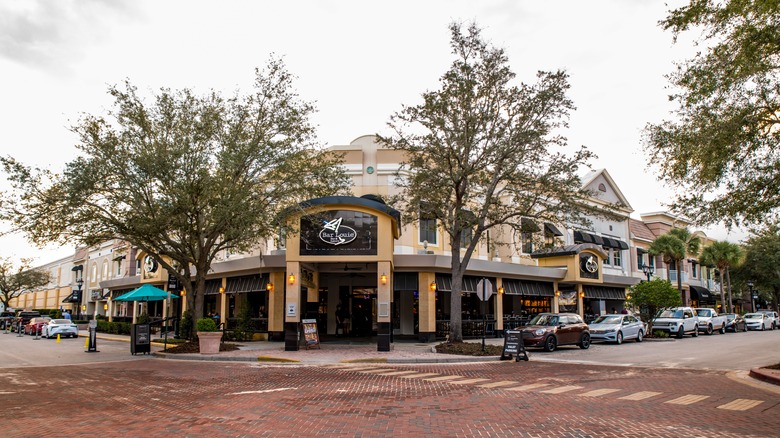 Bar Louie
With sales in many restaurants still lagging, Bar Louie had some important decisions to make. According to FSR magazine, the chain's debts totaled about $110 million, while its assets amounted to as little as $50 million. You don't have to be a finance major to know that those aren't the kind of numbers that make for a successful restaurant. So in January of 2020 — a couple of months before the COVID-19 pandemic devastated the entire industry — Bar Louie filed for Chapter 11 bankruptcy protection.
"The company just grew too fast," Marketing Manager Amanda Star Cline told Mashed. "Maybe there were some Bar Louies in areas where they weren't able to keep up from an income standpoint. I wasn't there for those decisions, but we just grew too fast and couldn't keep up."
As part of the bankruptcy, Bar Louie closed 38 corporate-owned locations immediately, according to the Chicago Tribune. Those stores had seen sales decrease by 11% in the preceding year, and were an easy choice to be first on the chopping block.
Bar Louie shut a ton of locations in 2020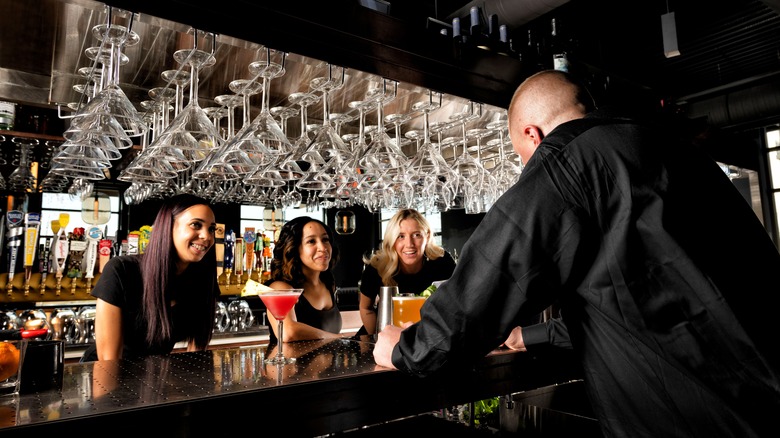 Bar Louie
When it filed for bankruptcy in 2020, Bar Louie wasn't at its peak number of stores, but still boasted a robust 134 locations across 26 states, according to the Chicago Tribune. That year would be a veritable blood bath for Bar Louie, and by the time the dust had settled, 60 Bar Louies had shut their doors in just a year.
According to an account of the bankruptcy in FSR magazine, Carl Meitner, who was the managing director for Carl Marks Advisors and the chief restructuring officer for Bar Louie, was the catalyst for the massive closures. During a crucial strategy meeting, he suggested the restaurant's management team leave the room to come up with a number of locations they thought should shutter. Before they left, he suggested around 40.
"There was initial shock," Meitner told FSR. "But I did that because I didn't want them to come back with eight or nine."
In June of 2020, Bar Louie came out of bankruptcy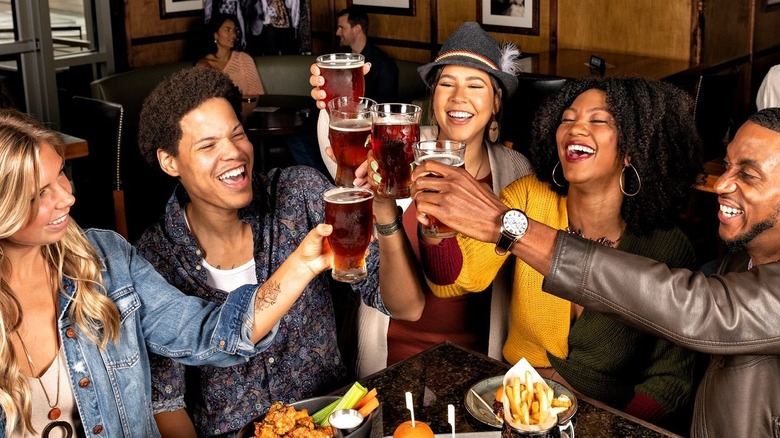 Bar Louie
In the midst of the entire world shutting down, somehow Bar Louie managed to crawl its way out of Chapter 11 bankruptcy less than six months after filing. The strategy of making the chain leaner had worked, and it didn't take Bar Louie long to find a bankruptcy buyer. According to an account of the bankruptcy in FSR magazine, on April 27 the chain got approval for sale to Antares Capital LP, who took on $82.5 million of Bar Louie's debt.
For those not fully versed in bankruptcy nuances, that basically means that Bar Louie was able to continue on after a significant investment from an outside source. While that means little to the person going for a drink on a Friday night, it meant a lot to Sun Capital, which still maintains operational ownership of Bar Louie, and is able to keep its slimmer stable of profitable locations running.
The new locations are getting a complete makeover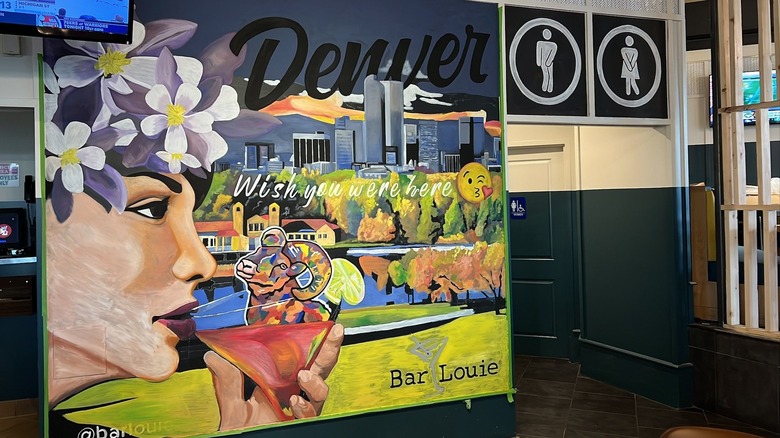 Bar Louie
With a more streamlined lineup of stores and enough capital to implement changes across all locations, Bar Louie has now set out to modernize its sometimes-outdated restaurants. First among those projects: bringing the interiors squarely into the 2020s.
"Before, our artwork was black and white, and lackluster, and dated. It looked like 'Club Louie,'" Bar Louie Marketing Manager Amanda Star Cline told Mashed. "Right now, we're working through renovations and bringing in artwork that reflects the craft."
The craft of what, you ask? The craft of being a neighborhood bar, obviously. That includes paintings and photos that are big, sexy closeups of cocktails with dripping condensation. It means blueprints of popular bar tools, and images of classic bartending scenes. Gone are the days of nondescript twentysomethings dancing their way to bad decisions. In their place is a tribute to the ingredients that go into making Bar Louie a better chain restaurant.
Every Bar Louie looks different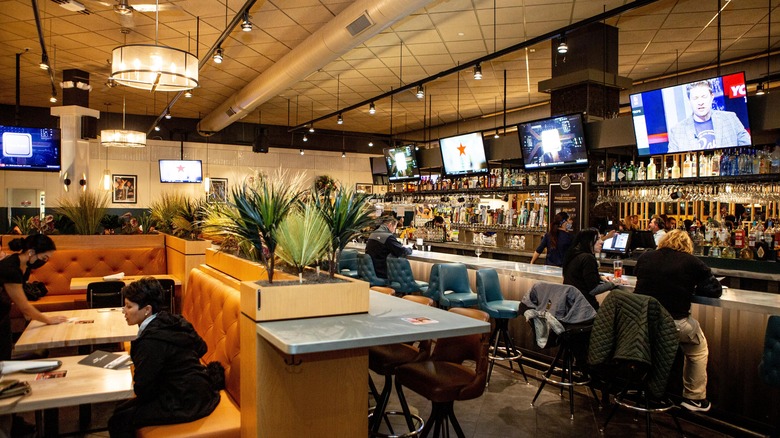 Bar Louie
Some chain restaurants trade on the feeling of home, ensuring that when you step into a Tony Roma's in Dubai, it looks exactly like one in suburban Cleveland. Bar Louie goes the other direction, and in its effort to create a neighborhood bar atmosphere, Bar Louie is the opposite of cookie-cutter. According to Marketing Manager Amanda Star Cline, no two locations are the same, with some wedged into existing spaces in neighborhoods and some standing as parts of newer, multi-use developments.
"Central to Bar Louie is the idea of being local," she told Mashed in an exclusive interview. "We hire people who represent the communities. (We have) regional menus and artwork too."
To boot, as part of its post-COVID refreshing of the remaining Bar Louies, the restaurant is partnering with local artists to spruce up the spaces. Chefs are creating menus with food that's reflective of the stuff people in each area are going to eat, and each location carries local beers and spirits that other locations won't have.
Bar Louie crafts its menu depending on where it is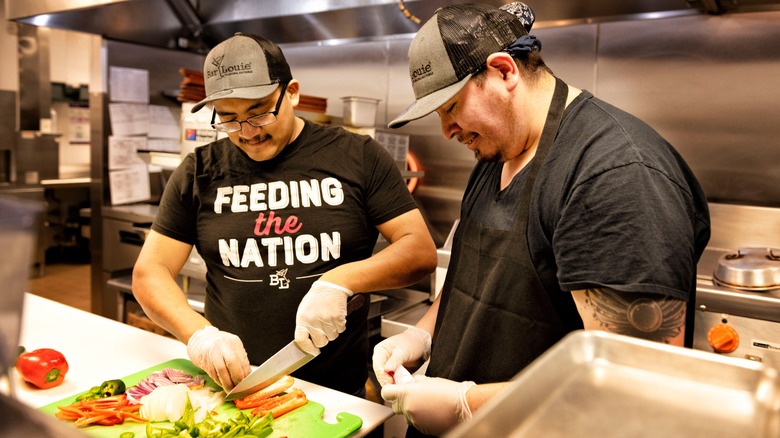 Bar Louie
A major part of Bar Louie's strategy of differentiation is offering food in different markets that reflects what people in that area want to eat. It's more than just putting a Cuban sandwich on menus in Miami and offering crab cakes in Baltimore: As Bar Louie Marketing Manager Amada Star Cline told Mashed, it's about looking at local dietary preferences and developing the menus accordingly.
"We've got two powerhouse chefs who are really gutsy," she raved. "So we have regional items ... in Coconut Creek, Florida, we'll have fresh shrimp tostadas. But in Perrysburg, Ohio, you know, we'll have steak and potato flatbread and a meatloaf stack."
Menus still include some staples, though. For example, the Louie's Choice Cheeseburger is on menus nationwide. Every quarter, the restaurant releases a new burger on the menu, just to keep the chefs on their toes. Cline says her chefs, Matt Baum and Steve Madonna, listen to what people want, draw inspiration from communities, and design the menu from there.
Bar Louie did not offer third party delivery until recently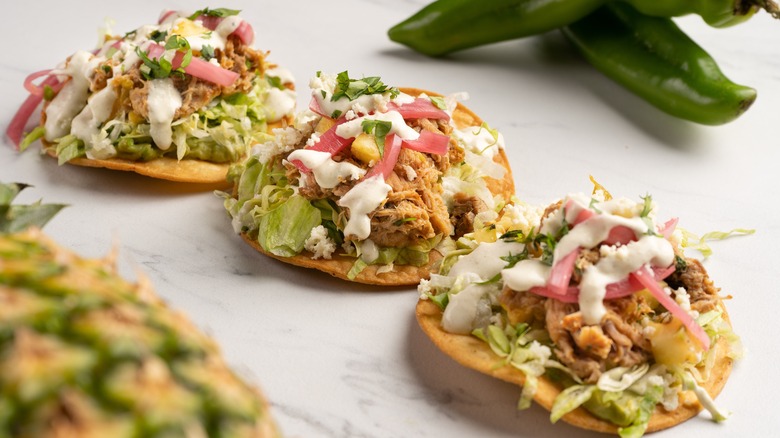 Bar Louie
COVID-19 moved a lot of previously hesitant restaurants into the world of delivery. And despite obscene third-party app fees and the even-obscener amount of trash food delivery creates, Bar Louie ultimately got on board in 2020.
"We were resistant to jump into third party delivery because we wanted to still have that restaurant feel, so fresh you can't get it delivered," Bar Louie Marketing Manager Amanda Cline Star told Mashed. "We pivoted for COVID, we wanted to meet our guests where they were at, sheltering away from COVID. "
At the beginning of 2020, you couldn't get Bar Louie food on any delivery platform. Today, according to FSR magazine, you can find it on six. What's more, while not so long ago Bar Louie garnered none of its revenue from food delivery, today it accounts for nearly 15%. Some of that is thanks to its regular lineup of food. But like many food businesses in the last couple of years, Bar Louie also got into the world of ghost kitchens.
Bar Louie has developed two virtual kitchens
Olga Miltsova/Shutterstock
Bar Louie developed two ghost kitchen concepts over the past year. The first was Sweet Lou's, which sold wings, sandwiches, and sweet treats. Though FSR reported that the concept was testing in Dallas and Cleveland in 2020, Bar Louie Marketing Manager Amanda Star Cline said the restaurant has "retired" Sweet Lou's, instead focusing on Macs and Stacks.
This concept is a carb and cheese lover's dream, with a massive menu of creative macs and cheeses complemented by an equally astounding collection of grilled cheese sandwiches. These aren't your basic boxed mac dinners either: The mac and cheese offerings include stuff like the Pitmaster with barbecue pork, pimento cheese, and cornbread crumbles. The grilled cheese selection runs the gamut from the OGC with herb cheese and toasted parmesan, to the God'Feather with tomato sauce, mozzarella, provolone, and fried chicken breast. Cline says you'll find Macs and Stacks based out of 50 Bar Louie locations nationwide.
Bar Louie is working with local artists to create murals at its remaining destinations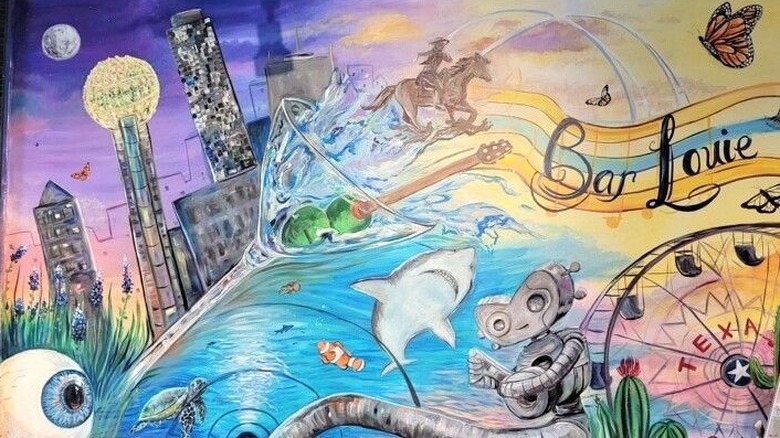 Bar Louie
Another part of Bar Louie's big refresh is painting big, colorful murals at each of its locations, painted by local artists with regional influences. Among the first murals to grace the walls of Bar Louie was the one at its Dallas Park Lane location, depicting the Dallas skyline, sharks, a Ferris wheel, and the city's famous eyeball sculpture. The eye — a bloodshot eyeball sculpture from artist Tony Tasset — stands outside the Joule Hotel (via Fast Company).
In Denver, a mural from Tejano artist Randy Segura adorns Bar Louie. The work includes mountain goats, Columbine flowers, and other Colorado icons. "I loved this work so much I wanted to send him to other locations," Bar Louie Marketing Manager Amanda Star Client told Mashed. "But we've gotta keep it local." Still, Cline says this mural will still stand as an example to mirror in other stores, another way of making each Bar Louie look a little different.
Bar Louie is opening a new location in Round Rock, Texas in 2022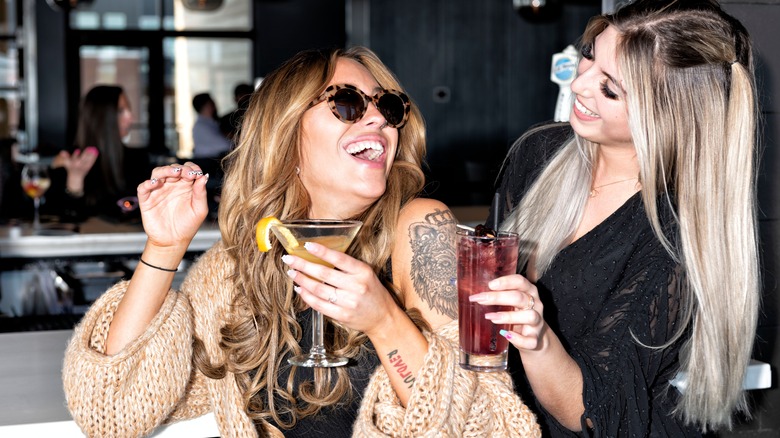 Bar Louie
After unprecedented corporate contraction, Bar Louie looks poised to move forward with its new streamlined and updated business model. While the one in your neighborhood may have shuttered in 2020, that doesn't mean Bar Louie will be joining the list of beloved chain restaurants that totally disappeared any time soon. "After restructuring and sharpening our focus, we believe we now have a strong foundation in place that will give us new opportunities for growth and development," Bar Louie Marketing Manager Amanda Star Cline told Mashed in a follow-up email.
And Bar Louie is putting its money where its marketing speak is. In January of 2022, the chain is set to open its newest location in Round Rock Texas, not far from Austin. Bar Louie is now based in Addison, Texas, so opening a new spot nearby makes sense. Whether the lessons from uncontrolled growth have been learned remains to be seen, but Bar Louie is far from dead, and if you're a fan of drinks, good bar food, and stomach-stretching portions, its survival is welcomed news.