Why You Should Never Ask A Bartender To Make You An Appletini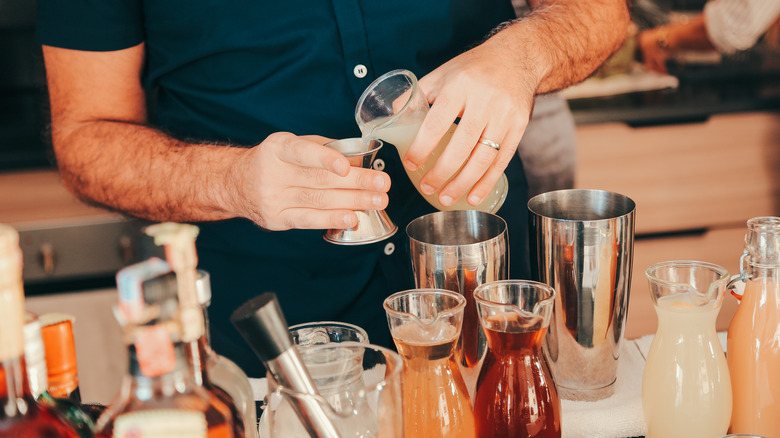 Athena Nadi/Shutterstock
Not all cocktails are created equal, so it makes perfect sense why some boozy beverages are favored more than others, especially by the people behind the bar making them. While every mixologist has their own personal preferences for spirits, mixers, and garnishes, Town & Country did a bit of research and found that, overall, classic cocktails rank highest on the popularity meter. Some of these include a Margarita, French 75, Daiquiri, Old Fashioned, Sidecar, Manhattan, and Cosmopolitan. That being said, for every great cocktail there are two sugary, oversaturated bad cocktails.
Per Twisted, there are actually seven cocktails that bartenders hope guests never ask for, ranging from Long Island Iced Teas to Guinness (it's the hardest and most delicate beer to pour) — and their reasonings for hating each drink vary as well. Some bartenders complain of long ingredient lists while others say the machines needed to make some of these cocktails, like an espresso martini as one example, can cause a headache at closing time. However, one cocktail stands above the rest as being one of the most hated drinks among bartenders.
How to stay on your bartender's good side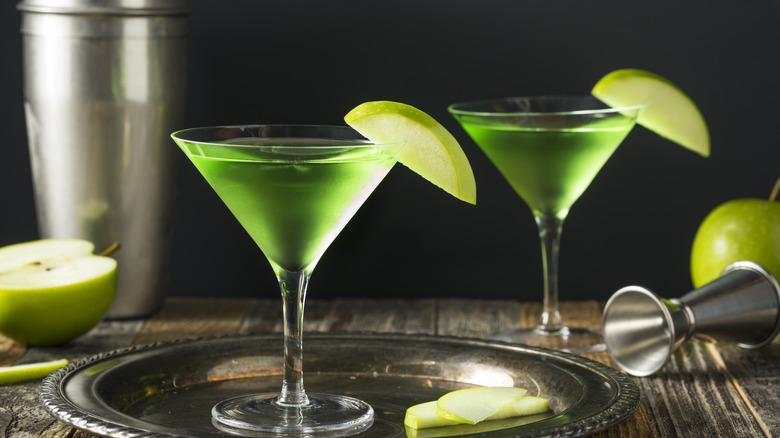 Brent Hofacker/Shutterstock
According to a survey shared with Twisted, an Appletini is one of the cocktails you should never order as it's the easiest way to get on a bartender's bad side. The results from the anonymous questionnaire, which surveyed approximately 260 bar employees, revealed that 49% of bartenders look down or "negatively" at patrons who ask for this drink. While you may not care what your bartender thinks of your cocktail of choice, it could affect your service for the rest of the night (i.e. longer wait times or run-down drinks). 
A New Orleans-based mixologist told Thrillist that Appletinis are hands-down one of — if not the — most embarrassing cocktails someone can order. "I'm not embarrassed to make them. I'm embarrassed for the people who order them," he quipped. In another story by Thrillist, a beverage director stated an Appletini is "not a real martini" and described the fruity boozy beverage as "that drink that unfortunately has still not died off." Looking to stay on your bartender's good graces, but still want something with a sweet punch? Request a Southside, which is made with gin, mint, lemon juice, and simple syrup.
Having a trusty bartender on your side may be worth the extra hassle during a night out. If you really want an Appletini, try whipping up your own at home. Per Delish, you'll need vodka, apple schnapps, calvados, ice, and sliced green apples for garnishing. Appletinis are a simple two-step recipe: Simply combine all ingredients (sans the apples) in a shaker and rigorously shake until ice cold. Then pour, garnish, and serve! Tip: Freeze your martini glass beforehand.