This Trader Joe's Christmas Charcuterie Board Is All The Rage On Reddit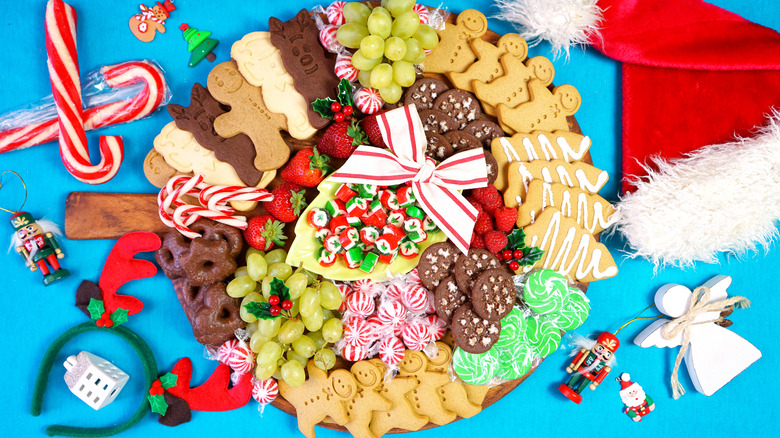 Milleflore Images/Shutterstock
Few grocery stores — or perhaps stores in general — seem to generate as much customer loyalty and excitement as Trader Joe's. The Pasadena, California-founded chain that's now more than 500 stores strong (via Reader's Digest) is one of the nation's top-selling grocery stores (via Supermarket News) and has spawned the extensive recipe and review site Trader Joe's Fan. It has also sparked a number of social media accounts that track new or exciting products available at stores, and a devoted subreddit, Trader Joe's Fans!, where TJ's lovers can be found sharing their favorite finds, product hacks, and, of course, photos of the dishes they've made using Trader Joe's products.
On a recent thread on said Reddit page, user RarePupper_ uploaded a photo of an absolutely enormous, lavishly decorated charcuterie board they created for the holidays using all TJ's offerings — and the post has attracted a ton of attention from fellow Trader obsessives. Read on to see what all the fuss is about.
A board full of meat, flowers, and fruit
On the Trader Joe's fan thread on Reddit, where shoppers of the grocery store chain share their TJ's triumphs and failures, user RarePupper_ shared a photo of a meat-and-cheese-loaded, intricately decorated holiday charcuterie board that they captioned, "A wee bit naughty and a whole lotta nice for our Christmas charcuterie board." Clarifying that the professional-looking appetizer board was created using TJ's products only, the user went on to list them: Five types of cheeses, including manchego and brie; Three types of cured meats, including Italian dry salami and prosciutto di Parma; And a variety of breads, fruits, vegetables, and flowers for color and contrast. Understandably, on a subreddit full of fellow TJ's devotees, the post attracted quite the reception.
"It looks like a lush tropical garden!" gushed user AspiringFeline. "This is a masterclass in presentation. Beautiful," echoed user EquivalentLake6. User Penny_No_Boat was also impressed by the poster's artistic flair. "I love the salami rose, the interlocking cheese slabs, and the winding path of sausage!" they added.
It's a beautiful charcuterie board, for sure. Interested in creating one at home and looking for some additional inspo? Unsurprisingly, Reddit's got your back, offering up not just one but two cured meats-focused subreddits, r/Charcuterie and r/CharcuterieBoard. We've got our own tips and tricks over on this post, as well. Happy creating!