This Is The World's Largest Underwater Restaurant
The way in which food is enjoyed is constantly evolving. From chefs to sommeliers and restaurateurs to bartenders, those who work in the food and restaurant industry are continuously looking for new, innovative ways to make dining out a bigger, more lavish, and immersive experience. Take the Eiffel Tower for example. The Parisian landmark offers three different food experiences including The Champagne Bar (located at the very top), The Buffets for quick dining, and Jules Verne, which is a luxurious Michelin-starred restaurant (via Tour Eiffel). New York City also has several outstanding food experiences, many of which take place miles high in the sky. Just recently, the city revealed Summit One Vanderbilt, a 1,401-foot-tall building situated next to Grand Central Terminal that offers "elevated snacks and bar service" from 93 floors up in the sky, per The New York Post.
It wasn't too long ago that frozen TV dinner trays and fast food drive-thrus were the cool, new thing. Then, the food and restaurant industry welcomed guests into some of the world's most notable landmarks and monuments. Now, there's a new immersive experience, and it doesn't take place on land or in the sky at all. Meet the place known as Under, a half-sunken restaurant submerged in the icy, chopping waters of the North Atlantic Ocean five-and-a-half meters below the surface of Lindesnes, Norway.
Under offers a once-in-a-lifetime dining experience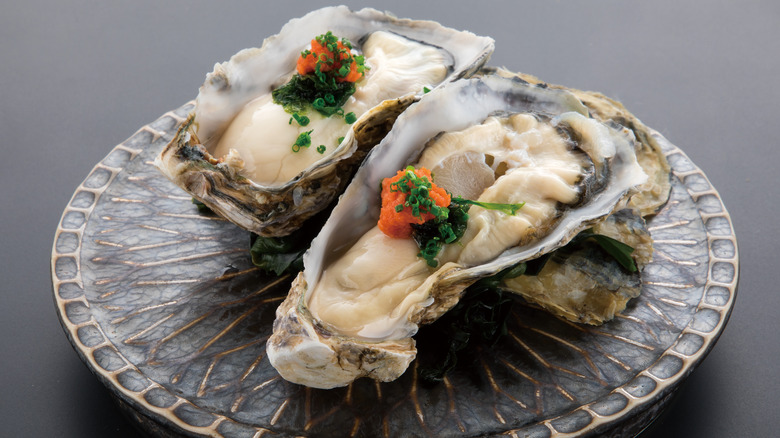 TKHS/Shutterstock
If you have a selective palate, then Under's localized seafood dining experience may not be for you. Headed by executive chef Nicolai Ellitsgaard, the underwater restaurant has only one menu — the Immersion Menu — that's inspired by ingredients and marine life native to the North Atlantic Ocean in Lindesnes, Norway where it's located. Described as a "gastronomic tasting menu," it features 15 to 18 Norway seafood delicacies composed of fish, shells, sea arrow grass, sea rocket and salty sea kale, wild mushrooms, succulent berries, and more, per Under's website. In order to truly reflect the evolving habitat and unique, seasonal ingredients of Lindesnes, the Immersion Menu is updated with new tastings each season.
An evening at Under takes place over the course of about four hours and will cost each guest upwards of $270 in American currency. The Immersion Menu costs $277 plus an additional $186 if you want to go with the restaurant's premiere wine pairings. Non-alcoholic pairings prepared by the front of house staff are priced at $96. It should be noted that all menu offerings are set in stone, meaning, they can't be altered in any capacity (i.e. vegetarian, seafood allergy, specific cocktails, etc.). Also, there is no children's menu. Children are welcomed (infants are not), though the restaurant notes on their website that the experience is not "optimal" for those 10 and under. Reservations can be made on Tock for groups up to eight people, up to six months in advance. Due to the length of the experience, guests are only seated between 6 and 8 p.m., and a deposit is required with the reservation.
Under's geological impact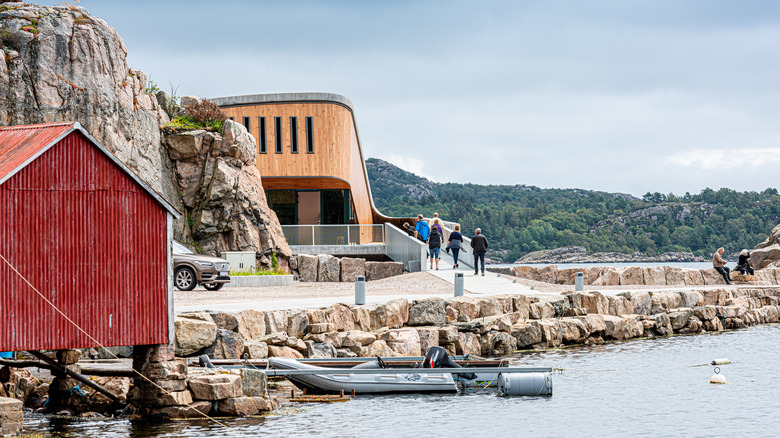 Trygve Finkelsen/Shutterstock
Under is just as well-known for its geological impact and architecture as its food. The building design, spearheaded by Oslo architecture company Snøhetta, celebrates "the coexistence of life on land and in the sea" and challenges guests to reevaluate their relationships with marine and wildlife, according to Under's website. As you travel from land to sea, guests are given an intimate view of the North Atlantic Ocean's marine ecosystem. The underwater restaurant boasts stunning acrylic windows, a descending sunset-inspired, textile-clad ceiling in the entryway, and panoramic ocean views in the dining room.
In order to build the world's largest underwater restaurant, engineers had to put in some serious legwork not only to make it indestructible to Norway's harsh oceanic elements, but to be of purpose to local marine life. For example, the restaurant's exterior or "shell" serves as an artificial reef and its concrete walls can withstand below sea level pressure and shock without disrupting the sea's inhabitants. However, Under is just as much a marine research institution as it is a spectacle and restaurant. 
Norway is home to The Institute of Marine Research (IMR), one of Europe's biggest of its kind, which now oversees the National Institute of Nutrition and Seafood Research (via IMR). Having access to an underwater microscope like Under can help restore the coastal ecosystem. In fact, the Norwegian government even sanctioned it as an "underwater laboratory" and offered funding for building and development and experimental studies, according to The Guardian. So eating here actually does good, too.