This Pioneer Woman Brownie Recipe Packs A Caramel Punch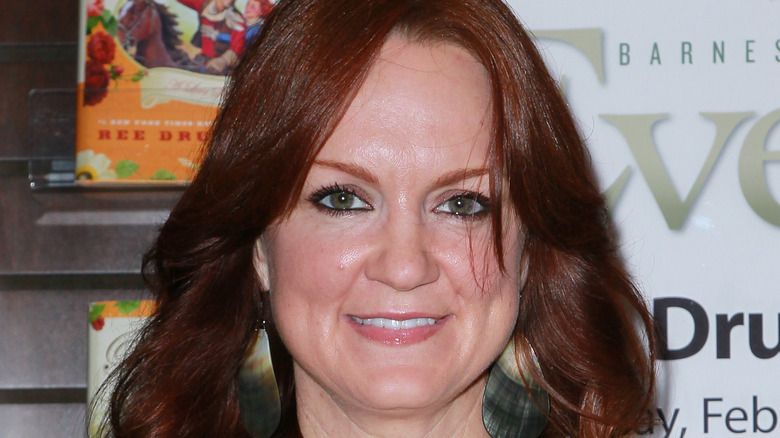 David Livingston/Getty Images
Ree Drummond is drumming up comfort food recipes left and right from the quaint, green pastures of her 433,000-acre family farm in Pawhuska, Oklahoma. The food blogger turned TV personality has created a full-fledged enterprise centered around The Pioneer Woman, her city girl-turned-ranch girl persona. As a mom to four children and five-plus pets, Drummond has a lot to juggle in her household or rather, farm. She single-handedly homeschooled her children — Alex, Paige, Bryce, and Todd — while authoring countless cookbooks (no seriously, her website notes she's written over 20 books) and launching a cooking TV show, magazine, and cookware line all under her brand's namesake, per Food Network.
When she isn't running her bed and breakfast or managing her part store, part deli, part bakery The Mercantile, she's experimenting with copycat recipes of her favorite restaurant dishes. The Pioneer Woman is known for her tender country fried steak, mouthwatering chicken enchilasagna (don't knock it 'til you try it), and decadent desserts. But her copycat recipes are just as reputable, and these brownies prove it.
These brownies will put you in a chocolate-caramel coma
Paulo Nabas/Shutterstock
Of all Ree Drummond's copycat recipes, her Knock You Naked Brownies rank supreme. According to her blog, Drummond adapted the traditional "Knock You Naked" recipe to better reflect one of her all-time favorite desserts: the sweet and savory Killer Brownies from Dorothy Lane Market in Dayton, Ohio. To do this, she swapped out the recommended rectangular pan for her preferred square pan and used only a third of a cup of chocolate chips (the original Knock You Naked recipe calls for a full cup). The five-step recipe is pretty easy to follow and should take no more than 40 minutes of your time, including prep work.
However, unlike traditional brownies, this recipe requires a few extra steps. Namely, you have to remove the brownies from the oven at the 10-minute mark so you can add melted caramel and chocolate. This step is extra tricky because the caramel has to be freshly melted, so you can't heat up the double boiler until after the brownies are out. If you are interested in whipping up a batch of these yourself, you should know that they must also be refrigerated for several hours before serving — but Drummond swears it's worth it.