In Anthony Bourdain's Career, One Recipe Stands Above The Rest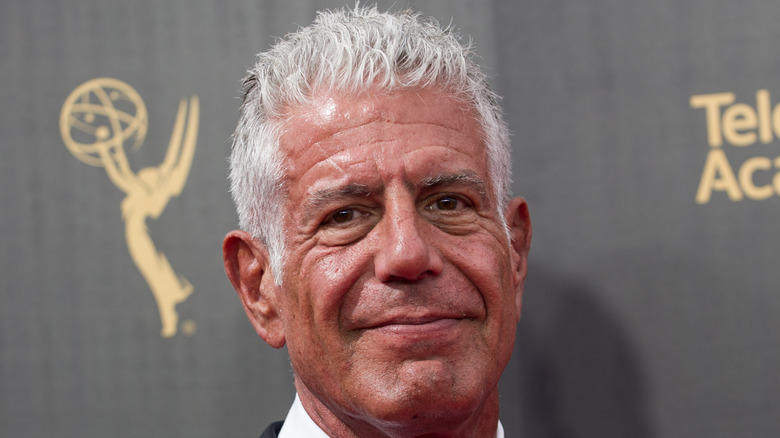 Emma Mcintyre/Getty Images
Narrowing down what to cook for dinner can be a task in itself. Forget about choosing which version, which recipe, or from which chef. While there seem to be infinite recipes out there for just about every possible dish, The Washington Post has found that one recipe seems to rule them all. Out of the nearly 10,000 recipes they've collected, the late Anthony Bourdain's boeuf bourguignon has perennially been one of the most viewed recipes the Post has ever indexed.
Back in 2004, The Washington Post published a piece comparing books on French cuisine by three very different prominent chefs, specifically looking at each of their takes on boeuf bourguignon. The chefs in question were Ina Garten, Thomas Keller and, you guessed it, Anthony Bourdain. While Garten took a shortcut-laden approach, seemingly more in line with the casual chef, Thomas Keller went in the complete opposite direction, focusing on a higher level of the culinary arts with a recipe that includes over two dozen ingredients. Anthony Bourdain took his own unique path. 
Bourdain and the boeuf bourguignon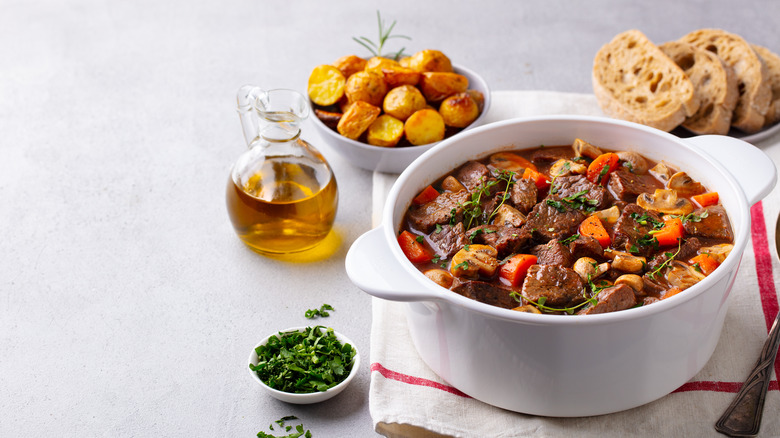 Anna_Pustynnikova/Shutterstock
Not all dishes need to be complicated. Nor need they be revised down to bare bones. The bare shoulder bone, in this case. This is how Anthony Bourdain's version became so popular, as his approach is neither overwhelming nor overly simplified. According to The Takeout, Bourdain wrote of his recipe that it's "one of the easiest dishes in this book ['Les Halles'], and also one of the best." While the ingredients only include 2 pounds of beef shoulder, carrots, sliced onions, and Burgundy, it's the attention to the simple details that make his boeuf bourguignon so beloved.
Bourdain recommends simply searing the little cubes of beef in batches, instead of crowding your pan with meat and subsequently cooling it down. Perhaps most notable about Bourdain's approach to boeuf bourguignon isn't even how he prepares it, but his emphasis on letting it sit, claiming that it's even better on the second day. Perhaps it's just that your mouth will be watering for it after waiting 24 hours, but then again, there's a reason why Bourdain and his bourguignon have remained so highly touted.