The In-N-Out Secret Menu Item Only Employees Get To Eat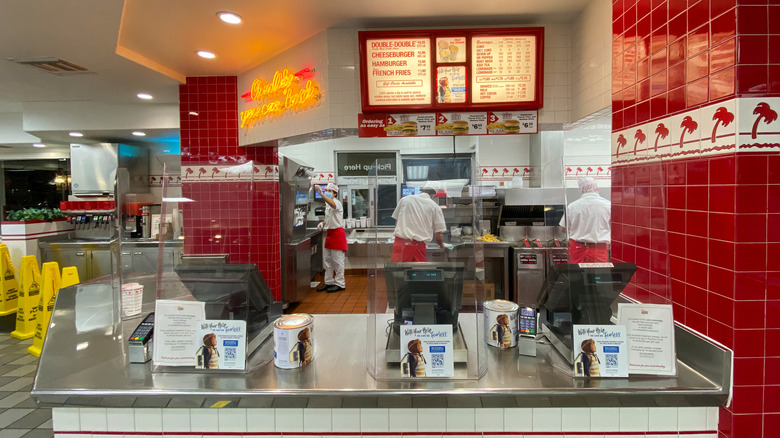 bonandbon/Shutterstock
Anyone who lives in or has visited California should be familiar with the iconic chain In-N-Out. Or if you live in one of the other six states — Arizona, Colorado, Oregon, Nevada, Utah, and Texas — where the hamburger joint has locations, according to the official website.
Known for its simple menu of hamburgers, fries, and milkshakes, all made with quality ingredients, In-N-Out has a big following of fans who are always eager to get their hands on an affordable and delicious burger. The founders, Harry and Esther Synder, opened up the first shop in 1948 with the main objective being to serve up burgers made with the freshest ingredients available, per the official website. Plus, ordering the not-so-secret menu is enticing, such as asking for a side of Animal Fries or a Flying Dutchman. 
In-N-Out treats its staff well by offering a free meal per shift, but there are some limits. For instance, Animal Fries are excluded, according to Insider. But you may be surprised to learn that the secret menu that isn't so secret (because they even mention it on their official website) has a whole other secret that is only for employees. So wait, there's another secret? If you feel proud that you are in the "know" about ordering items that aren't on the written menu when you walk into an In-N-Out, you may be shocked about another secret menu. 
Employees are creative with making new items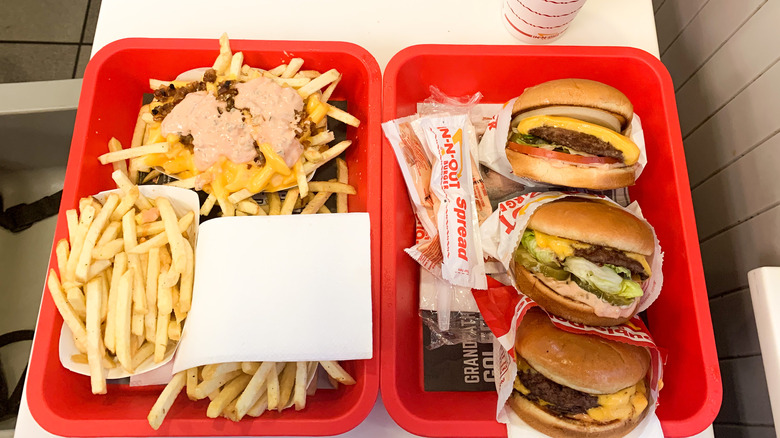 samroundy/Shutterstock
Each location has its own staff secret menu that they prepare for themselves. Yup, that's right. A former manager, "Kathy," told Thrillist: "Every store has their secret item that only the associates know how to make." Sounds like the staff get creative based on their mood and using the ingredients they have on hand. She gave some examples of what different staff made. "Some stores will cut potatoes long-ways and will make [fancy French fries] called mojos." Some employees want to take their burgers to another level. She also told Thrillist: "Others finely dice tomatoes, onions, and chilies, and top their burgers with the improvised salsa.
Kathy also shared that some employees would make other food items by bringing in their own ingredients to create a whole new meal: "They'd bring their own taco shells in," she explained. "I worked the early shift with some co-workers who made bomb-ass tacos." Now, next time you walk into an In-N-Out, you may be curious what the staff secret menu looks like. But even if you ask politely, employees aren't going to be able to offer you their creations.