Instagram Is Loving Padma Lakshmi's Boozy Ginger Tea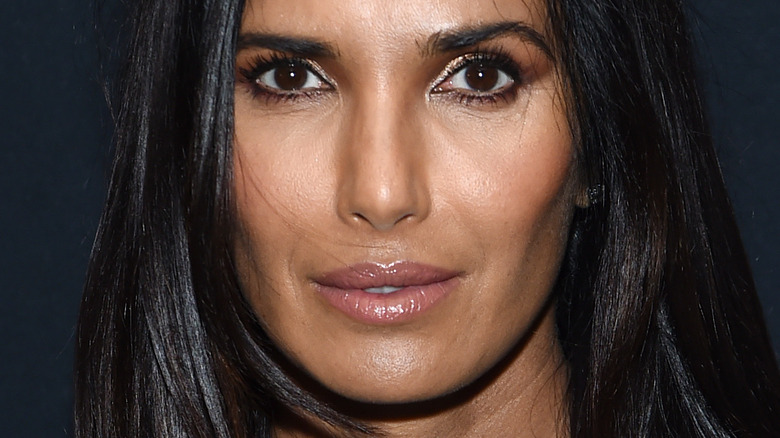 Jamie Mccarthy/Getty Images
Padma Lakshmi knows a thing or two about cocktails. During the pandemic lockdown of 2020, she created her own take on a margarita by muddling together Persian cucumber, Indian chili peppers, and mint leaves (via Insider). She then mixed these ingredients together with lime juice, sparkling water, agave, and tequila in a cocktail shaker to form a new take on the classic drink. Now, Lakshmi has once again taken to social media to show off another signature cocktail perfect for when the temperature drops.
Lakshmi uploaded a video to Instagram showing off how to make her take on a hot toddy. The post walked followers through the recipe, which involved combining oregano seeds, ginger tea, honey, lemon, and whiskey together. "It's cold AF in NYC today, but it's nothing a nice hot toddy can't fix. Use whatever tea you like. I like ginger!" Lakshmi's caption read. Followers loved the drink and couldn't wait to show their enthusiasm.
A perfect cold weather pick-me-up
Lakshmi's Instagram post was filled with excited replies. Some people praised the "Top Chef" host's "mad skills," while another remarked "That's so funny that's what I'm drinking now for my cold (except, I don't have any oregano seeds) Btw, even under the weather you look spectacular!" Lakshmi's choice of mug also got some attention, including from one person who said, "I don't drink so can't say much about the alcohol but your cup is FANTASTIC." Another commenter prioritized the cocktail's core component: "Forget the tea, just a glass of that whiskey or brandy and some Careless Whisper by the fire!" Someone else picked up on the cold weather vibes and said, "I have the same robe! Perhaps I will don it whilst I prepare a hot toddy."
If you need a new go-to cold weather drink, keep this Lakshmi creation on your radar. While a hot toddy might not actually stave off any illness, it can definitely keep you warmed up and feeling cozy as you escape any frosty weather that winter throws your way.