Sports Betting Might Soon Be Coming To Dave & Buster's. Here's Why
Dave & Buster's combines the entertainment of arcade games with that of a sports bar and grill. If you spent weekends at the chain as a kid and want to relive the arcade experience as an adult, then perhaps you still head to Dave & Buster's when a craving for laidback fun strikes. And if you're unfamiliar with the company, it began in the 1970s when Buster opened a restaurant and Dave founded an arcade in the same Dallas neighborhood. In 1982, they decided to combine forces and introduced one large food and games warehouse called Dave & Buster's, per the company's website.
Although Dave & Buster's is still known as a popular weekend or after-work hangout, its management is constantly looking for new ways to entice new customers and keep current fans coming back and spending money while they're on the premises. The pandemic, especially, has pushed the company to come up with innovative ideas for new income streams since it was forced to adapt to closures and loss of revenue, per FSR magazine. One key new venture for the brand is sports betting.
Sports betting is a natural next endeavor for Dave & Buster's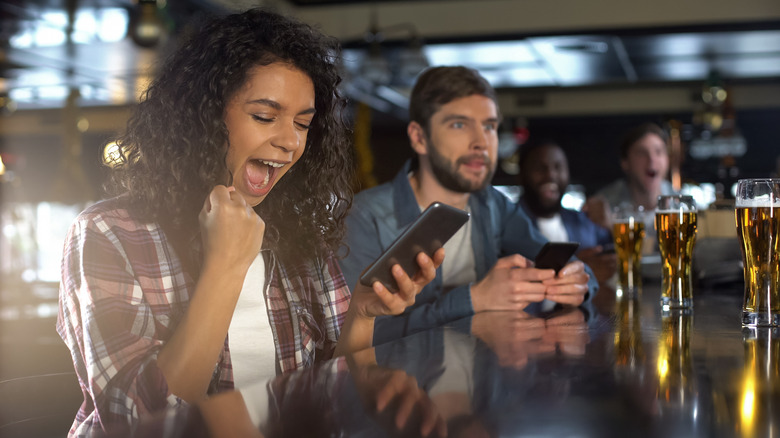 Motortion Films/Shutterstock
If you're wondering why Dave & Buster's is considering sports betting, interim CEO Kevin Sheehan explained to FSR magazine that it's all part of the company's "new phase of innovation, growth, and value creation." In April of 2021, former CEO Brian Jenkins told the publication that introducing sports betting "could represent a mean accelerator to our appeal as a sports-watching destination and better leverage our watch assets." Basically, adding sports betting to Dave & Busters' selection of entertainment could provide another income stream that would appeal to many of its sports-focused fans.
Sports betting abides by different laws and regulations that vary among states, so not all Dave & Buster's locations will be able to offer the service. Currently, the company plans to roll out the activity in 13 of its locations across three states. "You're going to focus more in the states with sports betting already in place and test the concepts and constructs over a course of a couple of quarters," Sheehan elaborated on the plan to FSR magazine. If you're a fan of Dave & Buster's, love watching sports, and want to be able to make bets, stay tuned because this is soon going to be a reality at some locations.