5-Ingredient White Bean And Pesto Salad Recipe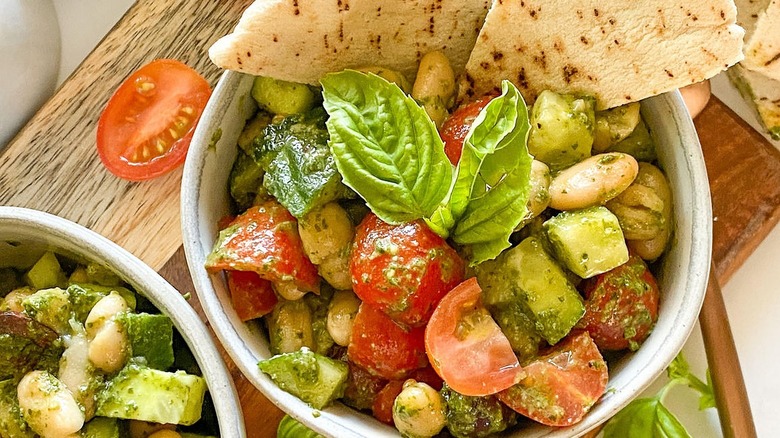 Miriam Hahn/Mashed
In the New Year, most of us have a goal of eating healthier or at least eating more fruits and vegetables in our weekly diet. This can be a hard challenge, as some vegetables don't taste all that appetizing. We've found that the biggest struggle in working towards this goal is creating produce-packed meals that don't skimp on flavor. Luckily, this 10-minute dish by recipe developer and health coach, Miriam Hahn is the perfect solution!
With canned beans, tomatoes, cucumbers, briny olives, and a zesty pesto sauce, this dish packs the ultimate flavor punch. In addition, this dish also comes together quickly — like really quickly! No sweating over the stove trying to whip up a healthy, balanced meal. In just 10 minutes, you can have a lunch or an easy dinner at the ready. This five-ingredient white bean and pesto salad utilizes minimal ingredients including canned beans and store bought pesto to aid in the quick assembly of this meal.
Gather your ingredients to make 5-ingredient white bean and pesto salad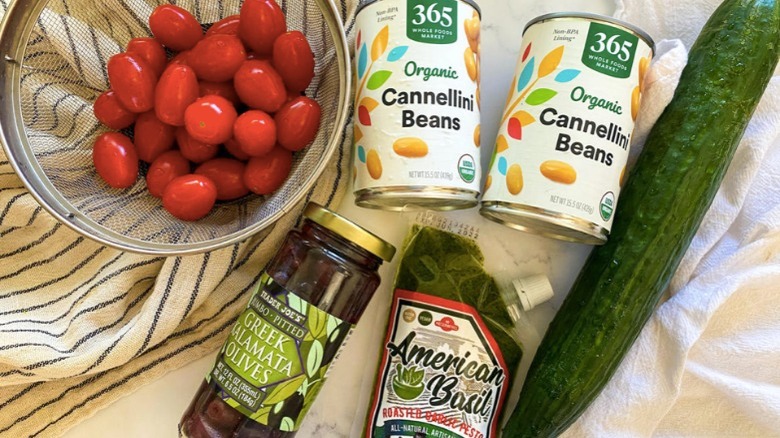 Miriam Hahn/Mashed
To make this tasty salad, you'll first need to gather your ingredients. You will need two 15-ounce cans of cannellini beans (or Northern beans), grape tomatoes, an English cucumber, kalamata olives, and store-bought pesto. Check the label of your jarred pesto. Does it have added salt? If so, you are good to go and don't need any additional salt. If not, you will also want to grab some salt to season this salad.
We asked Hahn why she recommends an English cucumber here as opposed to the standard cucumber. She responded that she prefers "English cucumber for this because they are less watery but you can definitely substitute regular cucumber as well." We see why this would be important as excess water in this dish would make this overly soggy versus simply dressed. She also recommends that "If you don't have grape tomatoes on hand, any type of chopped tomato works just fine."
Rinse and drain the beans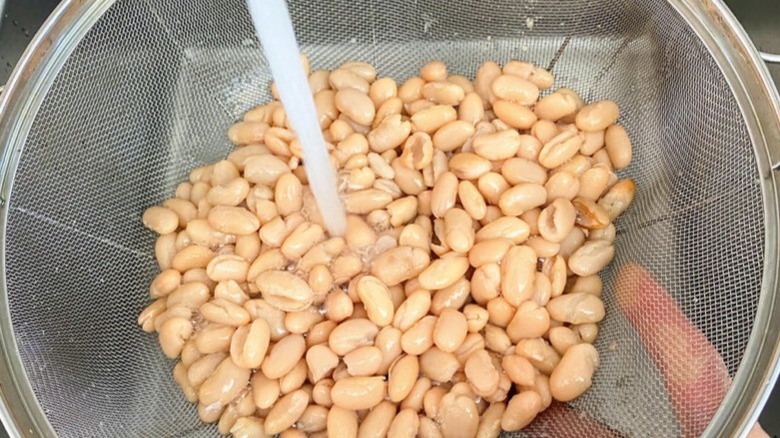 Miriam Hahn/Mashed
First up, we need to rinse and drain our beans. Go ahead and open up the cans of beans and drain in a colander. Give them a good rinse with water too. This will help to eliminate the liquid that the beans were stored in, but it will also help to reduce the sodium content of this overall dish. Whether you use cannellini beans or Northern beans does not matter here — we are just looking for a white bean.
Add ingredients to a bowl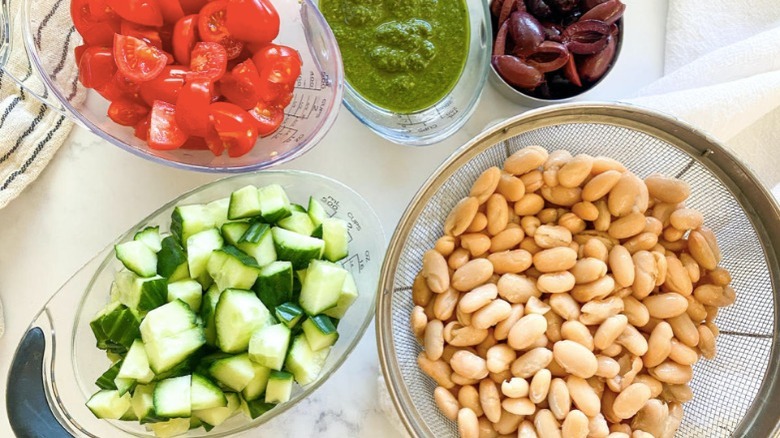 Miriam Hahn/Mashed
Now that the beans are rinsed, we can add the remaining ingredients to a bowl. In a large bowl, add the drained beans. Then add the quartered tomatoes, diced cucumber, and halved kalamata olives. Now, we are almost done. We love how fast this dish comes together. Hahn mentions that she loves to "make this dish for a quick weeknight dinner or a fast lunch." She isn't kidding on how quick this comes together. In a matter of 10 minutes, we will have a flavorful balanced meal.
Top with pesto and stir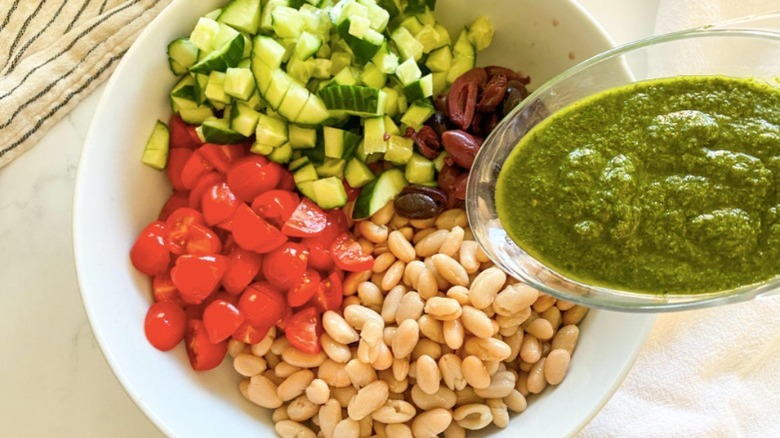 Miriam Hahn/Mashed
The last step involves topping this bowl of delicious vegetables with some store bought pesto. Hahn advises that "if you want to make this vegan, there are many vegan pestos available." This is good to know! She also suggests "if you like to make home-made pesto, that is always my first choice." While homemade pesto is surely a delight, sometimes, for a quick meal, you need to rely on store bought jarred pesto. And there is nothing wrong with that!
Serve as a salad or stuff into pitas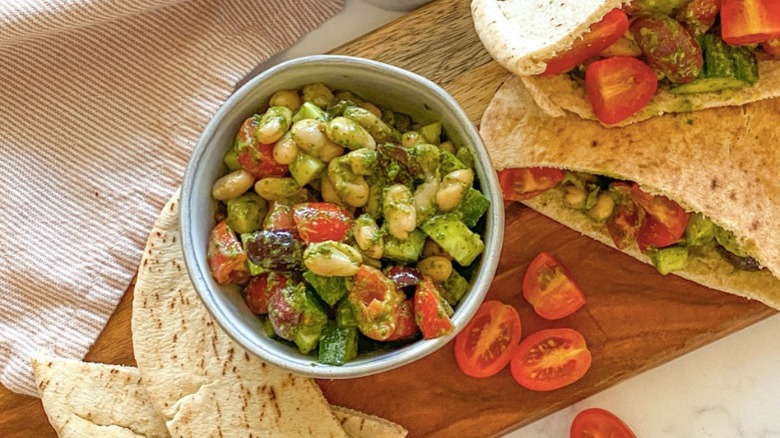 Miriam Hahn/Mashed
Once you stir in the pesto to the other ingredients, your salad will be complete. You can eat this dish as a salad or stuff it into pita pockets to make a yummy sandwich wrap. Hahn recommends serving this paired with this creamy broccoli soup for a veggie-packed meal. Hahn notes that "because [this dish has] a balance of protein, fat and fiber it is very satisfying and filling."
As far as leftovers, assuming you have any, you will want to store this dressed salad in an airtight container. Then store this container in the refrigerator for up to one day. Hahn notes that "because of the tomato and cucumber, it is not the best make-ahead meal. It will be good the next day but that is about it." That's okay! We don't imagine there will be any leftovers to speak of.
5-Ingredient White Bean And Pesto Salad Recipe
This 5-ingredient white bean and pesto salad comes together in just 10 minutes and is loaded with flavor.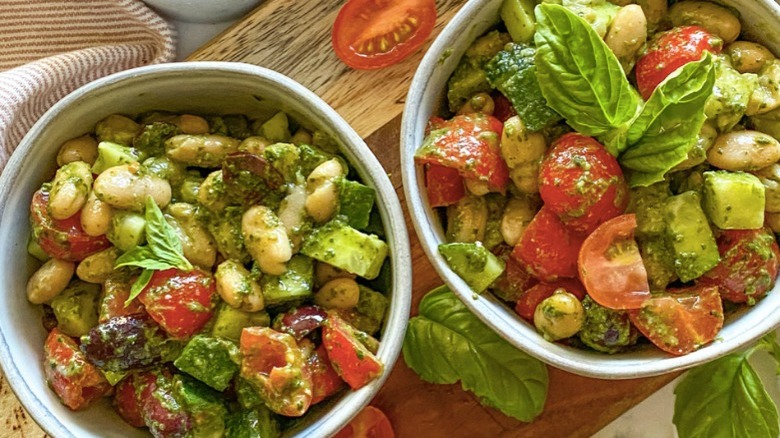 Ingredients
2 (15 ounces) cans cannellini or Northern beans
1 ½ cups grape tomatoes, quartered
1 English cucumber, diced
½ cup kalamata olives, halved
⅓ cup store-bought pesto
Optional Ingredients
Directions
Rinse and drain the beans well, then pour them into a large bowl.
Add the tomatoes, cucumber, olives, and pesto. Stir to combine. Taste for seasoning and add salt if needed.
Ready to serve. Eat as a salad or stuff into pita pockets.
Nutrition
| | |
| --- | --- |
| Calories per Serving | 288 |
| Total Fat | 7.8 g |
| Saturated Fat | 1.1 g |
| Trans Fat | 0.0 |
| Cholesterol | 1.4 mg |
| | |
| --- | --- |
| Total Carbohydrates | 42.6 g |
| Dietary Fiber | 9.8 g |
| Total Sugars | 2.9 g |
| Sodium | 292.5 mg |
| Protein | 14.2 g |