McDonald's Australia Just Launched Its Own Line Of Swimwear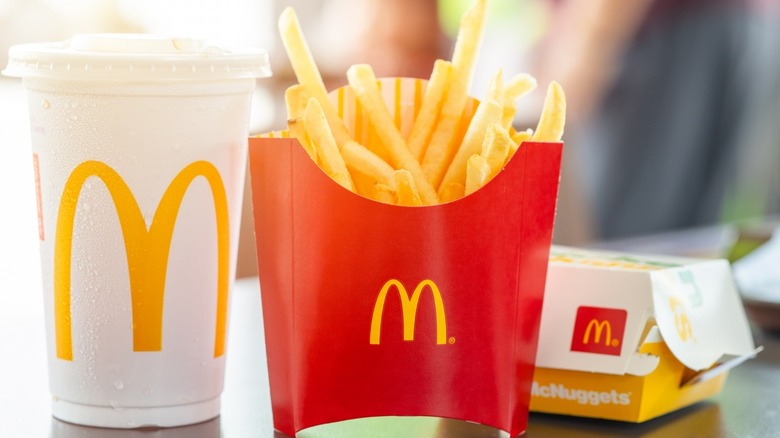 Quality Stock Arts/Shutterstock
Would you like fries with that swimsuit? In an interesting new move, McDonald's has partnered up on a swimwear line that takes the idea of happy meals to the next level. Of course, this isn't the first time McD's has partnered with another brand, but it might be one of the most enjoyable fast food mashups we've seen in a while. It was the brainchild of Budgy Smuggler, an Australian swimwear brand that was reportedly started as a joke when a person wrote the brand phrase across the back of a mate's "speedo-style" bottoms. Continuing the irony, the brand further describes itself saying, "Why it has been successful, we have no idea." The company even acknowledges that they spelled "budgy" wrong, noting it should really be "budgie." For those unaware, a budgie is a popular and pretty little bird in the parakeet family that can mimic human sounds and is often enjoyed as a pet (via The Spruce Pets).
Capitalizing on this humor, Budgy Smuggler teamed up with Maccas (Australian for McDonald's) to create the line, which is now out in time for the heights of Australian summer. McDonald's Australia senior brand manager Liz Whitbread shares, "Whether it's lounging on one of Australia's iconic beaches or dipping in and out of the pool, this summer is all about doing things we love with people we love" (via News.com) — and what better way to do so than with one of these new pieces?
Fans of McDonald's can wear it proudly with this new swimwear
The full Budgy/Macca swimwear line offers bikinis, briefs, and one-piece swimsuits, which currently list on the Budgy Smuggler website for $60-$90 in Australian currency, or about $43-$65 in U.S. dollars. Australian news reports that the line will include bucket hats and options starting as low as $55 (via News.com), so it's possible there may be some additional products coming later. McDonald's Australia senior brand manager Liz Whitbread adds, "The limited-edition range of swimwear is bold, fun, and eye-catching, perfect for enjoying the summer season in style."
The full line — for both men and women — features patterns both bold and more subtle with the choice of three fabrics. And there's the option of men's briefs, women's bikinis, and women's one-piece styles. For example, there is a red-and-white checkerboard pattern with boxes of fries interspersed, a solid red print adorned with illustrated value meal items including fries, burgers, and drinks; and a white background with printed McDonald's food-wrapper text and images — all to suit many tastes, and multiple sizes are available.
This joint promotion comes during McDonald's Australia's 50th year anniversary (via Perth Now). The food giant opened its first Australian location in 1971 and now has more than 1,000 spots across the country, according to the article.