Even Julia Child Would Eat In-N-Out Burgers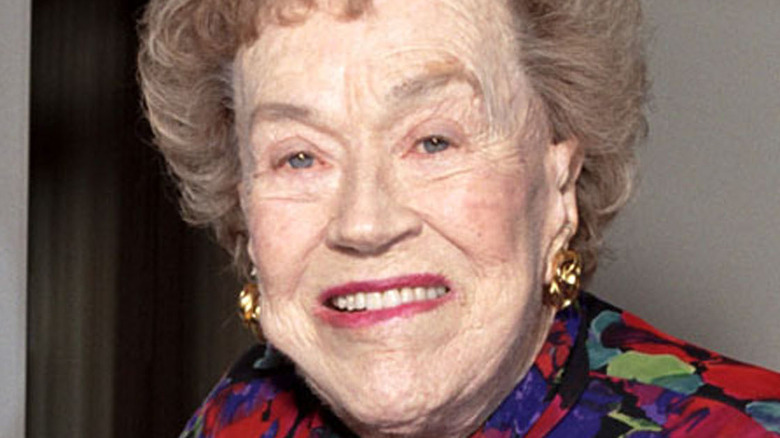 Thomas J. Gibbons/Getty
It is easy to think of iconic celebrities and culinary heroes as being highly evolved and above the base desires of us mere mortals. But you may be surprised by the simple pleasures that they often admit to giving into. This is wonderful because it not only makes us feel better about some of our guilty pleasures but also makes our favorite foodies seem more relatable and down to earth. Case in point, the legendary Julia Child. Larger than life and someone who left an indelible impression on the world, she is someone who will never be forgotten.
It's almost too easy to put Child on a pedestal and forget that this food god was also a humble person who enjoyed fast food just like the rest of us. For Child, her weakness was In-N-Out, California's popular burger chain that started in 1948 and claims to be the first drive-thru in the state (via In-N-Out).
Quality ingredients and the California connection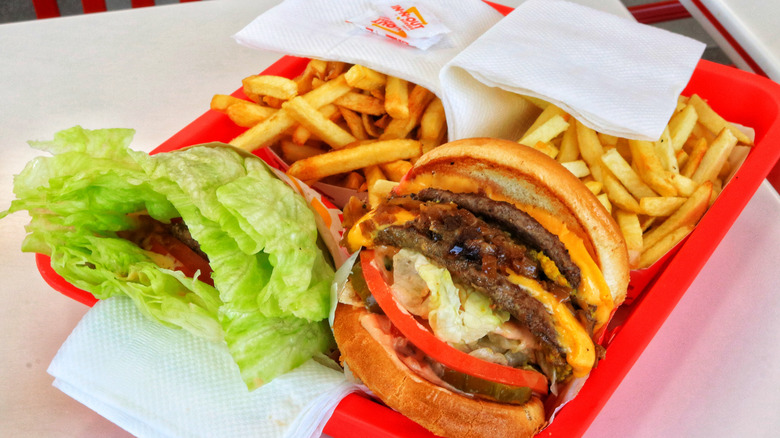 ShengYing Lin/Shutterstock
Despite Julia Child's reputation as being a gourmet food connoisseur, television host, and co-author of the essential classic cookbook, "Mastering the Art of French Cooking," it's easy to forget that she was a typical California girl born and raised in Pasadena, California. Long before her globetrotting exploits in Asia and France (where she attended the prestigious Cordon Bleu cooking school), Child enjoyed a casual California lifestyle in coastal cities, including Santa Barbara, throughout the years (Biography).
Coincidently, California was where In-N-Out first launched its restaurants, mostly in Los Angeles County, before branching out across the state and into Nevada, Arizona, Utah, Texas, and Oregon (via Orange County Register). It seems likely that the penchant Child had for In-N-Out is correlated to her California upbringing, as it was something that remained with her for her entire life. While we may never know exactly what drove her passion for this fast-food burger joint, it's easy to speculate that the restaurant's commitment to quality ingredients held some appeal to Child. According to their website, In-N-Out only sources 100% ground chuck that has never been frozen and contains no preservatives or additives. They even take the time to grind the meat and make the patties onsite, being sure to pull out any extra bones. It's just the kind of attention to detail that we are sure Child would love.
In-N-Out memories of Julia Child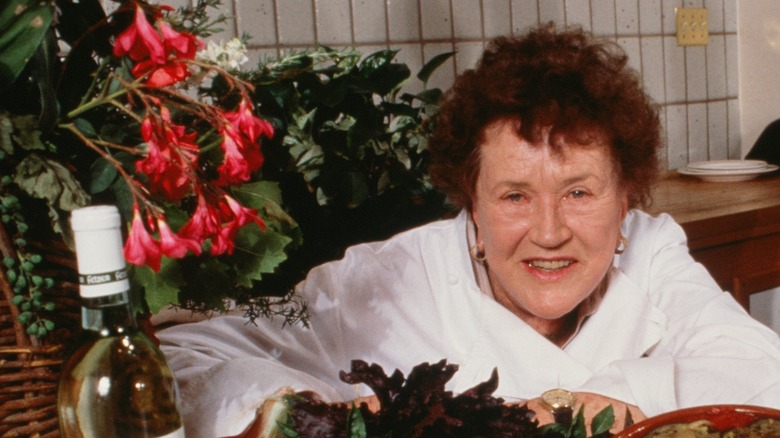 George Rose/Getty Images
What's your favorite thing to order from the menu at In-N-Out? Is it their Double Double Cheeseburger, maybe a plate of Hand Cut French Fries Animal Style (smothered in their house made secret sauce, a slice of melted cheese, and caramelized grilled onions), or perhaps it is their rich and thick milkshakes made with real ice cream that gets you a bit weak in the knees? It really does not matter because you are not alone, and Child's affection for their food is well documented.
Chef Jamie West recounted his experience with Child and a road trip he took with her that included several stops at In-N-Out during an interview for Ventura County Star. He recalled how he met her in the late 1990s when he was a chef at San Ysidro Ranch in Montecito, California and how they struck up a friendship. "On the way up the coast, we ate In-N-Out burgers in the car. On the way back, we went inside to order at the In-N-Out Burger in Santa Maria. A young woman behind the counter kept looking at us. Then she whispered to me: 'Is that Julia Child?' It was great how people of all ages knew who she was,'" he shared.
Now we not only know who she was, but we also can revel in knowing what she loved to eat.