Twitter Is Furious About Red Lobster's Paid Sick Leave Policy
Earlier today, Substack newsletter Popular Information highlighted Red Lobster's paid sick leave policy — or lack thereof. The article, researched in collaboration with the publication More Perfect Union, detailed how the national seafood chain only grants workers paid sick leave in some locations, such as those in states where it is legally required to do so. This would be considered by some to be exploitative during normal times. During a pandemic, however, the policy is even more controversial.
"I worry that co-workers who have been in contact with a confirmed COVID-19 family member would still come to work," one Red Lobster employee explained. "We live paycheck to paycheck. We can't sit at home without pay." This worker's fears were echoed by others who said that they are urged by managers to work even when they are sick. When the story's author, Judd Legum, posted a link to the article on Twitter, it struck a chord with social media users. One response said, "I never had Red lobster and now reading this, I never will. This is a food safety problem. Forcing sick people to handle food will only get more people sick."
Some Twitter users are not surprised by Red Lobster's policy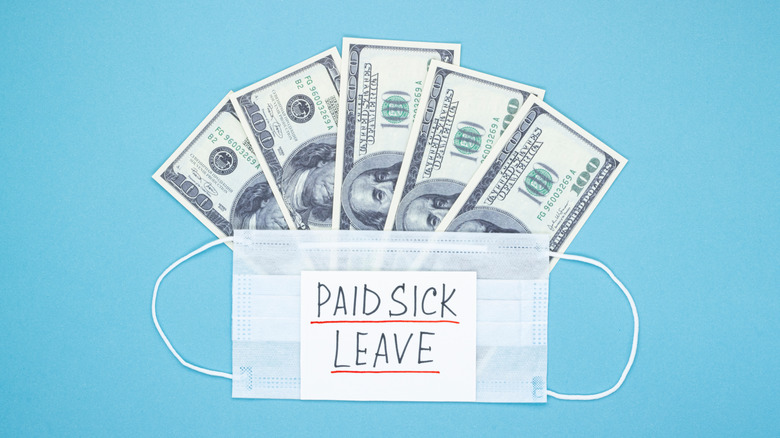 Ilnaz Bagautdinov/Shutterstock
The prevailing sentiment on Twitter seems to be that Red Lobster's lack of paid sick leave for tens of thousands of employees is not unique. "I don't understand why this is getting so much attention. like it's good that it is i guess, but this is how things are pretty much industry wide," one user responded to Legum's tweet. Others shared similar stories as the Red lobster employees featured in the article. One reflected on getting in trouble at work due to illness: "I tested positive and was sick a few days longer than company policy allows." Another chimed in, "My SIL was told to come to work at her elementary school job even though her husband tested positive for COVID." A different user shared, "So grateful Iive in a state (WA) that requires all employers provide paid sick leave."
A spokesperson for Red Lobster told Popular Information, "Red Lobster's paid time off policies are consistent with our industry. ... There are some states that have paid sick leave requirements, and where that is the case, we follow the law and honor and pay it." They followed up by saying that employees who work sick are subject to "disciplinary action" or termination, while one worker interviewed for the article described receiving "threats" from a boss for not coming to work while sick.