National Bagel Day 2022: Where To Get The Best Food Freebies And Deals
Bagels have found fans ever since they popped up in Poland back in the 14th century, per Living on the Cheap. The baked good continues to go strong centuries later and now even has a dedicated holiday in the United States. If you love bagels and want to get a great deal on a dozen, you can't miss January 15, better known as National Bagel Day. Many bagel-centric restaurants plan to give out free bagels to celebrate the occasion. And if you love this morning staple, you can plan to hit a few eateries that intend to dish out the goods.
Bagel fans in the Midwest, for instance, can visit Barry Bagels for a free bagel with cream cheese when you purchase another bagel with cream cheese and a drink (per Coupon Cabin). This deal takes place only on January 15, but it doesn't require an in-app purchase. And Bagelmania in Las Vegas is hosting an Instagram giveaway where fans can win a year's worth of free bagels. Finally, the Asbury Park Press has a roundup of local National Bagel Day offers for bagel fans in New Jersey.
There are at-home bagel deals, too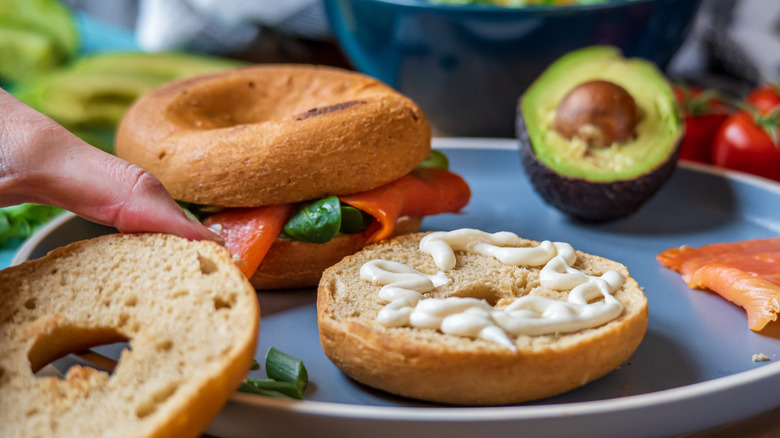 uniqueton/Shutterstock
Don't assume you have to visit a restaurant in order to celebrate National Bagel Day, either. Today reports that in 2021, Bantam Bagels offered customers 20% off online purchases, and the chain has teased potential National Bagel Day deals on Instagram this year, too.
H&H Bagels also has a special code for bagel lovers shopping online for the holiday. You can get 10% off online purchases with the code NBD2022 until January 31, per an Instagram post from the bagel brand. In addition, Today reports that customers who use the code BETTERBAGELDAY at EatBetter.com can get a free four-pack of plant-based Better Bagels when they buy an eight-pack.
And while it's not specific to National Bagel Day, you can still earn a free bagel at Bruegger's, too. Customers who sign up for the chain's Inner Circle rewards program will get a free bagel with cream cheese, just for providing their contact info.