Why This New Jersey Mayor Wants To Ban Chick-Fil-A From A Rest Stop
Chick-Fil-A is seeing backlash against proposals to open a new restaurant — again. In September, the Kansas City International Airport decided to remove Chick-fil-A from its future dining options. This time, a councilman and the mayor of Bloomfield, New Jersey, have asked the New Jersey Turnpike Authority not to allow the chain's expansion into the Brookdale South rest stop on the Garden State Parkway. "Chick-fil-A imposes its religion on employees, customers and operators and as a publicly funded entity, the New Jersey Turnpike Authority should not allow this type of business on the Parkway," Councilman Rich Rockwell said in a statement shared with northjersey.com. Mayor Michael Venezia released a similar statement, claiming that Chick-fil-A's discriminatory behaviors go against the values of the city.
Their oppositions to Chick-fil-A stem from the fact that the company used to donate to anti-LGBTQ+ organizations, stopping in 2020 due to public backlash. Its owner, Dan Cathy, however, has continued to make personal donations to prominent anti-equality organizations, per The Daily Beast.
Many politicians have opposed Chick-fil-A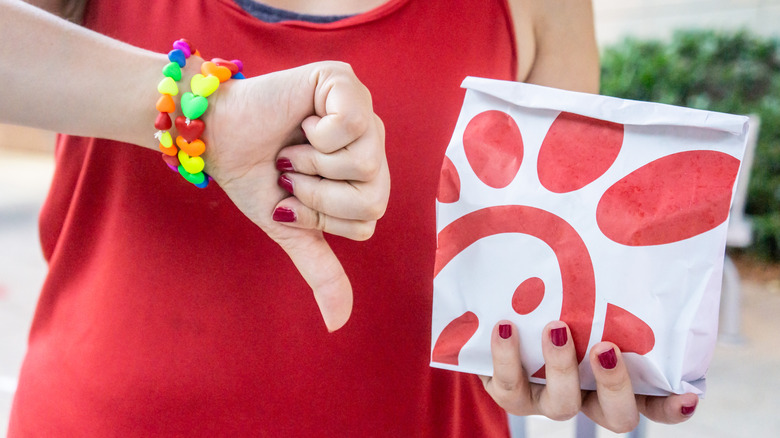 Jaimieandkyleshootstock/Shutterstock
Politicians in other parts of the country have also openly bashed Chick-fil-A, but this hasn't always stopped its expansion. For example, the company managed to open a restaurant in Boston in 2022 after years of opposition from the city's late former mayor, Tom Menino, who disagreed with the chain's stance on same-sex marriage. 
More dramatically, the Texas Supreme Court is hearing a case against the City Council of San Antonio for its rejection of a Chick-fil-A restaurant in its international airport. As Courthouse News Service wrote in October, the basis of the suit is the "Save Chick-fil-A" bill, a Texan law that "bars governmental entities in the state from taking 'adverse action' against people, organizations and businesses because of their religious beliefs." The council wanted to dismiss the case on the grounds that the law had passed after it denied Chick-fil-A. In December, the Austin American-Statesman wrote that the court's decision is expected at the end of June. However, Chick-fil-A could theoretically bid for the spot again and the council would have to comply.