Why Food Lion Just Recalled 2 Of Its Salad Kits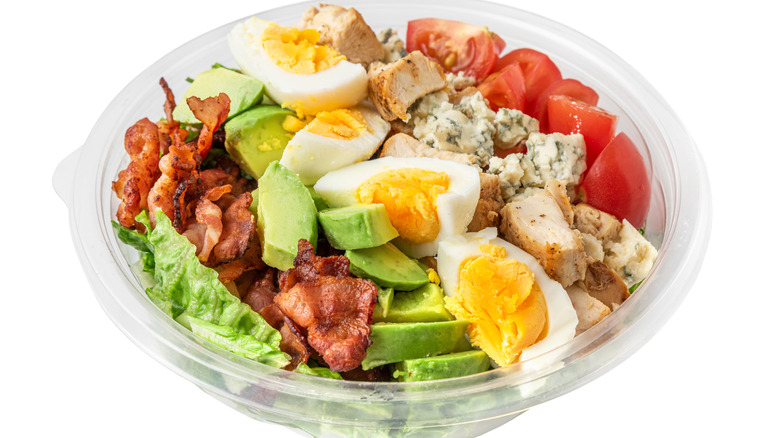 artem evdokimov/Shutterstock
If you live or do your grocery shopping in Delaware, Georgia, Kentucky, Maryland, North Carolina, Pennsylvania, South Carolina, Tennessee, Virginia, or West Virginia, which are the 10 Southeastern or Midatlantic states in which Food Lion's 1,100 supermarket locations can be found (via the Food Lion FAQ page), then you will want to take note of the following important food safety information. This information appeared as a press release on the "Newsroom" page of the Food Lion website.
According to the press release, Food Lion is pulling two different prepared salad kits that are sold in its stores. One is the Cobb Salad Kit. The other is the Chef's Salad Kit. The kits in question would have been obtained directly from Food Lion's Deli Department between the dates of December 26, 2021, and January 10, 2022. All such salad kits that were sold or were available for sale during such time are subject to this recall. Here is the reason for this latest Food Lion recall and what you should do if you think you might have purchased either of these salad kits. 
Affected customers can rely on Food Lion's double-or-nothing guarantee
Food Lion has recalled these prepared Cobb and Chef's Salad Kits because it was informed by the vendor thereof that these particular salads have could be contaminated with Listeria monocytogenes, a dangerous bacteria that causes the potentially life-threatening foodborne illness, listeriosis. Listeriosis rarely presents as serious or life-threatening in healthy people, for whom antibiotics can be an effective treatment, according to Patient. However, it can be fatal in the immunocompromised, the elderly, and in pregnant women and their not-yet-born babies.
All of the affected salad kits are marked with a sell-by date of December 30, 2021, through January 10, 2022. Please check your refrigerator for any of these salad kits, and if you find any, dispose of them immediately, or return them in-store for a refund equal to "double the purchase price in accordance with Food Lion's 'Double Your Money Back Guarantee'" (via company press release). Then do yourself a favor: clean out your fridge.
Neither the FDA nor the FDIS has picked up Food Lion's release at this time, and data on whether anyone has become ill from eating these salads don't appear to be available. However, listeriosis symptoms can occur up to 90 days after consuming contaminated food. If you believe you may have already consumed salad that is subject to this recall, you'll want to seek medical care immediately in the event you experience flu symptoms, including fever, nausea, diarrhea, headache, or worse.