Valentine's Day Kit Kat Bars Just Hit Costco And Shoppers Are Stoked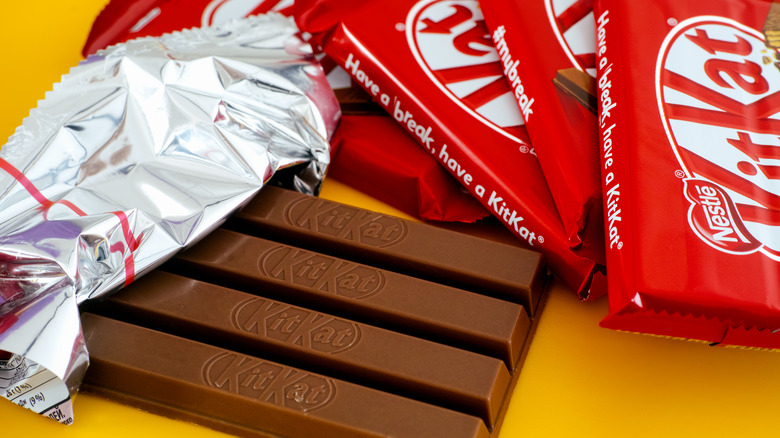 Ekaterina_Minaeva/Shutterstock
Mid-January, early celebrations of Valentine's Day are already on the rise, and just in time, Kit Kat has reissued its holiday-themed crispy candy bars at Costco. This week, Costco fan account @costcohotfinds uploaded their discovery of the celebratory treats to both their Instagram and TikTok accounts. They revealed towering piles of bags of miniature Kit Kats in different varieties, including regular milk chocolate, vanilla, and the Valentine's-appropriate pink strawberry. "160 Miniature KitKats in assorted flavors!!!" they wrote on Instagram. "Yes, please!! Perfect Valentine's Decor and as a bonus, they're delicious."
"Ohhhh How much does this necessity cost," one TikTok user asked, to which the account replied, "$11.99." Most social media followers seem to be excited about the big bags of treats. "I'm about to break my quarantine time just to go get a bag," one person joked, while another said, "I think I need to make a Costco run." Slipped into the excitement was a sliver of discontent about some of the flavors. "Strawberry ones are awful in my opinion," one user grumbled. "The vanilla is OK but chocolate still rules."
But wait, there's more in store for Kit Kat in 2022
The reappearance of preemptively festive chocolate, vanilla, and strawberry Kit Kat flavors at Costco is only part of the brand's exciting start to 2022. Yesterday, The Hershey Company shared in a press release that Kit Kat has launched two new permanent flavors. The first is Kit Kat Duos, which combines the strawberry flavor found in the assorted Kit Kat bag with dark chocolate Kit Kats. This is the brand's third such blended flavor. The other new Kit Kat is a hazelnut-flavored Kit Kat Thin.
"A new year is always a chance to try new things, so what better way to start than by releasing new Kit Kat flavors?" stated Dan Williard, Kit Kat's brand manager, adding that these are "fresh takes" on the classic Kit Kat. In case you missed them, Kit Kat Thins debuted last year. As their name suggests, they're a slimmer version of the original candy bar and feature fewer layers for a crispier sensation. Evidently, they've proven popular enough to warrant more flavors.