Everything You Need To Know About TikTok's Vietnamese Pizza Trend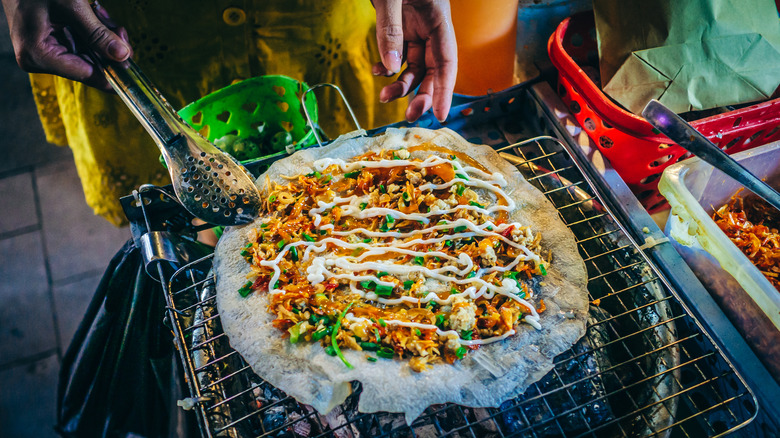 AJNguyen/Shutterstock
There's so much to love about Vietnamese summer rolls: They're light, refreshing, and the perfect appetizer to share with friends. The last characteristic can also be said about pizza, which is a dish that's practically designed to be split at gatherings. So what happens when these two popular dishes are meshed together? Look no further than what some TikTok users call "Vietnamese pizza," which is almost like the perfect blend of some Vietnamese summer roll ingredients in a pizza-like format. This dish isn't a Vietnamese version of Italian pizza, however, but a popular Vietnamese street food called bánh tráng nướng, as Delish reports
Just like summer rolls and pizza, bánh tráng nướng or Vietnamese pizza can be customized to fit your own preferences. The base ingredients you will need for the dish are a dry sheet of rice paper, eggs, proteins, and veggies or herbs, per Delish. Ensure that you have some sauces to serve the dish with, such as mayo and sriracha, and you're all set. Here's how you assemble it.
How to recreate Vietnamese pizza at home
TikTok user @jasmineandtea shared an easy-to-follow recipe video for bánh tráng nướng, nicknamed Vietnamese pizza. Per her instructions, you place one rice paper wrap on a heated nonstick pan. You'll then want to break your egg onto the paper, stirring the white and the yolk to lightly scramble. Once this is done, add your desired toppings; @jasmineandtea uses green onion, chopped hot dogs, shredded cheddar cheese, and what looks like chili oil. Cook until hot and crisp, and serve flat or folded and cut into triangles with a generous drizzle of sauces.
That November 2021 video has 2.8 million views and a plethora of comments such as, "I WANT THAT." Many people also seem to be surprised that you can pan-fry dry rice paper to such success. Another TikTok user, Lisa Le Ha, combined bánh tráng nướng with another viral trend, the TikTok tortilla hack. If you can't make it to Vietnam to try this popular street food, you can follow these TikTok users' lead and enjoy them at home. Just make sure your rice paper is made from rice and not tapioca (as the latter will result in an overly sticky texture) and understand that Vietnamese vendors have perfected this tricky recipe over years, so yours might not turn out exactly the same as theirs, cookbook author Andrea Nguyen told Serious Eats.