Ginger Sesame Noodles Recipe
Ginger Sesame Noodles Recipe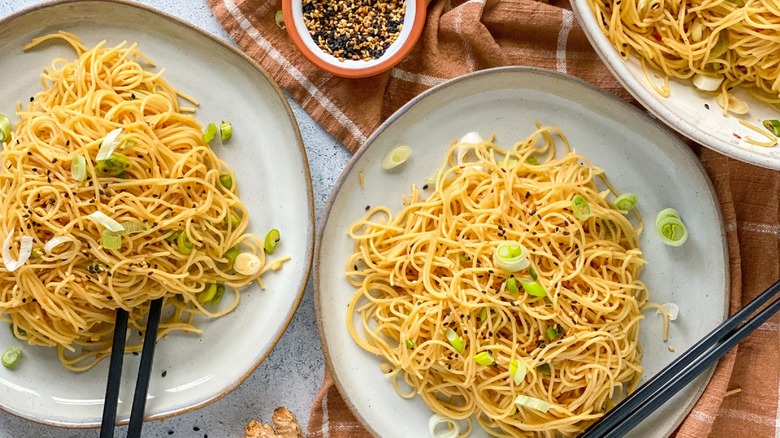 Hayley Maclean/Mashed
Ginger and sesame together add a depth of flavor to make any recipe into a special, memorable meal. In this recipe from creator Hayley MacLean, who features her delicious and nutritious concoctions on her Instagram HappyHealthyHayley, ginger sesame noodles offer this distinctive Asian flavor combination. The result is a  simple, delicious vegetarian meal that livens up your noodle game. Plus, as MacLean adds, ginger "has great health benefits including helping with digestion, mediating blood sugars, and improving cardiac health."
Even more, the strong flavors come together quickly, allowing you to pull together your healthy meal in less than a half hour. While you can add other ingredients to your preference, this recipe alone makes for a fantastic vegetarian option, though you can add meats or other proteins. "I love serving these noodles with some teriyaki grilled chicken or tofu and some steamed vegetables," MacLean says. "The warm foods balance the cold noodles so nicely and form a great healthy meal."
Health benefits of ginger
Hayley Maclean/Mashed
Ginger is a root that has long been noted for its health benefits. Its origins in Southeast Asia explain why many different East Asian dishes feature the spice, to the point that its distinctive flavor is associated with Asian cuisine in general. You can use it powdered, dried, or cut freshly from the root. 
Ginger is full of, unsurprisingly, an oil called gingerol. Gingerol has long been used to treat ailments ranging from nausea to the common cold. It has anti-inflammatory and antioxidant properties that help support the immune system. Some research, like a 2014 study published in The Review of Diabetic Studies, have found that ginger, along with other spices, may reduce markers of diabetes. All of this combines to make ginger kind of a super-spice.
It also helps that ginger tastes really good and adds a fresh, unforgettable flavor to any recipe. MacLean's recipe combines ginger with other spices to create a truly complex flavor profile that doesn't negate the benefits of the root.
Gather the ingredients for ginger sesame noodles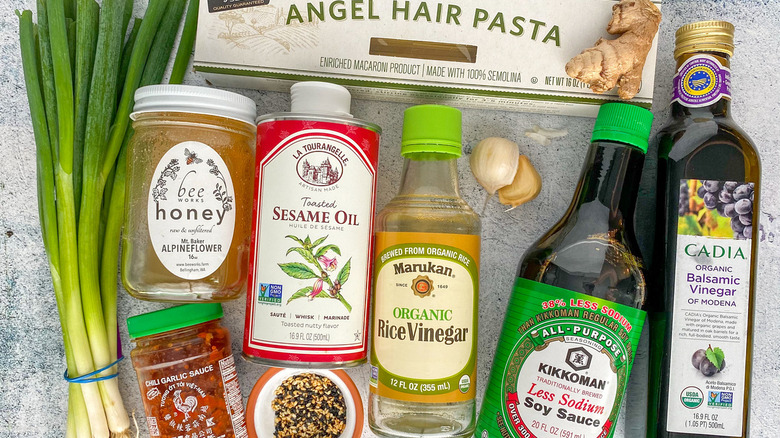 Hayley Maclean/Mashed
Obviously, one of the key ingredients in this recipe is the ginger, so start by picking up a fresh ginger root in the vegetable aisle. While you're there, you should also pick up a garlic bulb since the recipe calls for 2 cloves of minced garlic as well as a bundle of scallions. Next, you need to collect the ingredients for your sauce. Pick up a bottle of rice vinegar, a bottle of balsamic vinegar, a bottle of sesame oil, and a jar of chili garlic sauce. To round out the sauce, grab a jar of honey and a larger bottle of soy sauce.
Finally, you need dry goods. One, 16-ounce package of angel hair or vermicelli pasta and a container of toasted sesame seeds is all you need. That said, you'll need salt and pepper to taste, so if you're running low on those, you might as well pick some up.
Cook the noodles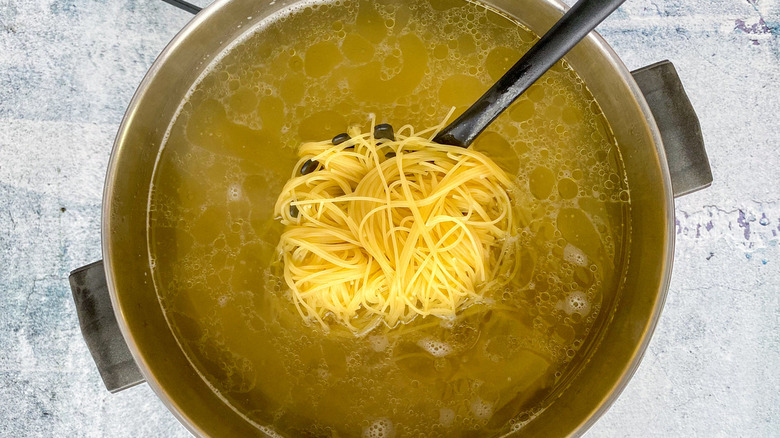 Hayley Maclean/Mashed
Begin the recipe by cooking the pasta, following the instructions on the bag. Since they form the backbone of the recipe, make sure you pay attention to the cook times and don't overcook or undercook the noodles. MacLean also always adds a bit of salt when cooking the noodles to help flavor the final dish. When the noodles are done, strain, then rinse with cold water to stop the cooking process. Set them aside to cool before turning your attention to the sauce that really drives this recipe home.
"The angel hair for this recipe is used in place of a more traditional noodle, such as a soba noodle, because they retain their texture longer when chilling and serving," MacLean explains. "With angel hair, the pasta remains the same consistency even after being in the refrigerator [for] 2 or more days."
Make the ginger sesame sauce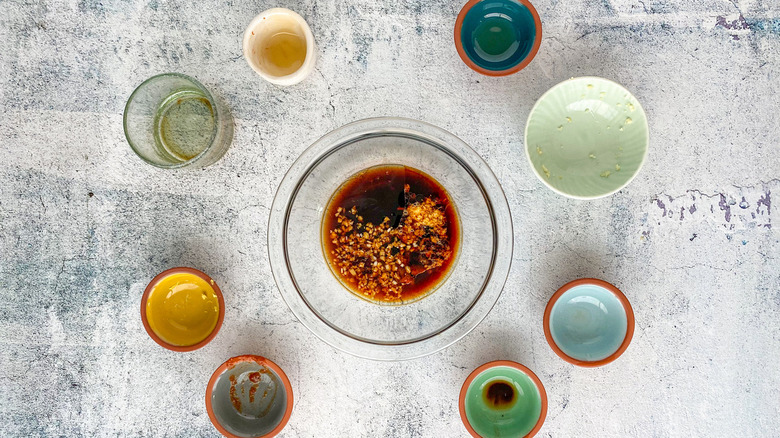 Hayley Maclean/Mashed
While your noodles are cooking is the perfect time to begin chopping, mincing, and grating your other ingredients. Specifically, you need to mince 2 garlic cloves, thinly slice ½ cup of scallions (green onions), and grate ½ tablespoon of ginger. "I like to grate the ginger rather than dicing or mincing it for this recipe as it gives it a smoother consistency when mixed into the dressing and its flavor is more incorporated into the final dish," MacLean advises. The spice is so flavorful you don't need much. 
With your produce cut up, you can wait until the pasta is finished cooking before moving on to the sauce. For that, you need to whisk together the soy sauce, rice vinegar, balsamic vinegar, sesame oil, chili garlic sauce, and the honey. Add in the grated ginger root and minced garlic and continue whisking until it's well-combined.
Add the dressing and final ingredients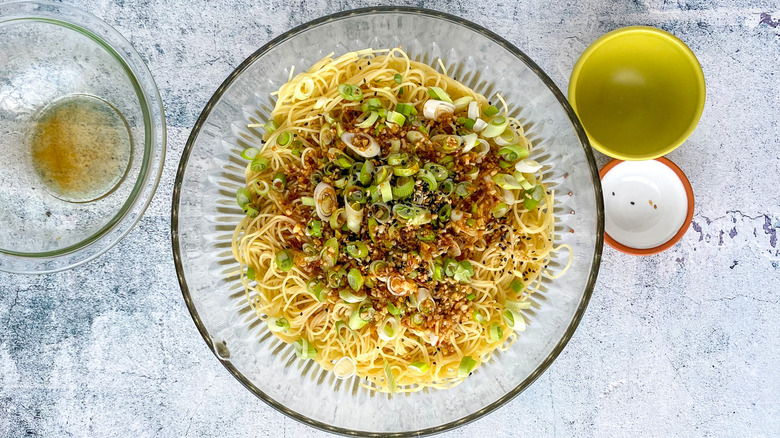 Hayley Maclean/Mashed
Toss the cooled noodles into a large mixing bowl. Pour the ginger sesame sauce over the noodles and toss them together until the pasta is well-coated. Add the sesame seeds into the noodle combination and throw in the sliced scallions. Mix well so that all the ingredients are represented throughout. All the flavors working together is what makes this recipe magical.
Give the pasta a taste, then add salt and pepper as needed. Serve immediately in individual bowls.  "This recipe is one of my go-tos when having a group of friends or family over," MacLean says. "It is so easy to make in large batches and keeps so wonderfully, the flavor gets better the longer it sits."
Ginger Sesame Noodles Recipe
Adding ginger and sesame seeds to a pasta dish gives it a delicious, Asian flavor. Try your hand at this easy ginger sesame noodles recipe.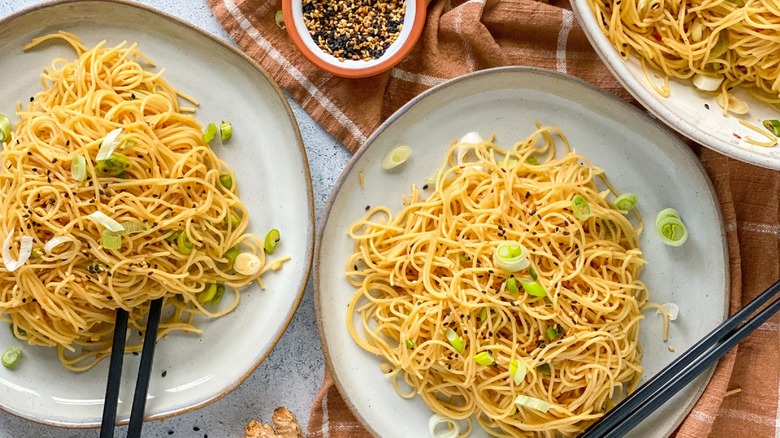 Ingredients
1 16-ounce package angel hair or vermicelli pasta
¼ cup soy sauce
1 tablespoon rice vinegar
1 tablespoon balsamic vinegar
1 tablespoon sesame oil
½ tablespoon grated ginger root
½ teaspoon chili garlic sauce (add more for more spice)
1 tablespoon honey
2 cloves garlic, minced or pressed
½ cup scallions, thinly sliced
1 tablespoon toasted sesame seeds
Salt and pepper to taste
Directions
Cook the pasta according to the package instructions.
Rinse with cool water and set aside.
Whisk together the soy sauce, rice vinegar, balsamic vinegar, sesame oil, ginger root, chili garlic sauce, honey, and garlic.
In a large mixing bowl, toss together the cooled noodles, dressing, sliced scallions, and sesame seeds. Salt and pepper to taste.
Serve immediately.
Nutrition
| | |
| --- | --- |
| Calories per Serving | 250 |
| Total Fat | 3.2 g |
| Saturated Fat | 0.5 g |
| Trans Fat | 0.0 g |
| Cholesterol | 0.0 mg |
| | |
| --- | --- |
| Total Carbohydrates | 46.5 g |
| Dietary Fiber | 2.3 g |
| Total Sugars | 4.2 g |
| Sodium | 443.1 mg |
| Protein | 8.5 g |