Lily's Sweets Recalls Peppermint Baking Chips Over Discovery Of Soy Lecithin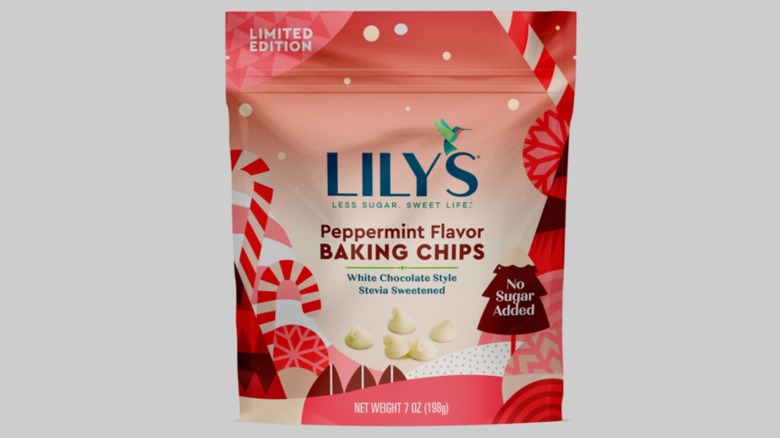 Lily's Sweets
Lily's Sweets has issued a voluntary recall of its Peppermint Flavor Baking Chips (via FDA). The reason for this recall is the bags of sweet chocolatey chips "may contain undeclared soy lecithin" which is a known allergen. The recall affects 18,855 cases of "7-ounce Peppermint Flavor Baking Chips," which were sold only at Walmart stores for the holiday season. The peppermint chips have not been linked to reports of any illness or injury.
Instead, these packages were accidentally co-packaged with another product in the form of a "white disc-shaped candy" that was mixed at a manufacturing facility. These candies contain ingredients that are not meant to be in the peppermint chips, including soy lecithin. Lily's Sweets is offering full refunds to customers who have purchased this item. Those seeking refunds may submit their request via an online contact form on the Lily's website. They can also reach out through Lily's consumer contact line at (877) 587-0557.
Soy in food and allergies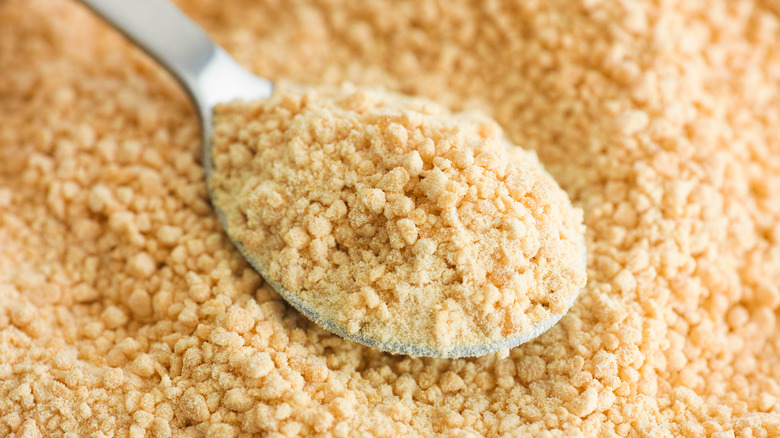 StepanPopov/Shutterstock
Soy is just one of the sources of the additive lecithin, which serves multiple purposes in food. Because of the small levels that are usually added to food, it is not considered unsafe (via Healthline). Based on existing evidence, the University of Nebraska-Lincoln found that soy lecithin is so highly processed that it poses a very small risk to those with soy allergies. But that doesn't mean people with allergies should take that chance. According to the American College of Allergy Asthma and Immunology, soy allergies can be difficult to manage as "symptoms can vary from person to person" and even from reaction to reaction. 
Reactions can vary from mild allergic responses to rarer and much more dangerous and potentially fatal anaphylaxis. The Food Allergen Labeling and Consumer Protection Act of 2004 requires that when a food sold in the U.S. contains soy, that must be stated "in clear language" on the packaging. And to minimize the risk of a reaction, persons with a soy allergy should avoid soy-based products, including soy sauce, soy milk, soy lecithin, tempeh, and tofu, among other products.