Costco Shoppers Can't Wait To Try These Japanese Waffle Cake Treats
If you were to go to Japan and buy traditional taiyaki, you would likely get a cake shaped like a red seabream fish filled with red bean paste, per Tokyo Treat. Nowadays, the popular fish-shaped snack with a waffle-like exterior might be filled with custard, matcha cream, or chocolate, among other options. The snack has apparently not only won fans in Japan but has started to pop up in a very popular place in the United States. While you might not have seen a taiyaki vendor in your hometown yet, at least some excited shoppers can make their way to Costco to see what the buzz is all about.
Instagrammer @costcobuys spotted a pack of taiyaki at their local Costco and had to post the find online. They captioned the image with text reading, "Delicious Taiyaki at Costco!! These fish-shaped waffle cakes are a sweet treat that are filled with chocolate cream, vanilla custard cream, or red bean paste!" The package includes 30 frozen taiyaki and the find has shoppers talking.
A Costco snack for those with a sweet tooth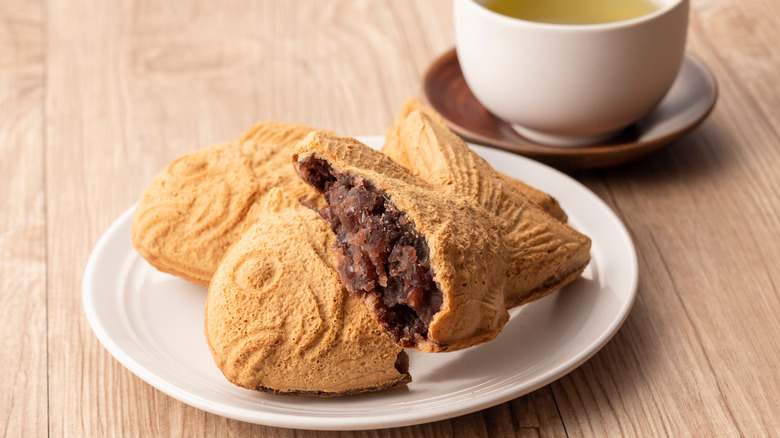 Chiristsumo/Shutterstock
The Instagram post by @costcobuys received a ton of attention from followers. Comments included "So I heard these are really good in the air fryer," and "I hope this comes to my Costco." One user pointed out their local Costco carries a different version of the snack, saying: "my Costco only has the big vanilla one, not this one." However, others can't find them at all, replying with, "I keep looking for these but can't find them. Do you know the locations of availability?" and "Can't find these in NY." If you do spot these taiyaki, one user can confirm they taste great. They replied with, "These are so dang delicious. I even eat them frozen."
If these snacks seem tempting, make sure to keep an eye out for them on your next Costco run. Based on the comments, it seems the availability may vary, but with any luck, these stateside taiyaki treats will be on offer for eager customers who want to see if they live up to the hype.