The Concerning Response Chick-Fil-A Employees Gave To This Reddit Question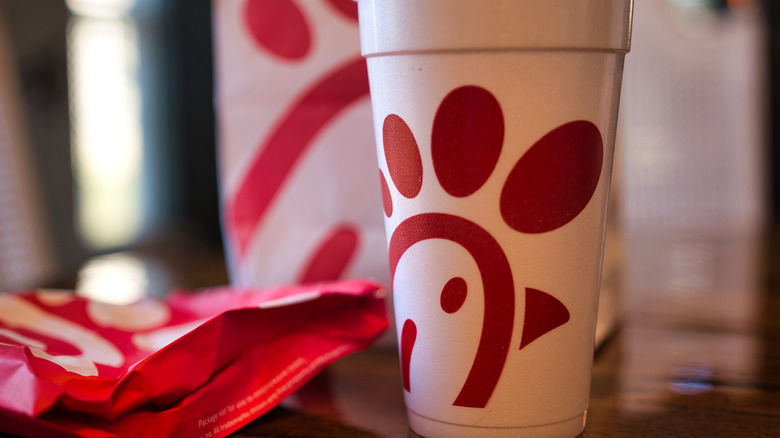 jmac23/Shutterstock
According to Chick-fil-A, being a staff member at the restaurant isn't simply a job but "an opportunity for teamwork and leadership development in a positive, people-focused environment." As described on the company's website, Chick-fil-A workers are generally paid salaries that are more than minimum wage and are offered certain benefits by location. The company also offers tuition assistance in the form of college scholarships to those who wish to pursue higher education.
However, working at Chick-fil-A, or perhaps any restaurant, comes with its own set of challenges. A self-proclaimed Chick-fil-A staffer posted on Reddit that it's a "hard job" that requires you to be on your feet for long periods with little time to take a break. The Redditor added, "Personally, I was running out curbside orders and expoing at drive-thru from 6 am to 6 pm today...if you cannot handle constantly working, you will not last at Chick-fil-A."
This sentiment seems to have been echoed by other Chick-fil-A employees in a separate Reddit thread, shedding light on how exhausting the job can be.
There's mixed feelings about working at Chick-fil-A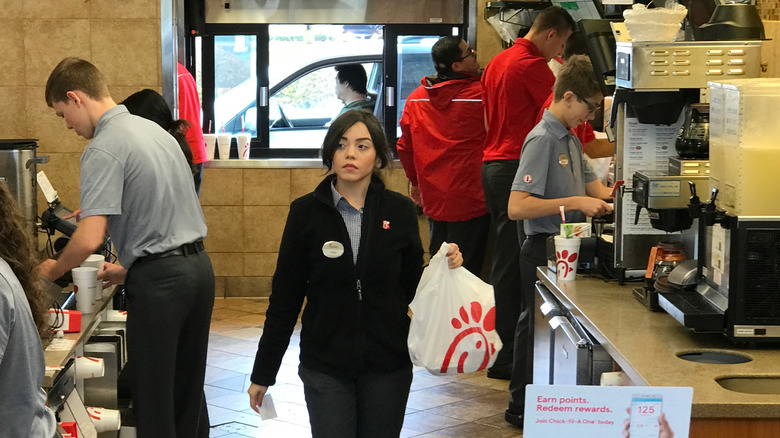 Jeff Bukowski/Shutterstock
One Redditor offered a simple greeting to those who work at Chick-fil-A, "how ya doing," and the post received responses from several of the fast food restaurant workers. The top-rated comment simply read, "Tired, how about yourself?" 
Other users shared the tired sentiment with one commenting, "Tired again. Dreading next week." Another user mentioned that they were on a break and on the verge of tears while being understaffed and trying to pacify "angry guests." A fellow staffer agreed, claiming they had to work with far too "many angry and aggressive guests." 
According to Forbes, restaurant staffers are at risk of facing burnout because of long shifts and erratic work schedules. The publication notes that employees can have adrenaline spikes during rush hours, and this can lead to exhaustion, inability to focus, and irritability. The pandemic has worsened the situation as many eateries don't have enough employees to tackle the workload. 
The Reddit thread isn't all doom and gloom though, as some mention that they are doing ok, while others share the good news of getting promoted.