Trader Joe's Shoppers Are Loving This Coconut Whipped Cream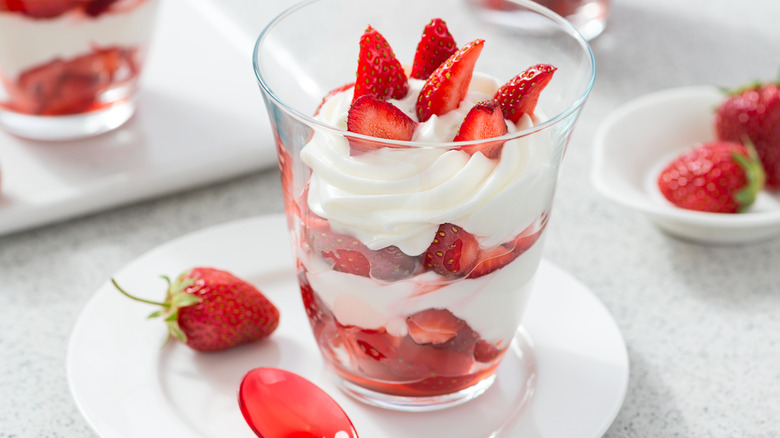 nelea33/Shutterstock
Are you someone who enjoys rich, dairy-free whipped cream that's perfect on top of your hot cocoa or waffles? If your answer is an absolute yes, Trader Joe's has a product for you. 
Sweet Rose's Coconut Whipped Topping is priced at $3.29 per can and per a post on the popular Instagram account, @traderjoesfoodreviews, the condiment is "absolutely delicious." The ingredients list is also shown in the post (swipe left) and shares the tasty topping contains coconut rather than heavy cream — like its namesake displays — making it a vegan item.
Just by looking at the site, you may not be able to tell that this product is any different from other whipped creams, as it comes in the same kind of pointed bottle with a nozzle for distribution. The Instagram account, however, does note that the coconut flavor is strong, which is something to be aware of if you are sensitive to that taste. Otherwise, it might be a product worth trying.
Shoppers are whipped for this coconut cream
The product's supposed strong tropical taste doesn't seem to bother some of the most avid coconut hater's taste buds, and 137 mostly positive statements on the whipped topping post may have us convinced. Reviews include "I strongly dislike coconut and I'm obsessed with this stuff!," "Yes! My favorite," and "It's really yummy!" If coconut flavor is something that concerns you, per these fans, this product may still be worth a try.
The comments section also had no shortage of recommendations on how to use this product. Enthusiasts claim that it's great with coffee, on top of strawberries, and even with chia seed pudding. Many also express appreciation of access to a vegan whipped cream sharing "Yessss finally a dairy free whipped cream" and "Love this for those of us who are lactose intolerant!"
The next time you're at Trader Joe's and in the mood for a creamy addition to your coffee, fruit, or dessert, perhaps Sweet Rose's Coconut Whipped Topping is just what your tastebuds are looking for.