Peanut Soba Noodle Salad Recipe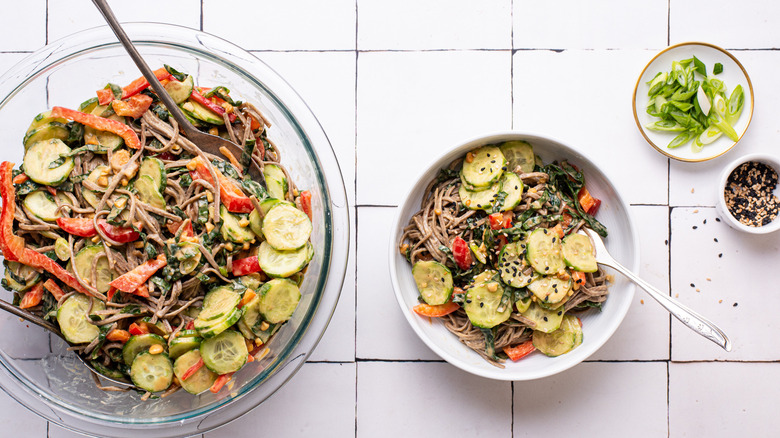 Alexandra Shytsman/Mashed
If you're looking for ways to add extra veggies and greens into your meals, but don't necessarily love plain salads, this peanut soba noodle salad from recipe developer Alexandra Shytsman of the plant-based blog, The New Baguette, is for you. It's packed with nutritious vegetables — cucumbers, bell peppers, and even kale! — but tastes nothing like "health food." Plus, unlike a boring side salad, this soba salad is an entire meal in itself, as it's packed with proteins, carbs, and healthy fats. The secret to this dish's indulgent quality is a rich and nutty peanut sauce, which makes anything it comes into contact with absolutely irresistible.
Cold noodle salads are quite popular across Southeast Asian cuisines; soba noodles are Japanese buckwheat noodles, which taste especially good cold. And peanut sauce, specifically, is a common accompaniment to things like Vietnamese spring rolls, Indonesian gado-gado salad, and skewered grilled meats, to name a few.
Gather the ingredients for the peanut soba noodle salad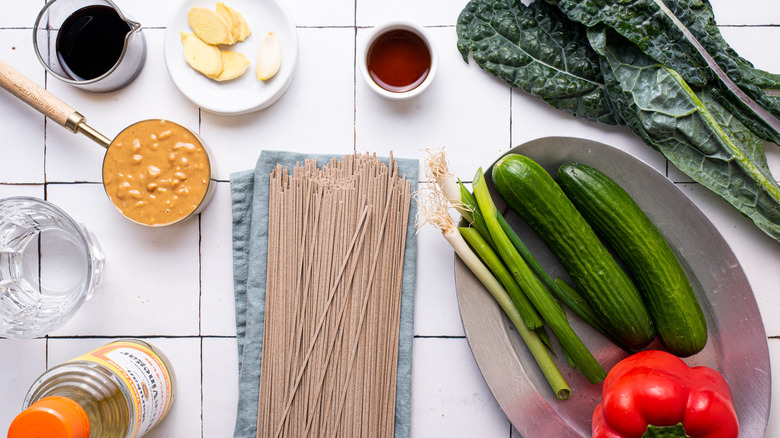 Alexandra Shytsman/Mashed
To make the salad, you'll need soba noodles, cucumbers, a bell pepper, lacinato kale, and scallions. For the peanut dressing, you'll need natural peanut butter (the kind where the only ingredient is peanuts), fresh garlic and ginger, soy sauce, sesame oil, and seasoned rice vinegar. If you don't have soba (Japanese buckwheat noodles), feel free to substitute with other types of noodles, like lo mein, udon, or even fresh ramen. If you only have unseasoned rice vinegar, add a splash of maple syrup or honey to the dressing.
Prep the vegetables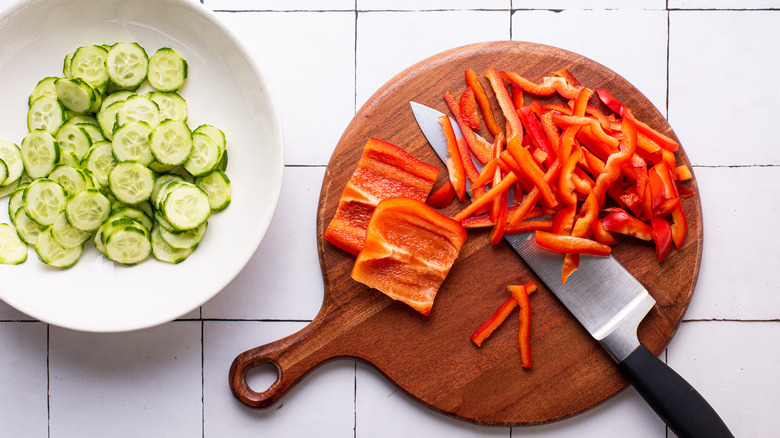 Alexandra Shytsman/Mashed
Start the recipe by bringing a large pot of water to a boil. While you wait, slice up your cucumbers, bell peppers, kale, and scallions. Be sure to place the cut veggies in a bowl large enough for combining the entire salad — noodles and all — to avoid dirtying extra dishes. Aside from the vegetables listed, you can use other fresh and crunchy options, like sliced radishes, shredded cabbage, celery, or carrots.
Be sure to slice the kale super thinly so it's not hard to chew. To do this, pull the kale leaves off their stems, roll them up cigar-style, and slice thinly with a sharp knife. This technique is known as "chiffonade."
Prep the sauce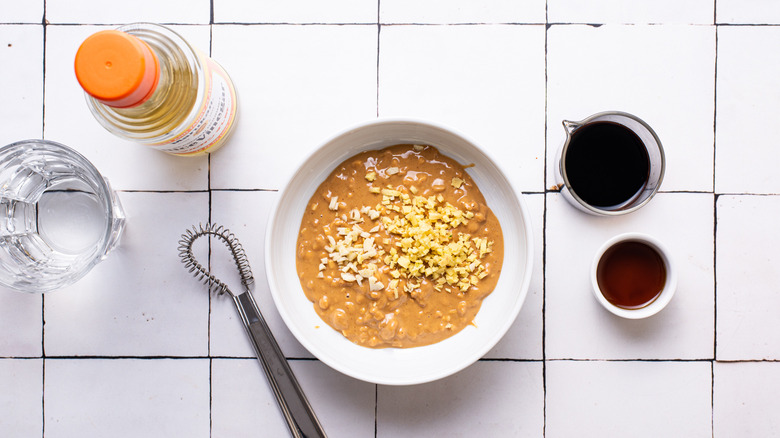 Alexandra Shytsman/Mashed
When your veggies are ready, start on the sauce. In a medium bowl, combine the peanut butter (you can use creamy or chunky, by the way), minced garlic and ginger, soy sauce, sesame oil, and seasoned rice vinegar. Using a fork or sauce whisk, combine everything until a homogenous mixture forms. Then add some water and continue whisking until it's creamy. At first it may seem challenging to incorporate the water, but just keep whisking and the lumps will eventually disintegrate.
Cook the noodles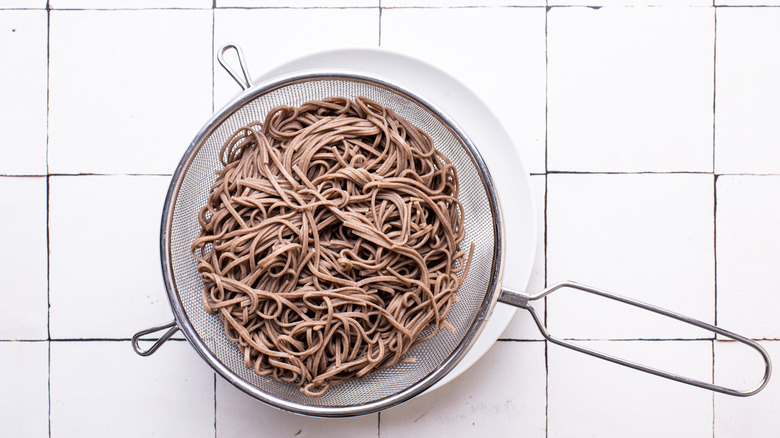 Alexandra Shytsman/Mashed
When your water has come to a boil, add the soba noodles. Be sure to stir them right away, and continue stirring as you cook to prevent them from sticking together. Soba noodles cook faster than wheat noodles (like spaghetti, for example), so they're typically ready in about 6 minutes or so. Refer to your noodle package for specific cooking times and be careful not to overcook them. When the noodles are cooked through, drain them and rinse thoroughly under running water to wash off the excess starch.
Assemble the salad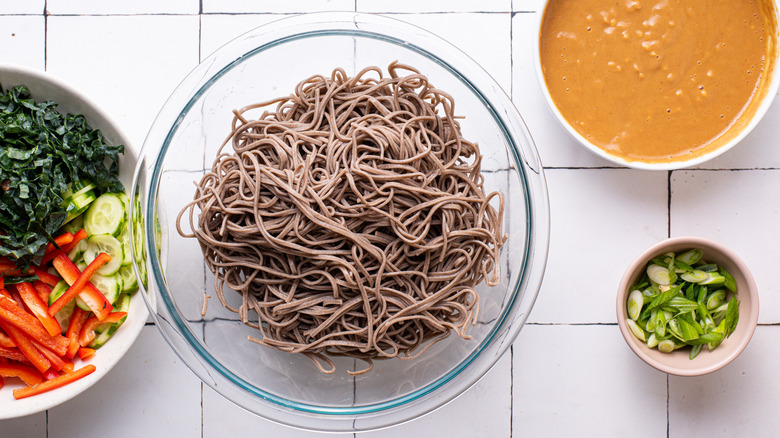 Alexandra Shytsman/Mashed
When everything is ready, add the noodles to the large bowl with the vegetables and drizzle with the sauce. Gently toss the ingredients together until everything is evenly coated — it's a good idea to do this with your hands to avoid noodle breakage, but tongs work well, too. Garnish the salad with sesame seeds before serving.
This soba salad is best served at room temperature or cold. Leftovers are delicious as well, and will keep in the fridge for about 4 days.
Peanut Soba Noodle Salad Recipe
When you want to eat more veggies but you're tired of downing salads, add this delicious peanut soba noodle salad recipe to your health-food rotation.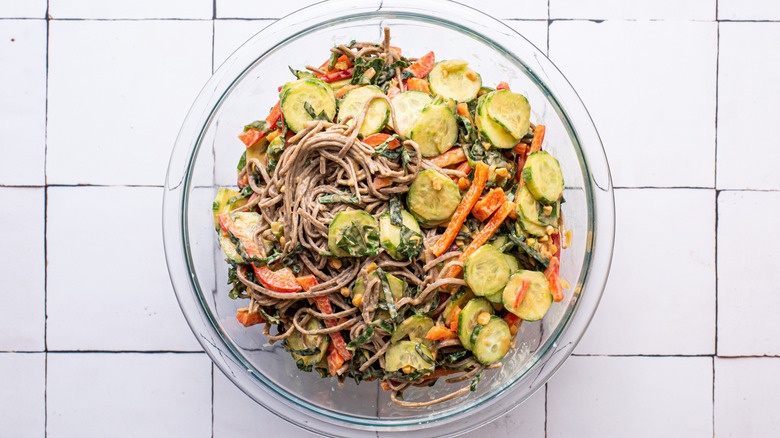 Ingredients
8 ounces soba noodles
2 Persian cucumbers, peeled in strips and thinly sliced
1 red bell pepper, ribs and seeds removed, thinly sliced
2 cups lacinato kale, thinly sliced
2 scallions, sliced on a diagonal
Sesame seeds, for serving
½ cup well-stirred natural peanut butter
3 tablespoons soy sauce or tamari
2 tablespoons seasoned rice vinegar
1 tablespoon toasted sesame oil
1 tablespoon minced fresh ginger
1 small garlic clove, minced
¼ cup filtered water
Optional Ingredients
Sesame seeds, for serving
Directions
Bring a large pot of water to a boil for the noodles and cook according to package directions.
Drain noodles and rinse well under cold running water, making sure to separate the strands with your fingers to wash off all the excess starch.
While the noodles are cooking, make the dressing. In a medium bowl, whisk together the peanut butter, soy sauce, vinegar, sesame oil, hot sauce, ginger, and garlic until completely smooth. Then add the water and whisk vigorously until combined.
Place the cucumbers, bell peppers, kale, and scallions in a large bowl. Add the noodles and drizzle with the peanut sauce. Using tongs, mix until the noodles are evenly coated.
Nutrition
| | |
| --- | --- |
| Calories per Serving | 459 |
| Total Fat | 21.8 g |
| Saturated Fat | 4.1 g |
| Trans Fat | 0.0 g |
| Cholesterol | 0.0 mg |
| | |
| --- | --- |
| Total Carbohydrates | 55.8 g |
| Dietary Fiber | 3.3 g |
| Total Sugars | 5.9 g |
| Sodium | 1,121.2 mg |
| Protein | 17.8 g |