The Reason Five Guys Refused To Deliver To The Pentagon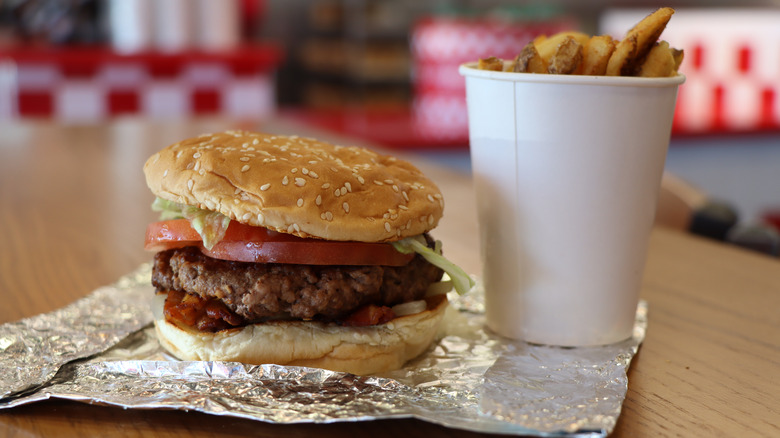 Deutschlandreform/Shutterstock
Not many people, or companies, would refuse the Pentagon. And yet that's exactly what popular fast casual burger chain Five Guys did early in their history. Not only did they live to tell about it, but their business has thrived since, despite, or perhaps because of, their refusal — Five Guys has more than 1,500 locations worldwide and was ranked the best burger brand by Harris Poll's EquiTrend study in both 2017 and 2018, reports Business Insider.
Five Guys first opened in 1986 in Arlington, Virginia (via the Five Guys website), not far from Washington D.C. In an interview with Inc., founder Jerry Murrell recounts an incident shortly after their opening, when they received a call from the Pentagon asking when they could deliver 15 burgers. Murrell refused, on the basis that Five Guys doesn't deliver. Even when an admiral in charge called Murrell personally to say, "Mr. Murrell, everyone delivers food to the Pentagon," Murrell stood firm. To really underscore the point, a massive 22-foot banner was put up outside the store that stated, "Absolutely No Delivery."
Why Five Guys didn't deliver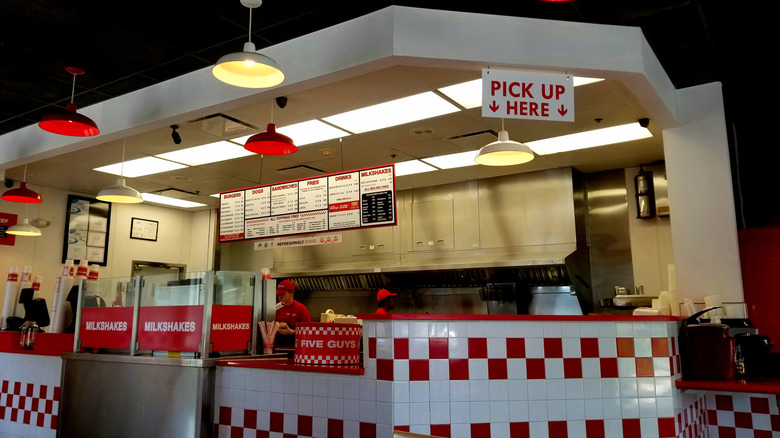 Photointoto/Shutterstock
"We've never had a delivery service," Murrell explained to QSR. "We don't believe in it. We think it cheapens the product." Despite a Pentagon employee's prediction that Five Guys would fail if they refused to deliver to the Pentagon and its 26,000 employees, Five Guys actually increased their business with the Pentagon by 20% after the banner went up, QSR reports. Even the President of the United States couldn't get Five Guys delivered. In 2009, President Obama showed up at a Five Guys to place an order in person — he got a cheeseburger with lettuce, tomato, fresh jalapeños, and mustard (via NBC News).
Change, though, is sometimes inevitable. These days, it is possible to get Five Guys delivered by using the likes of Doordash, Uber Eats, Postmates, and Grubhub. Five Guys also now offer milkshakes, something that Murrell refused to do for a long time, despite numerous customer requests (via QSR). That changed in 2014, according to Eater (and it's a good thing, as their Peanut Butter Milkshake came in second in our ranking of popular Five Guys menu items). So the next time you have a craving for a Five Guys burger​​ and shake but can't make it to a store in person, just pull up your favorite delivery app on your phone instead.