30-Minute Tortellini Skillet Lasagna Recipe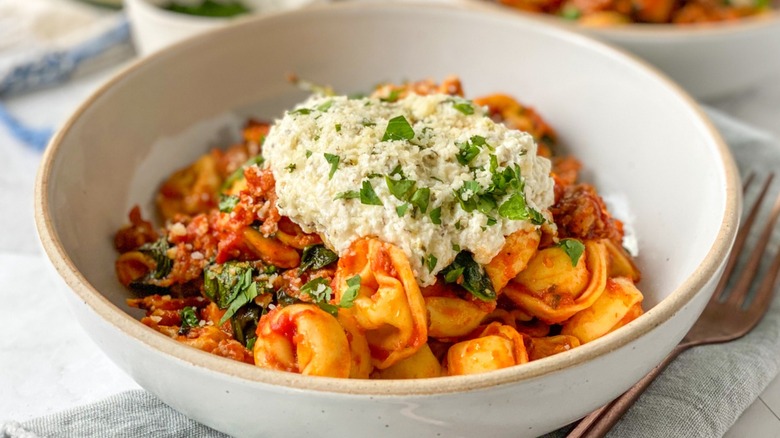 Hayley MacLean/Mashed
Lasagna is a pasta dish that tops nearly everyone's list of favorites — including that of a certain overweight cartoon cat named for a former president. The only thing we don't like about lasagna is the amount of time and effort it takes to cook. This pretty much relegates lasagna to a special occasion meal — either that, or something you only know from the freezer aisle.
Even on a busy weeknight, you can still do better than Stouffer's. Luckily, there are a number of hacks for lasagnas, including this one from recipe developer Hayley MacLean. She makes use of tortellini, something she says "makes the perfect substitute for lasagna noodles." As MacLean tells us, "This recipe is so good because it is quick, easy, and delicious!" She suggests serving it with the classic Italian-American sides of garlic bread and green salad, saying this will be "a perfect meal ... flavorful, filling, and so easy to make for the whole family!"
Gather the ingredients for your tortellini skillet lasagna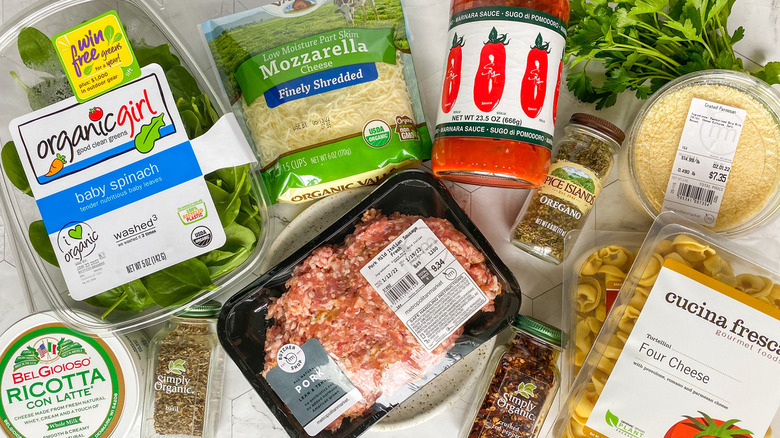 Hayley MacLean/Mashed
As this is meant to be a quick and easy recipe, most of the ingredients are ready-made, dried, or otherwise in versions that require little prep. You'll start by using loose Italian sausage meat — MacLean prefers mild, but feel free to spice things up with the hot variety if you like. She also uses cheese tortellini, but says, "Meat tortellini would make an awesome substitute in this for someone looking for a bit of a heartier meal." For marinara sauce, MacLean used the kind that comes in a jar, though if you happen to have any of the homemade stuff in the freezer, feel free to thaw that in instead.
The other ingredients include three types of cheese — ricotta, mozzarella, and Parmesan — as well as fresh spinach, and dried basil and oregano. You may also wish to have extra Parmesan on hand for topping the dish, along with some parsley for a garnish. A pinch of crushed red pepper could also bring a little heat should you desire such a thing. You'll also need to add water to the skillet while the sauce is cooking, so you'll want to have about ½ cup available.
Make the meat sauce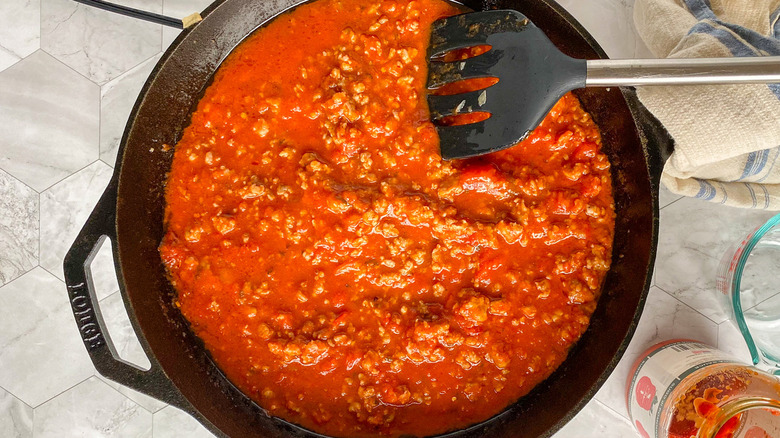 Hayley MacLean/Mashed
Begin by browning the sausage over medium-high heat, then add the marinara sauce along with ½ cup of water. MacLean also suggests ½ teaspoon of crushed red pepper, or says you can replace the marinara with arrabbiata sauce for "a fun, spicy twist." Other additions to the sauce might include some sautéed mushrooms or onions, and MacLean notes that it's "super easy" to make a veggie version of this lasagna by leaving out the sausage or replacing it with a vegetarian version.
Once you've got your sauce ingredients sorted, bring everything to a boil, then lower the heat until it's just simmering.
Cook the tortellini in the sauce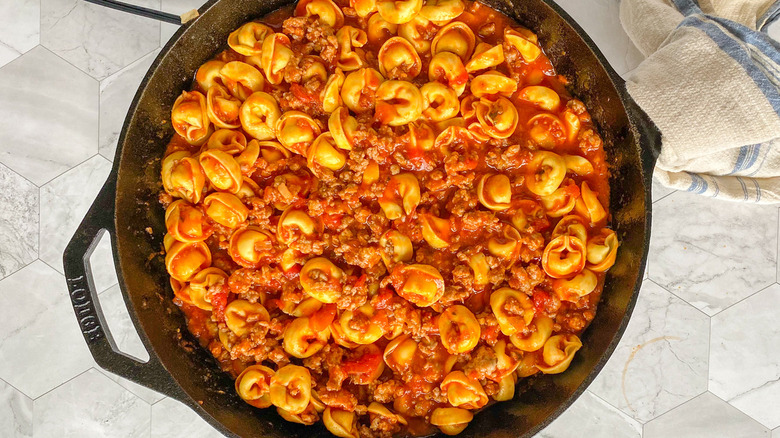 Hayley MacLean/Mashed
Add the tortellini to the simmering sauce, stirring until they're well-coated. Cover the pan, then let the tortellini cook for 5 minutes.
While the tortellini are heating up in the sauce, you can stir together the cheesy topping that will be this dish's crowning glory. Mix the ricotta with the shredded mozzarella and the grated Parmesan cheese (grating and shredding as necessary), then stir in the basil, the oregano, and as much salt and pepper as you like. You could even add a little more red pepper.
Finish the lasagna with a cheesy topper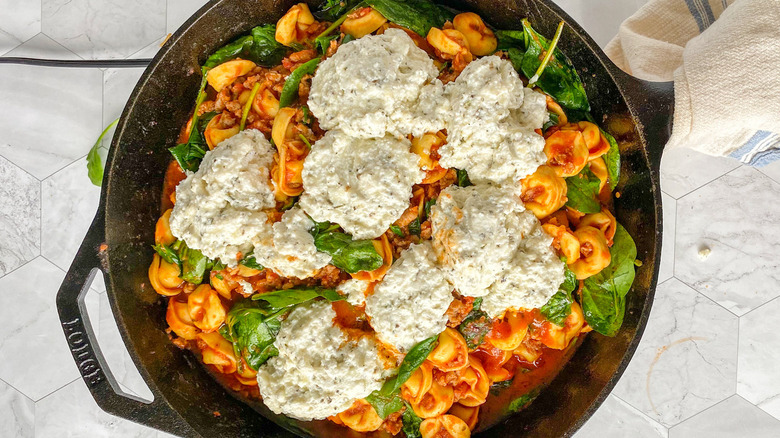 Hayley MacLean/Tasting Table
When the tortellini has simmered for the full 5 minutes, stir in the spinach leaves, then take spoonfuls of the cheese mixture and blop those over the top. (This is a very technical cooking term — 1 "blop" is precisely 14.23 grams. Kidding! A blop is as big as you want to blop it.)
Don't stir the cheese in, but do re-cover the skillet. Cook the tortellini for 5 more minutes until the cheese warms up. That's it, you're done! You may want to serve this skillet lasagna sprinkled with some chopped parsley for a bit of color, and you may also want to sprinkle some extra parmesan over the top. You should also eat it up while it's hot — though not too hot, since the cheese could burn your mouth if you don't let it cool down a bit.
30-Minute Tortellini Skillet Lasagna Recipe
If homemade lasagna is one of your favorite meals, but. it takes too long to make, you'll want to add this 30-minute tortellini skillet lasagna to your menu.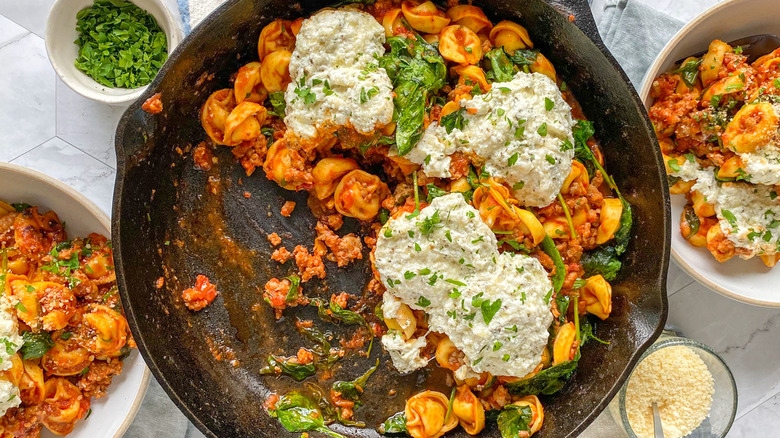 Ingredients
1 pound mild Italian sausage, uncased
1 24-ounce jar marinara sauce
20 ounces cheese tortellini
1 cup ricotta cheese
¼ cup grated parmesan cheese
½ cup shredded mozzarella
1 teaspoon dried basil
1 teaspoon dried oregano
3 cups baby spinach
½ cup water
Optional Ingredients
Crushed red pepper
Extra parmesan for serving
Chopped fresh parsley for garnish
Directions
Heat a large skillet over medium-high heat.
Cook the Italian sausage until browned.
Add the marinara to the sausage along with ½ cup water and, if desired, ½ teaspoon crushed red pepper (or, to taste).
Bring the sauce to a boil, then lower the temperature until it's just simmering.
Stir the tortellini into the sauce.
Cover the skillet and let the tortellini simmer for 5 minutes.
Mix together the ricotta, Parmesan, mozzarella, basil, and oregano along with salt and pepper, to taste.
Stir the spinach into the tortellini, then drop spoonfuls of the cheese mixture over the top. Do not stir.
Cover the skillet and let the tortellini cook for 5 more minutes to warm up the cheese.
Serve the tortellini topped with additional parmesan and chopped parsley, if desired.
Nutrition
| | |
| --- | --- |
| Calories per Serving | 733 |
| Total Fat | 41.3 g |
| Saturated Fat | 17.8 g |
| Trans Fat | 0.0 g |
| Cholesterol | 132.1 mg |
| | |
| --- | --- |
| Total Carbohydrates | 55.5 g |
| Dietary Fiber | 4.1 g |
| Total Sugars | 7.4 g |
| Sodium | 1,594.8 mg |
| Protein | 34.3 g |