Andrew Zimmern Shared An Emotional Tribute To Meat Loaf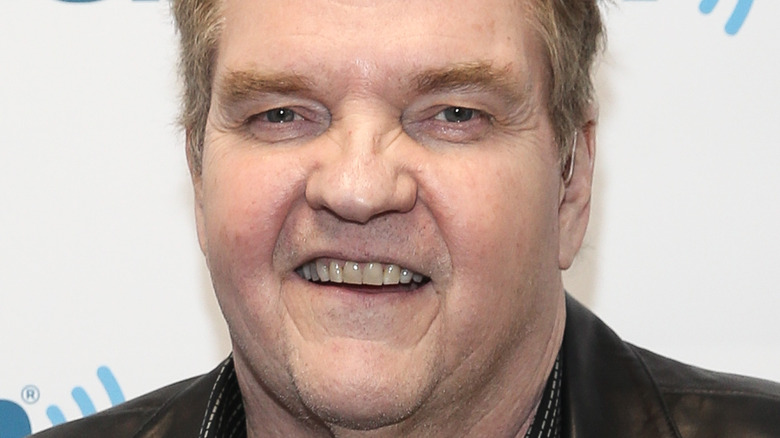 Rob Kim/Getty Images
The world has just lost a bright light. According to The Hollywood Reporter, the iconic rock star and actor Meat Loaf has died. He was 74 years old. Known for his captivating stage presence, Meat Loaf riveted fans with such hits as "Bat Out of Hell" and "I'd Do Anything for Love (But I Won't Do That)." He also famously portrayed Eddie in "The Rocky Horror Picture Show" and Robert "Bob" Paulson in "Fight Club." And the credits certainly do not end there.
According to the New York Times, the first solo album of the man born Marvin Lee Aday, "Bat Out of Hell," didn't get much credit from critics but would become one of music history's top-selling albums. It even inspired the Broadway production "Bat Out of Hell — The Musical." His legacy certainly speaks for itself, and fans no doubt have a lot to say about him. One longtime fan is Andrew Zimmern, who posted a tribute to the musician.
Andrew Zimmern remembers Meat Loaf
Apparently, Andrew Zimmern is not just a big fan of Meat Loaf, but someone who was personally moved by his music and acting. In an emotional tribute shared on both Twitter and Instagram, Zimmern posted an image of Meat Loaf from his jaunt in "The Rocky Horror Picture Show," quoting the lyrics from his featured song: "Hot Patootie, bless my soul, I really love that rock n roll..." Zimmern added that "this song, that performance changed my life in many ways." He also included bat and flame emojis – a clear reference to "Bat Out of Hell."
While Zimmern does not specify the ways in which Meat Loaf's performance affected him, a sense of sorrow can be felt in the post and throughout the comments. Fans, too, expressed appreciation for Meat Loaf. "So sad! I remember my then husband and I danced [during] a tv concert," an Instagram user recalled. "He will be missed!" Another fan of the late performer wrote, "he owned that movie." Another person remarked that Meat Loaf's music was appreciated by people from different generations: "At least many, many Millennials & GenZ'ers got to join us boomers & GenXers in knowing, loving, & appreciating his power, skill, & one-of-a-kind artistry!" It is clear he will be missed by many.