Why You Should Always Have Pasta In Your Pantry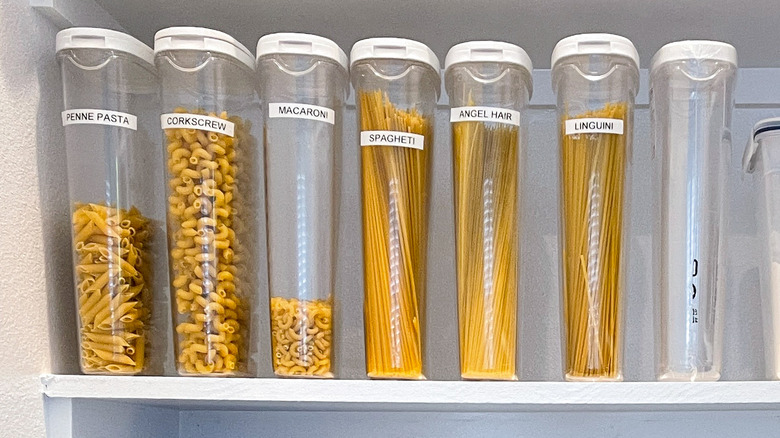 Joni Hanebutt/Shutterstock
Pasta is the ultimate comfort food. Delicious, versatile, cheap, and easy: What can't it do? Fresh is great if you can get it, but dried is a must-have pantry staple. Chef Chris Riley of The Daring Kitchen told Prevention, "It is not expensive and is easy to stock up and store. You can get all different types of noodles like rigatoni, fettuccini, shells, spaghetti, farfalle. There are a million different recipes for making pasta so you won't get bored. Pasta is an easy and quick main ingredient to make, and combined with some canned vegetables you can get a delicious meal only using pantry products." 
Fresh pasta is often too delicate for many types of sauce, or hearty recipes with things like chicken or sausage; Uno Casa says: "Dry pasta is much firmer than fresh pasta, so it's best used in dishes that have a thick sauce when the pasta needs to be able to hold its shape well." So while it's nice to make fresh pasta for a special occasion, for your everyday meals, the dried stuff is the winner. Spaghetti bolognese, anyone?
Pasta is versatile, cheap, and easy to prepare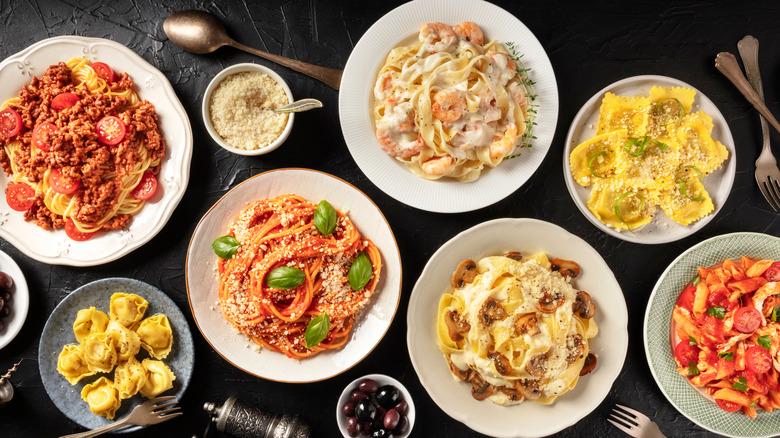 Plateresca/Shutterstock
Pasta is incredibly versatile and can be made into literally thousands of different dishes suited for any taste. It is a great way to bulk up any meal: If you only have one sausage or half a head of broccoli, a box can stretch the ingredients into a full meal. It's an incredibly budget-friendly pantry staple: "One box of most pasta is less than $2, but you can easily get six to eight servings out of it," reports Allrecipes. When payday is far away, pasta is a cheap way to make something delicious with just a few ingredients you probably already have on hand. 
Many varieties also have speedy cook times. Lots are under 10 minutes, so quick pasta recipes are a great way to get dinner on the table lightning fast, often even speedier than it takes for a pizza to get delivered. Most dried varieties can even be cooked ahead of time, up to two days, according to Bon Appétit. Just toss it with a couple of tablespoons of olive oil after it's done boiling, cool it, and then plop it in a zip-top bag to keep in the fridge. Do you love pasta but grow tired of the traditional dishes? You could mix it up and use dried pasta in a rice pilaf, frittata, or soup.