Sesame Chicken That's So Much Better Than Takeout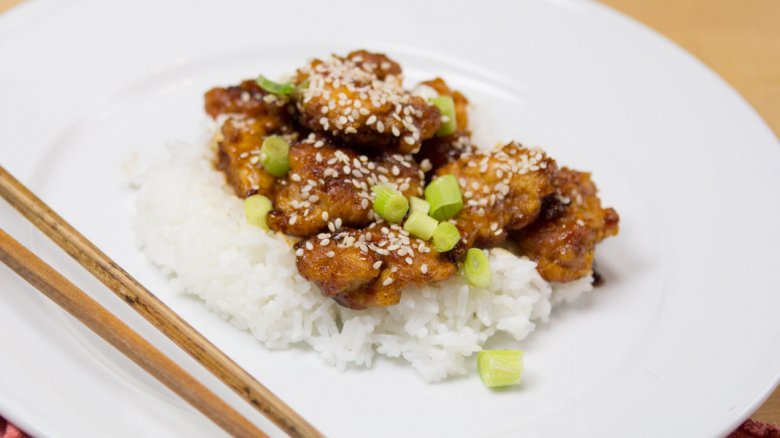 Falling under the same category as General Tso's chicken, sesame chicken is an icon of Americanized Chinese food in its own right. This popular dish of battered and deep-fried chicken pieces gets its characteristic sweetness from the sticky sauce that coats every morsel. Served over white rice, this takeout staple gains the unique ability to comfort the soul. In my early 20s, before I discovered my love of cooking, sesame chicken rendered me helpless and at the mercy of my delivery guy. I tried time and time again to break up with my greasy local Chinese takeout joint, but I was hooked.
Luckily, this simple recipe I concocted is a much lighter version of sesame chicken—one you can feel good about eating. Yes! I'm talking about making what you would normally order and doing it much better. No deep-frying in a vat of oil, just shallow stir-frying. No MSG, only easy to obtain ingredients with pronounceable names. What's not to love? You get to have everything you crave about a good old-fashioned Chinese takeout dinner without the usual oily mess and bad feelings that come afterward. No tipping required. Put your phone away because it's time to take control of your own sesame chicken needs.
Gather your ingredients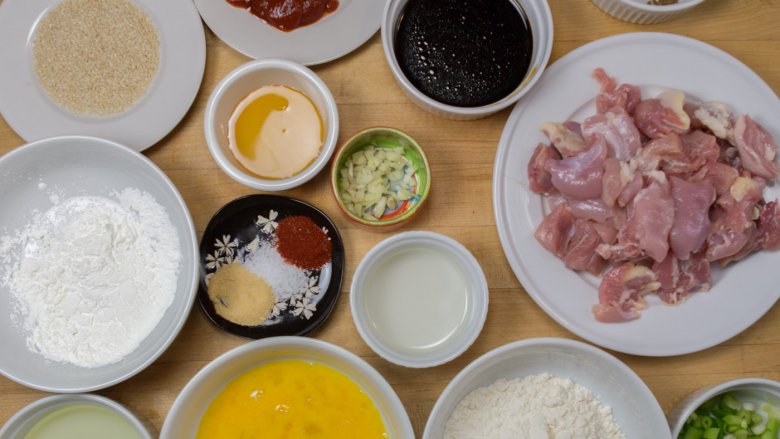 This version of your favorite takeout dish can be made with lean chicken breasts or thighs if you, like me, want more of that fatty flavor. Besides, no need to feel too guilty since the meat is stir-fried in shallow canola oil as opposed to deep-fried as is the norm at most Chinese restaurants. A simple dredge of cornstarch, egg wash, and seasoned flour lends the dish tons of texture and savory flavor. The mouthwatering sauce is made with soy sauce, Chinese rice vinegar, brown sugar, honey, and garlic. Vibrant scallions and a whole lot of sesame seeds lend crunch and visual appeal.
Prepare the dredging station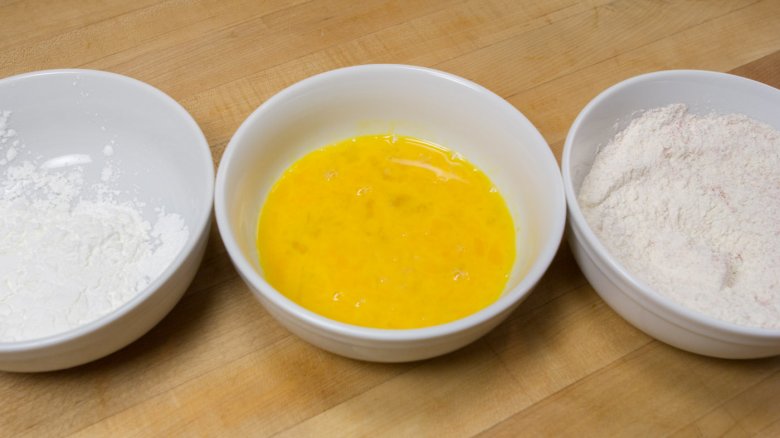 The coating on the chicken makes each piece slightly crispy with a perfect crust, while keeping the insides moist and tender. No dry chicken here! Be sure to take your time dredging to make sure you get every bit coated and shake off any excess, of course. Once you have your dredging station set up, cut the chicken into pieces of a similar size so they cook evenly and at the same speed.
Heat the oil and dredge the chicken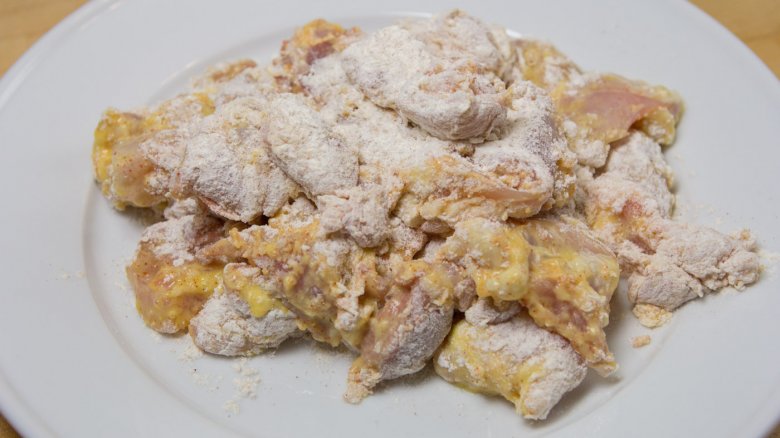 The oil needs to be hot to achieve that restaurant quality chicken you're aiming for. If you have a wok, use it. Otherwise, a large pan will do. The idea of stir-frying is to cook your food quickly over high heat. The oil should be shimmering and the pan should feel hot when you hover your hand above it. This takes awhile, which gives you plenty of time to dredge the bite-sized chicken pieces. Go in order: cornstarch, egg wash, flour. I like to use tongs for this to avoid the dreaded case of the clumpy flour hands.
Stir-fry the chicken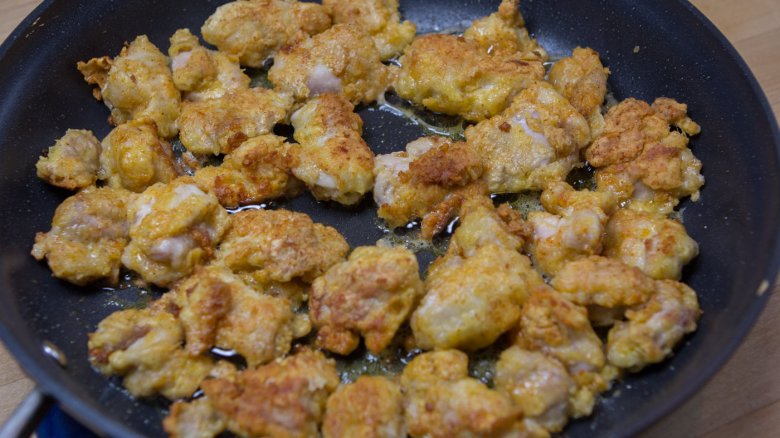 Now it's time to cook up that chicken. Be sure to toss the pieces every now and then so all sides get properly browned. They should cook through fairly quickly, depending on the size of the pieces.
Make the sauce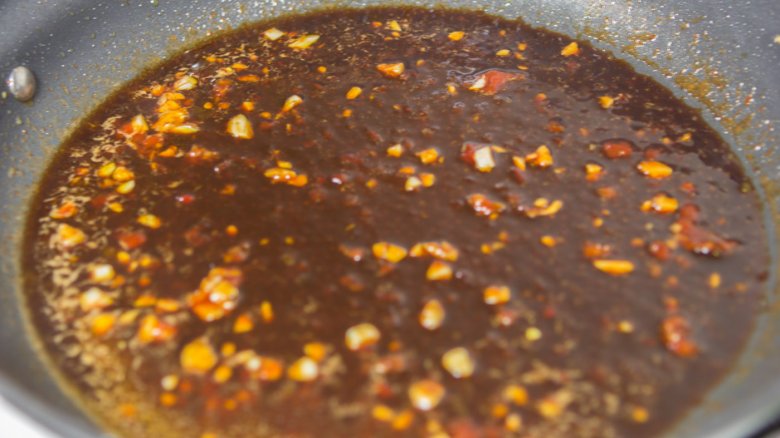 I hate doing the dishes, so I'd rather just use the same pan for the sauce as I used for the chicken. You can use the chicken plate as a platter for serving. Simply simmer the sauce ingredients until the mixture is reduced by about a third. This definitely does not have to be precise!
Coat the chicken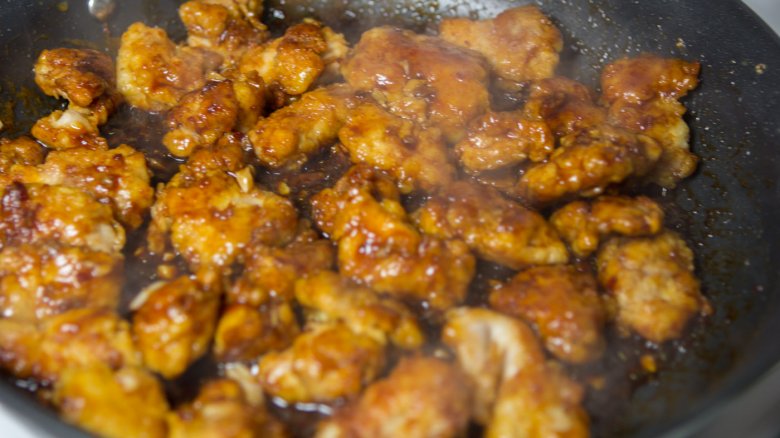 Time to warm up that cooked chicken and coat every piece in delicious sweet, salty, spicy sauce. Mmmm.
Garnish the chicken and serve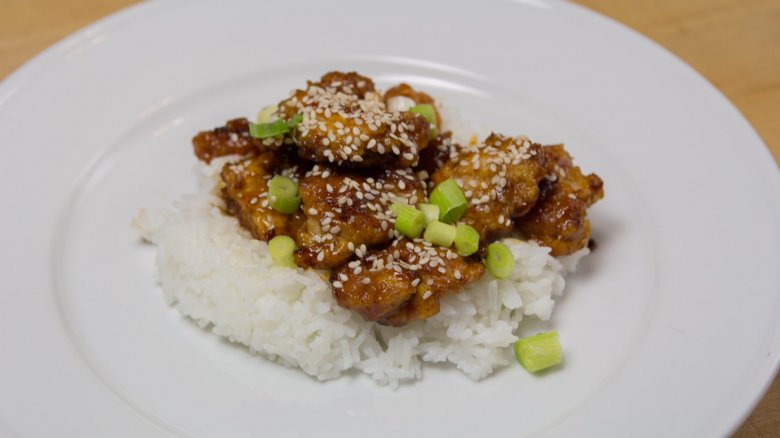 You're close. Garnish your chicken with as many sesame seeds as your heart desires. It is the name of the dish after all. Scatter the thinly sliced scallions on top for brightness. Enjoy!
Directions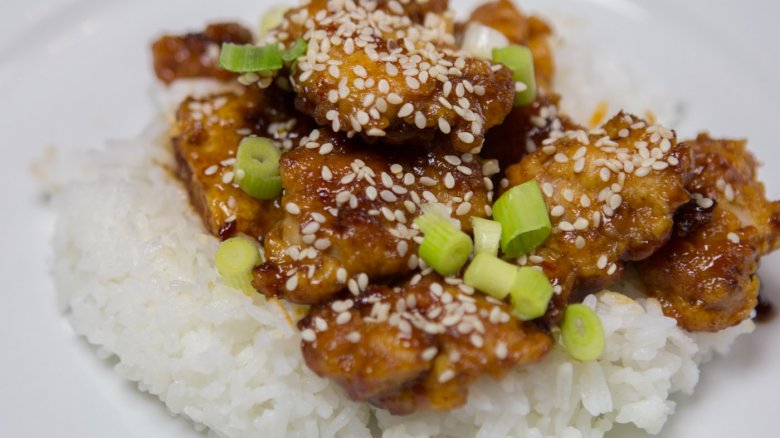 Prep time: 10 minutes
Cook time: 15 minutes
Servings: 4
Ingredients:
¼ cup plus 1 tablespoon canola oil
2 large eggs, lightly beaten
3 tablespoons cornstarch
½ cup plus 2 tablespoons all-purpose flour
½ teaspoon kosher salt
½ teaspoon garlic powder
2 teaspoons paprika
freshly ground black pepper
1 pound boneless, skinless chicken breasts or thighs, cut into bite-sized chunks
2 cloves garlic, minced
1 tablespoon Chinese rice vinegar
2 tablespoons honey
2 tablespoons sweet chili sauce
3 tablespoons ketchup
2 tablespoons dark brown sugar, packed
¼ cup soy sauce
2 tablespoons sesame seeds
2 scallions, thinly sliced
rice for serving, optional
Directions:
Heat the canola oil in a large pan over medium-high heat.
While the oil heats, place the beaten eggs in a shallow bowl. Place the cornstarch in a separate shallow bowl. In a third shallow bowl, whisk together the flour, salt, garlic powder, and paprika. Season the mixture with as much black pepper as desired.
When the oil is shimmering and the pan is very hot, dredge the chicken in the cornstarch, then dip in the egg wash, then finally dredge it in the flour mixture. 
Add the chicken to the pan in a single layer and cook, turning occasionally, until browned all over, 7-8 minutes. Transfer to a paper towel-lined plate.
Combine the garlic, Chinese rice vinegar, honey, sweet chili sauce, ketchup, brown sugar, and soy sauce in the pan from the chicken over high heat. Cook until the sauce reduces by about a third, 2-3 minutes.
Add the cooked chicken to the pan with the sauce and cook together, stirring occasionally, until the chicken is warmed through and thoroughly coated, 1-2 minutes. Remove the pan from the heat. Taste and season with more salt and black pepper as needed.
Scatter the sesame seeds and scallions on top of the chicken to garnish and dig in.