The One Wine-And-Cheese Pairing Trick You Need To Know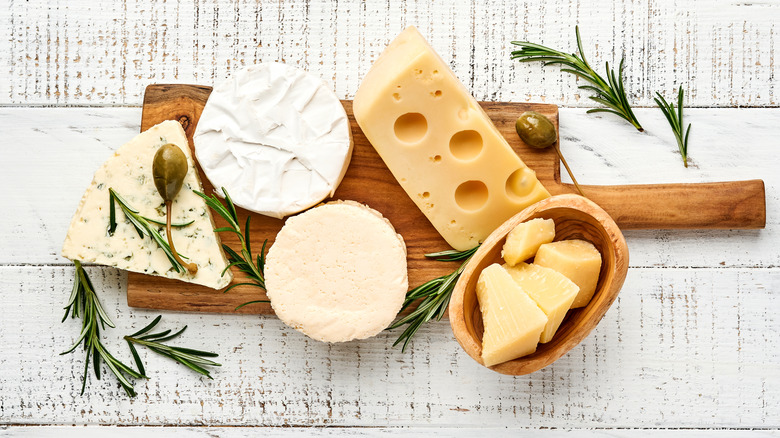 Katarzyna Hurova/Shutterstock
There are cheesemongers, and then there's Ken Monteleone, owner and cheesemonger-in-chief of Fromagination, an iconic, specialty store in the best place it could be — in Madison, capital of America's Dairyland, Wisconsin. 
Monteleone's shop — whose name is an amalgamation of the word "fromage" and "imagination" — stands out even in a region where cheesemakers and/or cheesemongers number by the dozens. In a 2017 interview with Cheese Connoisseur, Monteleone says he spent time thinking about what he wanted in a cheese shop before he set about making it happen. He said: "There were plenty of cheese shops and places to buy cheese. But we wanted to create a slower environment where people would get to know us. We wanted a face that was unique in that way. When I'd travel to Europe, I'd go to shops in France and Italy. And I took a lot of cues from those places."
To Monteleone, there's just one thing wine and cheese lovers need to remember when bringing their two favorite food groups together. Monteleone tells Mashed: "They don't say salty and sweet for nothing! I recommend a sweet white wine for salty hard cheeses like an aged parmesan, feta, blue cheese, or gouda. The acidity of sparkling wine will also help tame the saltiness in a lot of aged cheeses."
You can't go wrong with these pairings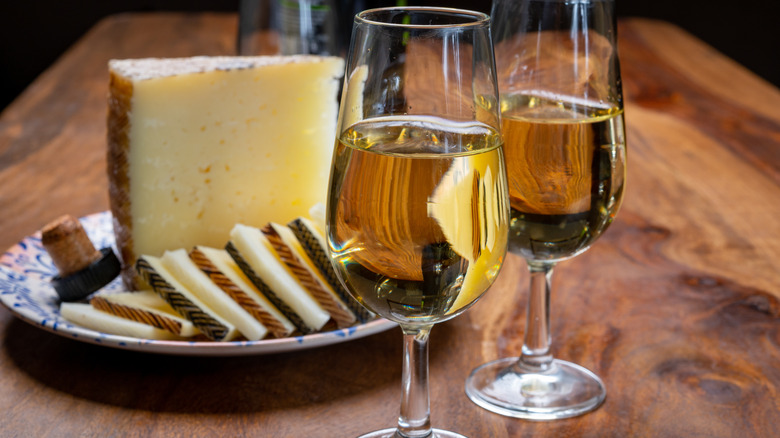 barmalini/Shutterstock
Cheesemonger Ken Monteleone tells Mashed that he has his own favorite pairings, too. He says: "A crisp, young wine like Sauvignon Blanc is light-on-its-feet and pairs well with many cheese varieties. Because this white wine is grown in many regions of the world, it pairs well with a handful of European inspired cheeses that Wisconsin cheesemakers have come to perfect, such as alpine style cheeses like gruyere or a brick cheese that has German roots. Both Uplands Pleasant Ridge Reserve, the nation's most awarded cheese, and Widmer's Brick cheese would play well with a refreshing Sauvignon Blanc."
But if your tastes run to something a bit more full bodied, he recommends going with something different. "If a Syrah Rosé is more your style, they tend to be drier and full-bodied so you can pair it with stronger cheeses, like aged cheddars from Hook's Cheese. Most Zinfandel rosés offer a balanced experience that combine dryness and moderate sweetness. This balance makes it a great rosé for pairing with creamy, rich Havarti from Roth Cheese," Monteleone says.
Tips for building a good cheeseboard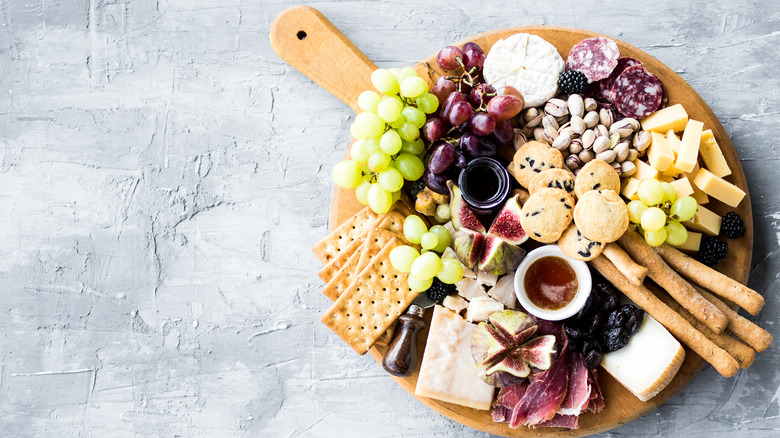 Nelli Syrotynska/Shutterstock
Cheesemonger Ken Monteleone also has guidelines he follows when he's pulling cheeses together to fill up a cheese platter. "I always like to say that there are no rules when building a cheese plate because trying new wines and cheeses together can take you on a flavor adventure and you never know what combination your taste buds might like most! Traditionally, white wines and sparkling wines will be a soft cheese's best friend, and I reserve red wines for a bolder, aged cheese like an aged cheddar," he says.
In terms of visual impact, he advises Mashed readers, "Whether you're building the cheese board of your dreams or preparing an Instagram-worthy dinner plate, the best way to spice up your plate is with some color. Wisconsin has you covered with a variety of wine-soaked cheeses perfect to decorate your cheeseboard. Try a few hard, wine-soaked cheeses like Sartori Chardonnay BellaVitano, Belgioioso Artigano Vino Rosso, and Sartori Merlot BellaVitano for the ultimate wine and cheese pairings."
Monteleone adds: "Of course, no cheese board is complete without some more elements of salty and sweet, so I like to add crackers, jams and chutneys, [and] fresh and/or dried fruit. Locally made Potter's Crackers, Quince and Apple, and Nutcrack are a few of my favorites!" There you have it — a foolproof cheeseboard, guaranteed.