Costco Shoppers Are Begging For The Return Of This Popular Pizza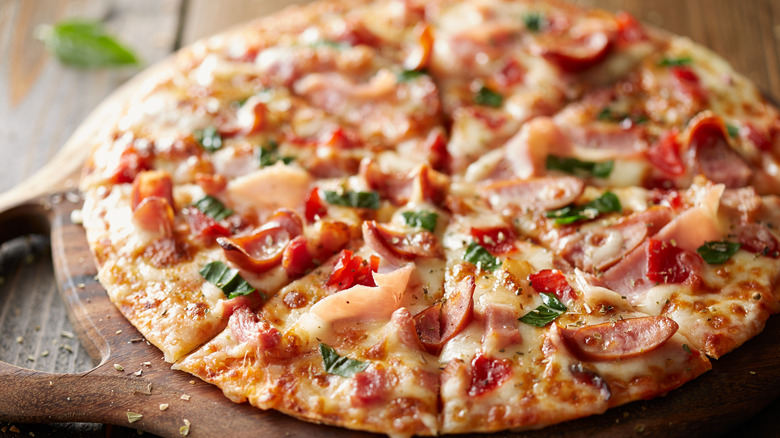 tolin168/Shutterstock
Costco has long been a favorite source for its food court goodies that tide over shoppers during marathon trips. Its delicious pizza is lauded for its generous toppings, long rising time, and quick cooking time. And their mythical combo pizza slices in particular, loaded with vegetables, pepperoni, and sausage beneath generous helpings of cheese, have been a true fan favorite, though one that shoppers recently have mourned saying goodbye to in the past year.
With Costco's fan base being as high as it is, and our collective love of pizza, it only makes sense that shoppers would fight for the return of this favorite item that has left many wanting more. A number of outlets have covered the recent removal of the coveted slice from the store's food court menus, with Eat This, Not That! saying the warehouse may never bring it back, and a Reddit post from someone in 2020 mourning the last time they enjoyed the tasty meal. And now other fans are working hard to force Costco's hand in bringing it back!
The fans want a Costco Combo Pizza comeback
As with many food store-related topics, fans have flocked to the popular platform Reddit to air their complaints and try to find a way to bring their favorites back to shelves. In this case, the favorite is Costco's once well-liked Combo Pizza slices available in the food court. For those who have not had the delight of tasting this meal, the Combo Pizza came with a mix of meat (pepperoni and sausage) and veggies, making it the perfect slice of pie — and quite easy to see why so many want it back.
While they may not have found a definitive solution yet, many fans have banded together with possible ideas to force a comeback. On the Reddit thread, one person said, "If every one of you would just call corporate a couple of times, they might do it. The complaints got our paper straws changed to more expensive biodegradable plastic so I'm pretty sure they could do anything." Others merely offered support and were in agreement that "Combo Pizza is the best." Here's hoping Costco is listening and these fans find a way to bring the food back.