TikTok's Next Level Burger Challenge, Explained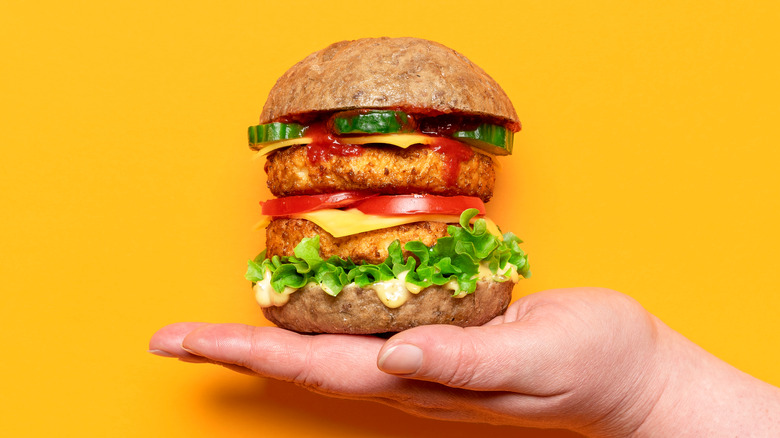 YesPhotographers/Shutterstock
As a social media platform, TikTok is known for hosting food challenges that appeal to its users. Some are fun and friendly. For instance, in February of last year, enthusiastic folks participated in the Four Course Meal challenge, an interesting contest that involved participants playing rock, paper, scissors with someone they know in order to decide who will step up their cooking game for each round or purchase food and drinks (via Taste of Home). The "mini-tournament" had a total of four rounds that included beverages, side dishes, the main course, and sweet treats. 
According to Pop Sugar, the Four Course Meal Challenge was a great way for people to mix and match their meals by adding beverages and food items from some of their favorite eateries. This trend was a huge hit and saw millions of participants posting fun videos on the social media platform as they combined eclectic dishes for the challenge. But some TikTok challenges aren't an invitation to hang out with friends so much as an invitation for feedback from a chef known for saying very unfriendly things. As reported by FoodSided, home cooks are being encouraged to create burger recipes for The Next Level Burger Challenge in a bid to impress celebrity chef Gordon Ramsay, a man who is notoriously hard to please.
This one is for the burger enthusiasts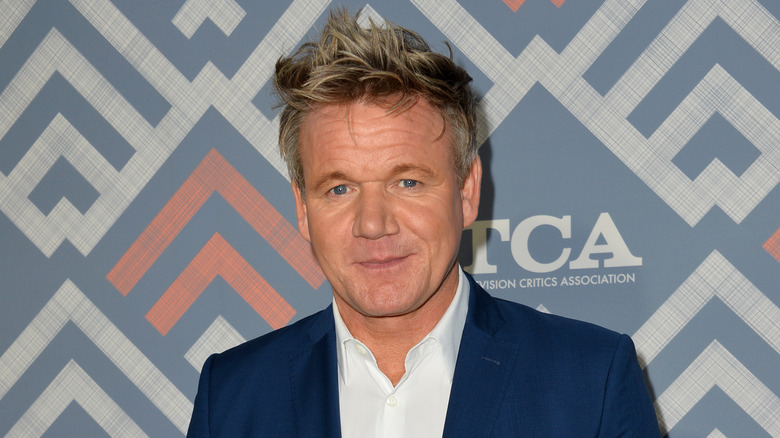 Featureflash Photo Agency/Shutterstock
According to FoodSided, the Next Level Burger Challenge was initiated by Gordon Ramsay's show, "Next Level Chef." Ramsay has already pitched in on TikTok by suggesting ingredients that might go into an impressive burger. They include American Wagyu, a well-cooked patty, cheese, and the famously pricy truffle. Meanwhile, Ramsay's fellow chef and "Next Level Chef" mentor, Richard Blais got fairly ambitious with his version and cooked a burger with not one or two but three patties on a bun. 
The Next Level Burger Challenge hashtag is quite popular and has been viewed over 7 million times with plenty of home cooks demonstrating their culinary skills on TikTok. Cooking enthusiast Carter Kimble prepared a juicy "Quesabirria" burger for the challenge. Some commenters said the burger looked "phenomenal," "way too good," and worth $25. The original recipe was posted on Kimble's Instagram page and included ground chuck with some Oaxaca cheese, onions, cilantro, pickled jalapeños, chipotle mayo, and Birria braised beef. Someone else shared a TikTok video featuring a "pizza cheeseburger" with pizza sauce, pepperoni slices, mozzarella, and Italian seasoning on a bun. The top comment read, "Sometimes, your genius is almost frightening."
Per Food Sided, one of the future episodes on "Next Level Chef" will primarily focus on burgers and give viewers a chance to watch contestants craft delicious burgers from scratch. Meanwhile, the TikTok challenge remains open to all home cooks who feel like being a part of the trend.