This Museum Is Dedicated Entirely To Spam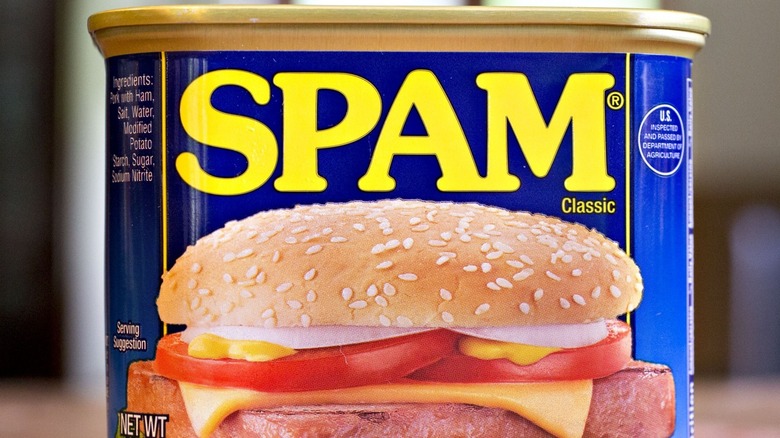 Bloomberg/Getty Images
Here's a tasty travel tidbit: There are many museums in the United States and around the world dedicated exclusively to food. In Atlanta, you can drink in the history of one of America's favorite fizzy beverages at the World of Coca-Cola (per Discover Atlanta). Middleton, Wisconsin, pays homage to a king of condiments, mustard, at the National Mustard Museum. Tiny LeRoy, New York, fetes America's favorite colorful, jiggly dessert, Jell-O, at the Jell-O Museum. 
The Frietmuseum in Belgium has multiple floors of exhibits on frites, also known as French fries and fried potatoes (per The Travel). Speaking of spuds: The Idaho Potato Museum in Blackfoot celebrates the state's best-known agricultural product, the mighty potato (via Visit Idaho). And for people who love cans of processed meat, there's a museum dedicated to Spam.
Austin, a small city in southern Minnesota, is the home of the Spam Museum. This is fitting because Austin is the headquarters of Hormel Foods, maker of Spam (and hundreds of other food products), according to Roadside America. 
This Minnesota museum is a 'Spamtastic' destination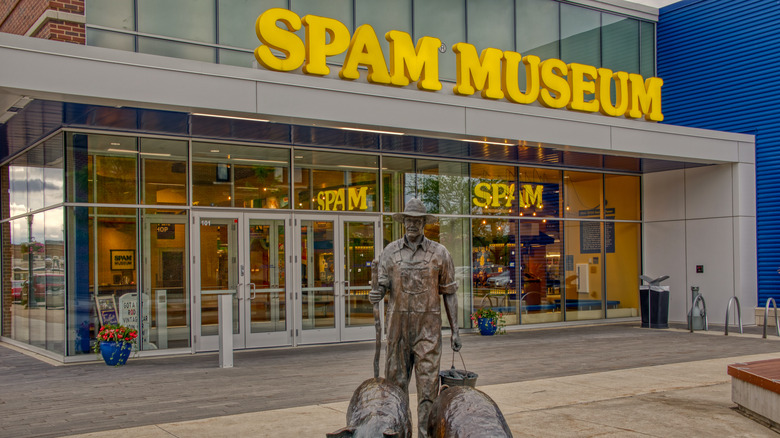 Jacob Boomsma/Shutterstock
If you're a fan of Spam – seasoned pork with ham, cooked in metal cans (per Spam.com) – you will not want to miss this museum. Admission is free, Spam.com points out, and guided tours with informative and enthusiastic "Spambassadors" are offered six days a week. "Depending on staff availability, one of them will be heating slices of Spam and serving it to visitors on pretzel sticks," per a Roadside America write-up. "Above their heads, a conveyor belt slowly moves hundreds of Spam cans in an endless loop."
According to Tripadvisor, the Spam Museum spans 14,000 square feet, and judging from the photos, it boasts multiple galleries exploring the history of Spam, the role of Spam in wartime, and the evolution of America's favorite tinned meat, as well as engaging interactive exhibits for children and adults. It's the top tourist destination in Austin, per Tripadvisor rankings. "Be open to the Spam samples – the bacon is yummy and the jalapeño refreshingly different," suggests Tripadvisor user SouthernBred59. "The gift shop has a wide variety of unique items as well as all flavors of Spam." (Did you know there are more than a dozen varieties of Spam, including turkey Spam, teriyaki Spam, and Spam singles, per the Spam website?)
You might just leave the Spam Museum humming that classic Monty Python earworm, the "Spam Song" (via YouTube).