Padma Lakshmi's Latest Meme Just Called Out MasterChef Fans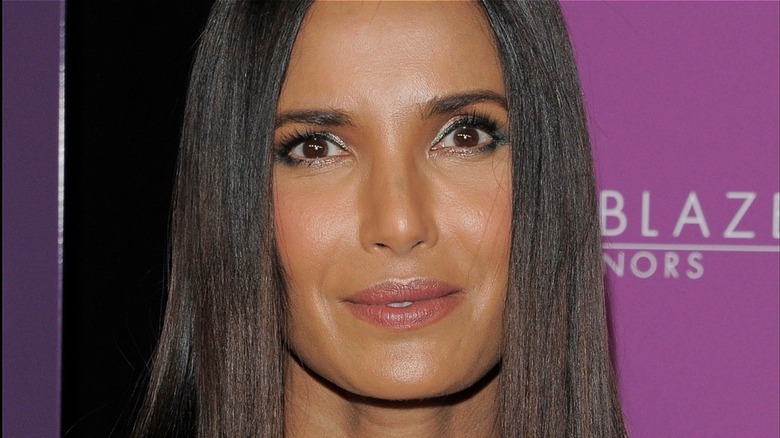 Ron Adar/Shutterstock
For lovers of high-stakes cooking competitions, there are many to choose from. One of the most well-known may be Bravo's "Top Chef," which aired its first episode in 2006. Presented by the charming Padma Lakshmi and featuring a panel of celebrity chef judges, "Top Chef" pits only the most talented professional chefs against one another to see who will take home bragging rights and a $250,000 cash prize (via Bravo). 
Of course, not everyone longs to watch professional chefs display their aplomb at doing what they have been trained for years to do. For those who find it more entertaining to watch what happens when amateur cooks set about making their way around a cooking competition kitchen, there is Fox's "MasterChef," which first debuted stateside in 2010. Also judged by a panel of celebrity chefs and offering a $250,000 cash prize, "MasterChef" features the overtly gruff, albeit comic, stylings of celebrity chef Gordon Ramsay, among others. 
Despite the fundamental differences between "Top Chef" and "MasterChef," there are plenty of viewers who enjoy both. However, one person who clearly has a preference is the "Top Chef" host, Padma Lakshmi. And guess which one she prefers? Here's the hilarious way that Lakshmi expressed that via social media.
Padma Lakshmi's meme throws shade
Culinary television star Padma Lakshmi took to Twitter this morning to throw down the metaphorical gauntlet. Lakshmi posted a cartoon meme comparing fans of Bravo's "Top Chef" to fans of Fox's "MasterChef." The image is wordless except for labels "Top Chef fans" and "Master Chef fans." The caption consisted solely of the "100" emoji, but the meme speaks volumes about how Lakshmi apparently regards the highly prestigious cooking competition that she hosts compared to the nothing-to-be-sneezed-at cooking competition "MasterChef." 
As depicted in the meme, the "MasterChef" fan sits glumly on what appears to be a tour bus, staring at a window but seeing nothing but a rocky cliff. By contrast, the "Top Chef" fan sits quite contentedly on the other side of the tour bus aisle, gazing eagerly at the simple and lovely tableau outside their window and holding a camcorder, presumably to record all that is memorable. Lakshmi's fans immediately caught her meaning, although, to their credit, many weighed in the comments section with salient points regarding what is to love about both.