Cheese Souffle Recipe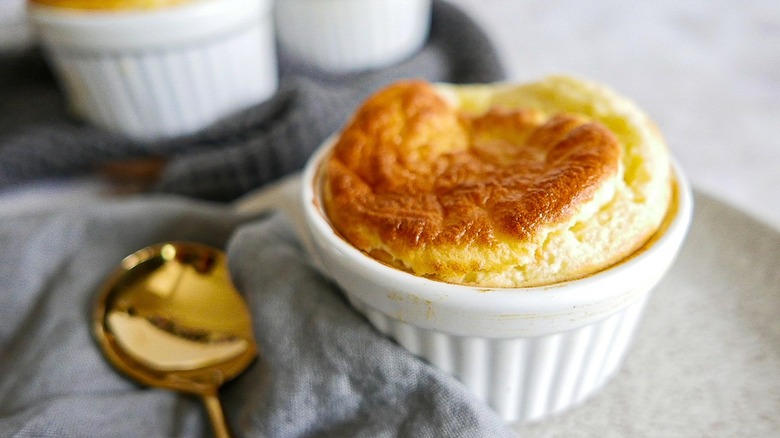 Ting Dalton/Mashed
If you've ever enjoyed a soufflé, then you know just how decadent they can be. Light and fluffy, a soufflé can take on many flavor profiles, ranging anywhere from savory to sweet. While we love a good chocolate soufflé, there's something particularly indulgent about a savory one — like, for example, this cheese soufflé. Recipe developer Ting Dalton has crafted this wonderful recipe, and she assures us that it's actually easy to make. "Soufflés are considered notoriously difficult to make, but this recipe ensures that you will get a lovely, light, airy soufflé without the hassle," she explains. "Perfect for serving as an appetizer at a dinner party or to impress a date for a romantic meal, these soufflés are delicious and worth the effort." We definitely agree!
Though soufflés do have a reputation for being difficult to make, this recipe isn't overly intensive, and you'll only need a handful of ingredients to throw it together. Whether you want to make something special for date night or simply want to experiment in the kitchen, this cheese soufflé recipe will not leave you disappointed!
Gather the ingredients to make your cheese soufflé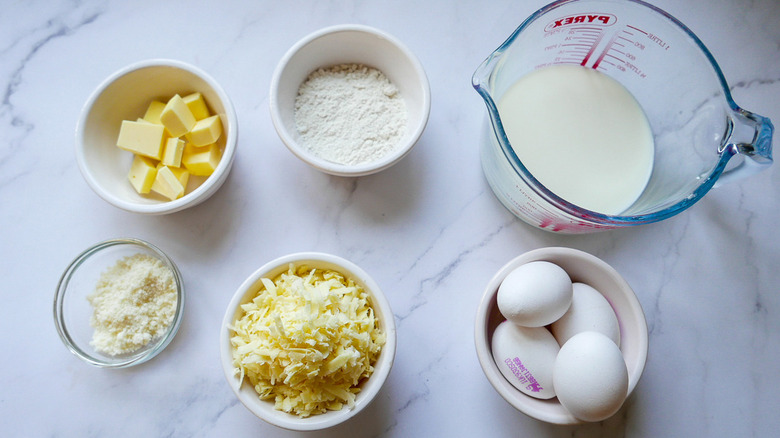 Ting Dalton/Mashed
Of all the variations of soufflé in the world, they have one definite thing in common, and that's the egg base. So, for this recipe, you'll want to make sure that you have some eggs on hand. Keep in mind that you'll be separating the yolks from the egg whites, but both will go into the dish. Now, it wouldn't be a cheese soufflé without the cheese, so you'll need both grated Parmesan and shredded sharp cheddar. If you don't have cheddar or don't like it, Dalton notes that you could use Gruyere instead. Finally, to round out this savory dish, you'll need butter, all-purpose flour, and some milk. 
Coat the ramekins in butter and Parmesan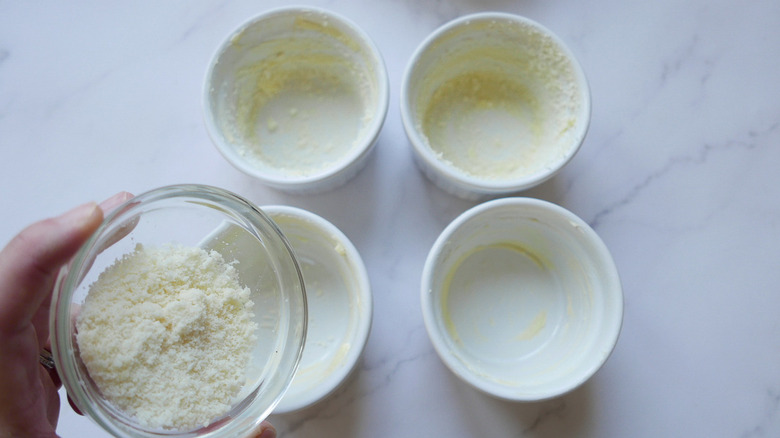 Ting Dalton/Mashed
To get going on this recipe, start by preheating your oven to 300 F. Then, grab your ramekins and use a small amount of softened butter to grease the insides. Make sure that the sides and bottoms of each ramekin are thoroughly coated in butter. Now, pour the grated Parmesan into each ramekin so that it sticks to the butter. Tip out any excess Parmesan — you just want enough so that the insides of each ramekin have an even layer of the cheese.
Make the soufflé base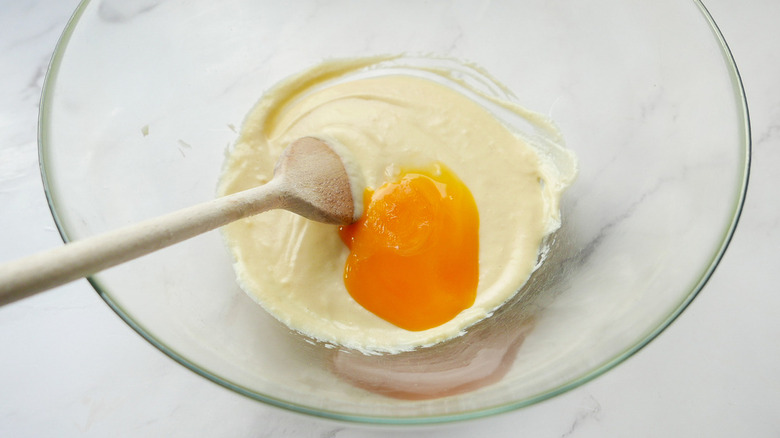 Ting Dalton/Mashed
With your ramekins coated, you can now focus on what is going to go inside of them — the soufflé itself, of course! Place 4 tablespoons of butter into a pan over medium-high heat, and allow it to melt. Once the butter has melted, add in the all-purpose flour, stirring until smooth. Now, add in the milk, allowing these ingredients to cook while whisking constantly. After 5 minutes, your mixture should have thickened up, and you can remove it from the heat. Add in the shredded cheddar, stirring until it has melted, then pour the entire mixture into a large bowl. 
Separate four egg yolks from the whites, but be sure to reserve the whites on the side. "I find using my fingers to separate the egg yolks the easiest method, as you can easily let the whites drip through to a bowl underneath," Dalton notes of her technique. Finally, stir the egg yolks one at a time into the mixture. Place a cloth over the bowl and set it aside.
Beat the egg whites and add them to the base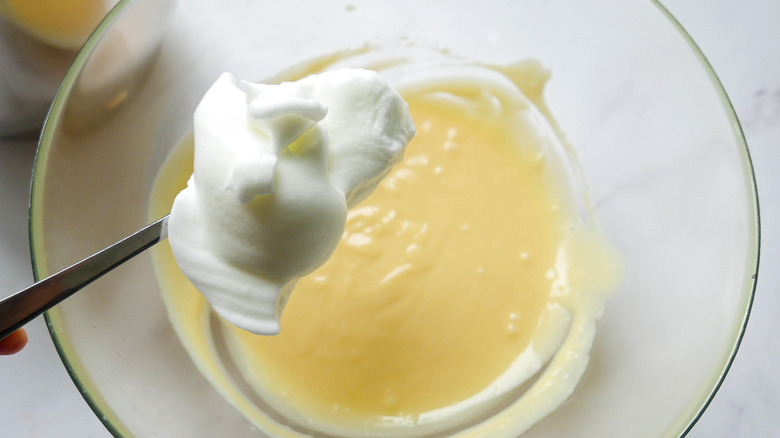 Ting Dalton/Mashed
Now it's time to focus on the egg whites. Place the egg whites into a bowl and use an electric mixer to beat them until stiff peaks form. Stir a heaping tablespoon — like the amount in the image — into the cheese soufflé base, ensuring that the egg whites mix in evenly. Now, using a metal spoon, stir the rest of the egg whites into the base, but try to mix only once or twice per spoonful. Ideally, you want to keep as much air in the egg whites as possible, as that's what gives a soufflé its impeccable light and airy consistency! 
Bake the cheese soufflés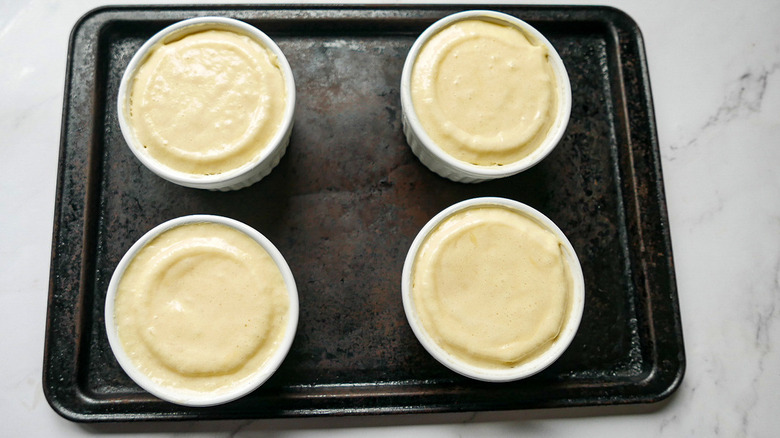 Ting Dalton/Mashed
Place the prepared ramekins onto a baking sheet, then divide the soufflé batter evenly between them. Run a knife along the edge of each soufflé to create a "top hat" effect, as Dalton refers to it. This will help the soufflé bake evenly, and it makes them look even nicer! Now, pop the baking dish into the oven and bake for 12 to 15 minutes, until the soufflés have risen and are springy to the touch. 
It's time to finally serve and enjoy these decadent soufflés. "These taste delicate, airy, and full of cheesy goodness," Dalton raves. And, in case you were wondering, these do need to be consumed fresh out of the oven, otherwise they'll deflate quickly. 
As for pairing options, Dalton suggests to "serve alongside a green side salad," though she also notes that "they're perfect on their own." Considering how cheesy, light, and savory these soufflés are, we think that this recipe will be a total hit in your kitchen. 
Cheese Souffle Recipe
Soufflés get a bad wrap for being particularly difficult to make, but this delicious cheese soufflé recipe may just be the recipe you need to make get it right.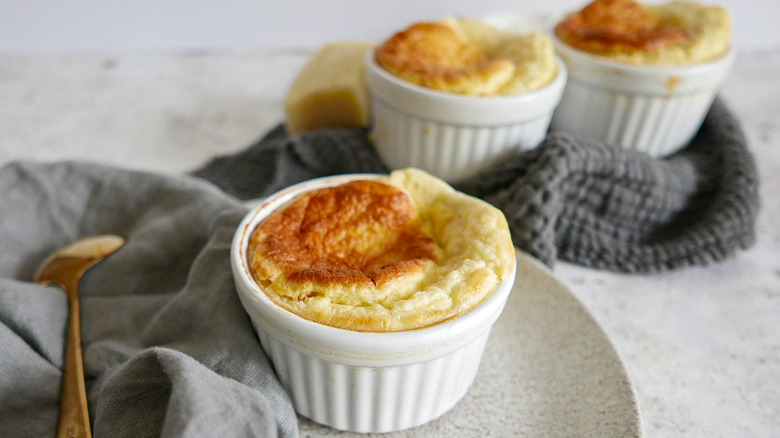 Ingredients
6 tablespoons butter, divided
2 tablespoons finely grated parmesan
4 tablespoons all-purpose flour
1 ¼ cups of milk
½ cup shredded sharp cheddar cheese
4 eggs
Directions
Preheat the oven to 300 F. Use softened butter to grease 4 ramekins until thoroughly coated. Sprinkle 2 tablespoons of Parmesan over the butter so the insides of the ramekins are coated. Tip out any excess cheese.
Heat 4 tablespoons of unsalted butter in a pan over medium heat until melted, then add in the all-purpose flour and stir until smooth. Gradually stir in the milk. Cook, whisking continuously, for 5 mins or until the mixture thickens — this is the base of the soufflé.
Remove the pan from the heat and add the sharp cheddar cheese. Stir until melted, then transfer the mixture to a large bowl. Leave it to cool for 5 mins.
Separate 4 eggs, reserving the whites. Stir the yolks into the cooled cheese mixture, one at a time, until well-mixed. Cover the soufflé base with a cloth and leave it to cool to room temperature.
Put the egg whites in a clean bowl, and using an electric whisk, whisk until stiff peaks form. Stir a heaped tablespoonful of the egg whites into the cheese base until loosened. Carefully stir through the remaining egg whites using a large metal spoon, trying to only stir once or twice per spoonful, taking care to knock out as little air as possible.
Place the prepared ramekins on a baking sheet and divide the soufflé mixture between them. Run a cutlery knife around the edge of each ramekin to create a "top hat" effect. This will ensure the soufflés rise evenly and make them look nice.
Bake in the oven for 12-15 minutes until they have risen well and are springy to the touch. Serve immediately, as they will deflate.
Nutrition
| | |
| --- | --- |
| Calories per Serving | 374 |
| Total Fat | 30.7 g |
| Saturated Fat | 17.7 g |
| Trans Fat | 0.9 g |
| Cholesterol | 233.4 mg |
| | |
| --- | --- |
| Total Carbohydrates | 10.3 g |
| Dietary Fiber | 0.2 g |
| Total Sugars | 4.1 g |
| Sodium | 266.6 mg |
| Protein | 14.4 g |