Why A TikTok User's Attempt To Expose Doritos Was An Utter Fail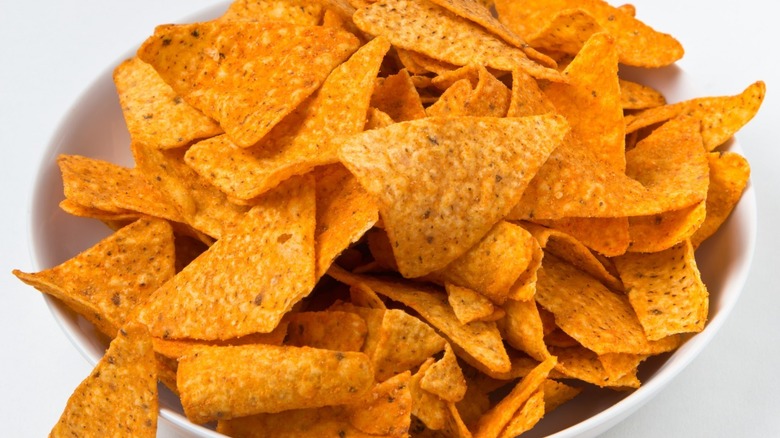 Konmac/Shutterstock
If you're a fan of Doritos, you may be interested to know that the brand partially owes its existence to Disneyland. Per Business Insider, the chips were created when the brand's parent company, Frito-Lay, ran an eatery at the park back in the 1960s. A salesman from the company that provided the restaurant with its tortillas noticed stale tortillas in the trash, and he urged the cooks to repurpose them as fried snacks instead. Frito-Lay executive Archibald West was so impressed with the results that he pushed his partners to sell the chips across the country in 1966 as Doritos.
To this day, Doritos is one of the best known chip brands in the world. It seems that just about every week, it's the subject of social media fodder. Last year, for example, a 13-year-old Australian teenager found a uniquely puffed-up Dorito in her chip bag and shared the news on TikTok, asking others for advice: "Is it valuable or should I just eat it?" reports PerthNow. The company took notice after the clip went viral and people started bidding for the chip, claiming that they were willing to pay as much as $100,000. Doritos decided to reward the teenager with $20,000 for her "love for Doritos." This month, someone has once again used TikTok to talk about Doritos—but their words aren't so glowing.
Most people say they're going to eat Doritos anyway
One social media user recently posted a short video clip on TikTok to show viewers "what Doritos really look like before it's pressed and baked into a Dorito." The user, who captioned the video with sick emojis, was specifically referring to Doritos 3D Crunch, the puffier version of the classic chips. Viewers can spot the user, presumably a Frito-Lay employee, working with the light brown, jiggly dough in the video. Some viewers sided with the poster and seemed grossed out by the sight of the somewhat unappetizing dough. Others were turned off that the user was touching the dough without gloves, and several accused the user of lying about the Doritos-making process.
However, many viewers were unimpressed. "Duh...it's dough, lol," one person said, while several other commenters declared that they'll happily continue eating the chips anyway. A particularly exasperated user chimed in sarcastically, "wait till you find out about bread." Others were focused on a different topic entirely, such as this person who said, "Just put more seasoning."