Instagram Is Impressed By Martha Stewart's 'Bowl Breads'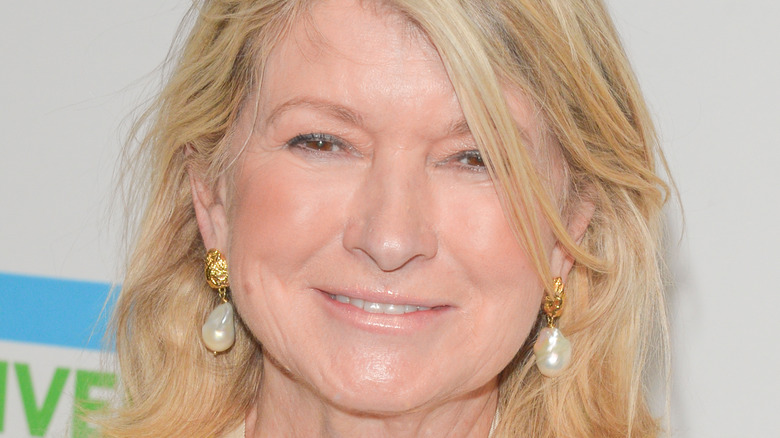 lev radin/Shutterstock
People love bread bowls, the hollowed-out loaves offered a zero-waste option, and are quite filling after soaking up soup or other creative meal contents. But bowl breads are a thing, too, and per Taste of Home, they aren't difficult to make. The outlet shares that you just need to bake a round bread loaf, cut off the top, and then hollow it out. While the basic principles of this dish seem fairly simple, the devil's in the details, and lucky for us Martha Stewart is schooling herself, and us, on bowl breads.
Sharing with her 1.5 million followers, Stewart showed off the breads on Instagram, uploading a few selections she has tested out. She captioned the post "So I got into the Bowl Bread thing: made the original recipe – it was good. Switched flour to whole wheat. It was better." Stewart, however, has not shared the complete details of the recipe — yet.
She displayed four different decadent bowls with post-its containing the ingredients, revealing "My favorite might be the milk /water/dark raisin But that's bread fresh out of the oven."
Stay tuned for the perfected version
The three other bowl breads attempted by Stewart include a buttermilk with golden raisins, a water and walnut, and a half water half buttermilk with dried cherries. She tells followers she's going to give it another whirl, stating "Stay tuned!" Of course, we will Martha!
Followers, 289 so far, have commented on Stewart's take on the bowl breads, not holding back with their excitement over the post. "Omg! I love this so much!!!!! Can't wait to give it a try this weekend!!!" and "Your the BEST you came through for us! Thank You!!" Ellen Pompeo from "Grey's Anatomy" even chimed in commenting "Thanks for the weekend plans." 
One fan doled out appreciation for Stewart, exclaiming  "Maybe one thing I respect the most about you is your relentless quest to keep learning, Martha. Grateful to have years (since your second issue of Living!) to learn from and alongside you!"
A savvy Instagrammer, however, summed up everyone's thoughts best, "Wow Martha! What time should I arrive for the toast tomorrow?"