This Is How Many Chips Are Eaten During The Super Bowl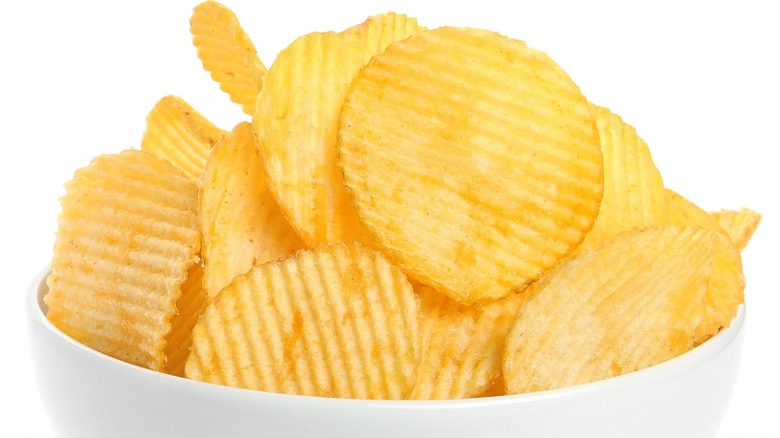 New Africa/Shutterstock
The Super Bowl has long been one of the most important food holidays of the year in the United States — behind, of course, Thanksgiving. However, the football celebration is a different kind of food holiday;  Super Bowl recipes focus more on snacks and appetizers than the massive bird sitting front and center at the table. Millions of people gather to watch the big game. According to Sports Media Watch, more than 100 million people tuned in to watch the Kansas City Chiefs beat the San Francisco 49ers in 2020. Every year, as early as a month before the game, recipes for the best appetizers are floating all over social media, food blogs, and television.
Popular appetizers such as buffalo wings and dips are favorites on the menu, and pizza is a big hit. Domino's once said in a statement, per Fortune, that it sells about 2 million pizzas on Super Bowl Sunday, which is roughly 30% more than its typical Sunday sales. That might sound like a lot until you realize how many pounds of chips are consumed on this unofficial national holiday.
Millions of pounds of chips are consumed each Super Bowl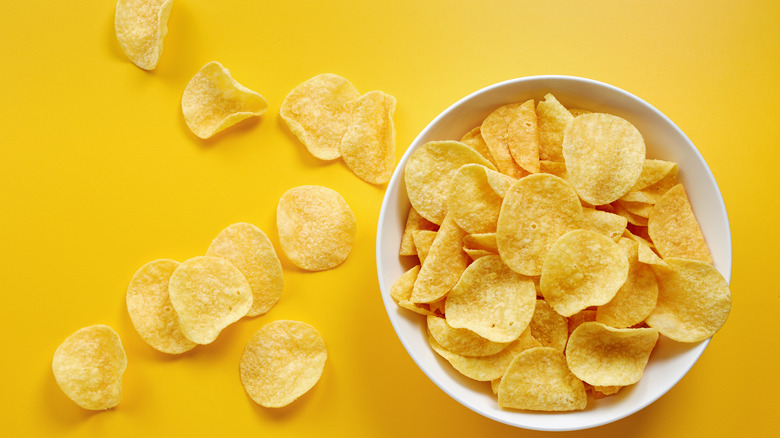 Melica/Shutterstock
While the cooked appetizers might be the ones people really look forward to, we can't forget about another major Super Bowl staple — chips and dip. Potato chips come in plenty of varieties these days, and they are one of the most popular Super Bowl snacks, with Tiger Fitness reporting that Americans consume a whopping 11.2 million pounds of chips each year on that special Sunday.
Chip consumption isn't the only surprising statistic. Tiger Fitness also reports that Americans eat roughly 1.3 billion (yes, billion!) chicken wings each Super Bowl, too. And it doesn't stop there. Nearly 140 million pounds of avocados, plus roughly 325 million pounds of beer are consumed each year as well. Perhaps the most surprising of them all is that 12.5 million pounds of bacon are eaten each Super Bowl, too, though it's likely in the form of appetizers such as bacon-wrapped jalapeño poppers.