Subway's New Sandwich Is Perfect For Rotisserie Chicken Fans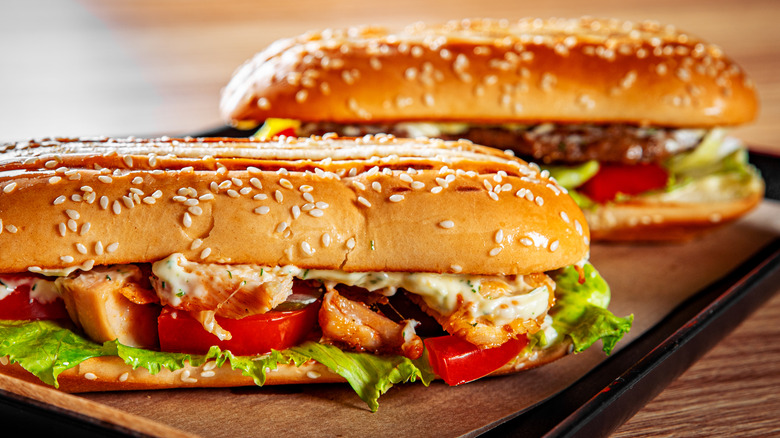 siamionau pavel/Shutterstock
When lunchtime rolls around, more often than not, a good ol' sandwich is many people's meal of choice. If you don't have time to prepare your meal, you can rest assured that a sandwich is never too far away — thanks to Subway, of course. What started out as the brain child of college freshman Fred DeLuca, who was only 17 years old at the time, is now the largest fast-food chain in the world based on footprint (via The Daily Meal). Subway serves 7 million sandwiches per day, which is almost enough to feed the entire populations of Los Angeles, Dallas, and Chicago altogether, as noted by Franchise 500. While Subway doesn't always get the best reviews, it must be doing something right.
One of the best things about this Connecticut-born chain is their wealth of menu options. Whether you are craving something warm and toasty like the Chicken Pizziola or something hearty like the Steak & Cheese sandwich, there are no shortage of choices to pick from. If you are a fan of Subway's classic rotisserie chicken, you're in luck! The home of the footlong just unveiled an all-new chicken-based sandwich that it is excited to share with the world.
The Honey Mustard Rotisserie Chicken is piled high
Subway's new mantra in 2022? "New Year, new choices"! To kick-start 2022, this sandwich-based chain just unveiled a new chicken sandwich: the Honey Mustard Rotisserie-Style Chicken Sandwich. According to Chew Boom, this all-new sandwich includes lettuce, spinach, tomatoes, cucumbers, green peppers, red onions, rotisserie-chicken, and honey mustard on multigrain bread. Along with this honey mustard and chicken number, Subway has also debuted two new sandwiches as a part of their 2022 rollout: the New for 22 Subway Club Sandwich and the Baja Turkey Avocado Sub, as announced on Instagram.
To continue spreading the sandwich love, Subway has also announced an all-new deal to coincide with their new menu items. If any of Subway's three new sandwiches strike your fancy, each one can be purchased at 15% off in the form of a footlong. This deal will be available until March 27, which makes this the perfect time to sample one of Subway's New for 22 menu items. The 15% off discount is limited to one use per order and can be applied on the app or online with the promo code "15OFF."