Here's Why You Need Almond Butter In Your Pantry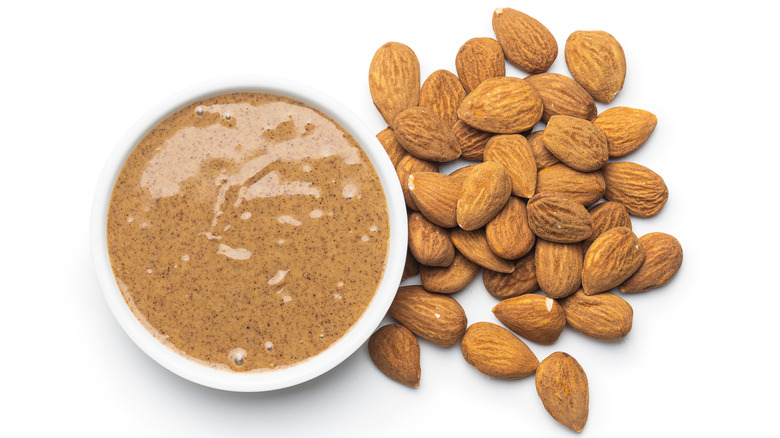 Jiri Hera/Shutterstock
If you're a fan of peanut butter, you need to include almond butter in your pantry. Like peanut butter, almond butter is a nut butter made from blending almond into a paste, often with additional oils and sweeteners. Almond butter is incredibly versatile and can easily be swapped into most recipes that call for peanut butter to add a slightly different nutty flavor. According to Self, "you can cook, bake, and swirl almond butter into almost anything. Savory dipping sauces, nutty salad dressings, three-ingredient cookies, even soups and curries — almond butter can take all of these things to the next level." 
Peanut butter can be savory, but it's primarily used for sweet applications. While it can also be sweet, almond butter can shine bright in savory recipes. "I love the nutty, savory flavor of almond butter and use it in a ton of different ways," Kevan Vetter, executive chef and director of Culinary Development for McCormick, told MSN. "Make a sauce with almond butter, coconut milk, ginger, garlic, crushed red pepper, and soy for a quick stir-fry sauce for veggies or to create a hot or cold noodle bowl."
Almond butter is heathy and delicious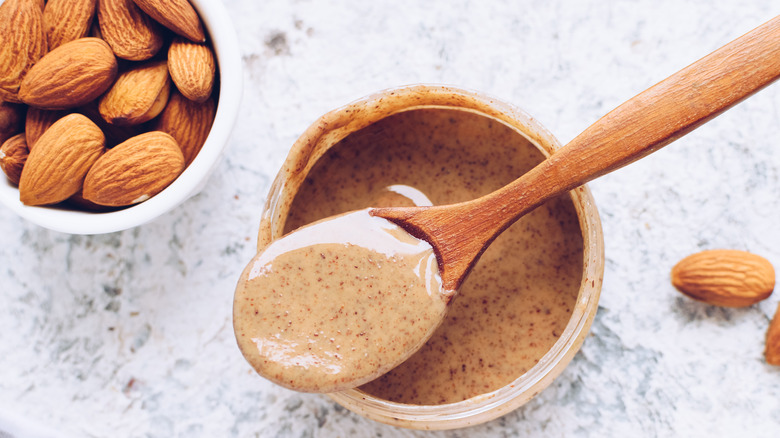 Nelli Syrotynska/Shutterstock
Almond butter is popping up more and more recently, and it's easier than ever to find it at most grocery stores. As Whole Foods Market noted, peanut allergies are more common than ever, so alternate nut and seed butters are great replacements for the classic peanut butter. 
Almond butter is also lauded for its health and nutrition benefits. As Healthline says, almond butter does slightly edge out peanut butter in nutritional benefits due to its additional vitamins, minerals, and fiber. Almond butter is also loaded with protein, which is great for people who are plant-based. Clean Plates reports that compared to meat, almond butter has an equivalent amount of protein as animal-based protein sources but also contributes healthy fats, fiber, and other necessary minerals, making it great for anyone looking to make a few healthier swaps in their diet. 
If you've never bought almond butter before, Does It Go Bad says it doesn't necessarily have to be refrigerated, but it can be if there's a chance you won't finish it in six months or less. But be warned, refrigerating almond butter can make it hard and difficult to spread.