Tyson's New Chicken Nuggets Are Perfect If Your Valentine Is A Kid At Heart
It's no surprise when food companies resort to gimmicks to attract a crowd. A Burger King in the U.K. once had a stunt that involved a $190 burger that they only sold one day a week. Nathan's Famous Hot Dogs enlisted the help of a gigantic dead whale to try to boost sales of their hot dogs. Even pizza places like Pizza Hut have had their fair share of schtick, from putting together two pizzas in Singapore locations to the P'Zolo concoction to compete with sandwich chains.
Food companies selling their products in grocery stores also have their tactics to draw people to their brands. The simple act of making plant-based versions of their products has been a very successful option in recent years to appeal to a wider customer base. But when it comes to fun holiday fare, this year a fan favorite is also offering a seasonal option they're hoping fans will love. For Valentine's Day, beloved Tyson chicken nuggets are getting a bit of a makeover in the shape of a heart, perfect for any Valentine that loves a plate of these tasty bites.
The perfect meal for anyone who hearts Tyson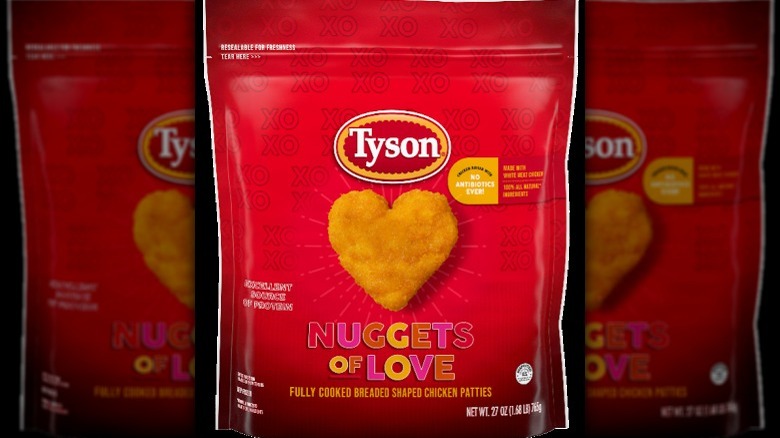 Tyson
While customers are used to the normal oval shape of chicken nuggets, Tyson is inviting fans to embrace a new shape during this season of love, with the chicken bites available in the form of Valentine's Day-themed hearts, per a press release. If your sweetheart is young at heart — or likes a good meal at home rather than going out — Tyson's newest Nuggets Of Love will definitely hit the spot. 
These heart-shaped bites not only bring the feels of the loved-themed holiday, but they have an added surprise opportunity — and its not just that they are made with the same 100% white meat chicken the Tyson's brand promises. The brand also hosted a giveaway to give lucky fans sauce styluses for adding colorful love notes on each nugget, like chicken conversation hearts.
"Our Nuggets of Love are a fan favorite, and this year we wanted to do something extra saucy for our millions of fans," Colleen Hall, senior director of marketing for Tyson, said in a press release. "This Valentine's Day, nothing says love better than a warm, yummy chicken nugget."