Ruffles' New Collab With LeBron James Is Hotter Than Ever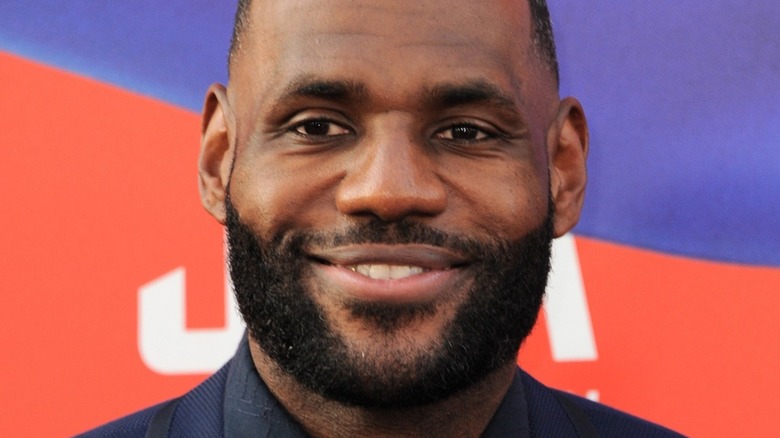 Tinseltown/Shutterstock
NBA star LeBron James is no stranger to collaborating with big-name food brands. Back in 2021, James teamed up with Pepsi to appear as the face of its Mtn Dew Rise energy drink, per CNBC. The basketball player has also repped Blaze Pizza, and CBS News noted that he has worked with McDonald's and Coca-Cola. James can add one more notch to his belt with his latest collaboration with Ruffles and this one might prove to be his spiciest team-up yet.
According to a press release published by PR Newswire, James is now repping Ruffles' latest creations — Ruffles Flamin' Hot Cheddar & Sour Cream Flavored Potato Chips. Anyone familiar with Flamin' Hot Cheetos already knows what this chip has in store for buyers. The flavor combo still features the classic cheddar and sour cream combo that James notably loved growing up, but the new version features an extra spicy kick that matches the new product line Ruffles has recently rolled out. These new chips join Ruffles Flamin' Hot and Ruffles Flamin' Hot BBQ chips to expand the snack line out even further.
A new take on spicy chips
According to the Frito-Lay press release (via PR Newswire), the chips should hit shelves in early February and come in 8.5-ounce bags or 2.5-ounce bags. The larger size retails around $4.79, while the smaller sack goes for $1.99. Fans who want a little more Lebron James with their snacks can try to pre-order bags that display James on the packaging. As explained on Snacks.com, there's a 10-bag purchase limit on each order, and only 1,000 bags are available.
The Ruffles brand has a history of dishing out chips alongside NBA stars. Jayson Tatum sponsored Ruffles Flamin' Hot BBQ chips, while Anthony Davis lent his name to Ruffles Lime & Jalapeno chips. The new flavor proves especially poignant to James. "As a kid growing up in Akron, I never imagined where I'd be today, let alone creating a new chip flavor that I know will bring excitement to fans all over," the NBA player said." It goes to show how learning to own your ridges can change your life, and I believe it's so important for future generations to understand and embrace what makes them different." 
James arguably captured this idea in an ad for Ruffles which featured the Kendrick Lamar song "DNA." In December, he shared the commercial on Twitter, and some fans responded positively. In addition to garnering more than 9,000 likes, the post received such comments as "This is why LeBron is the greatest player of all time."