The Reason These Wish-Bone Salad Dressings Are Being Recalled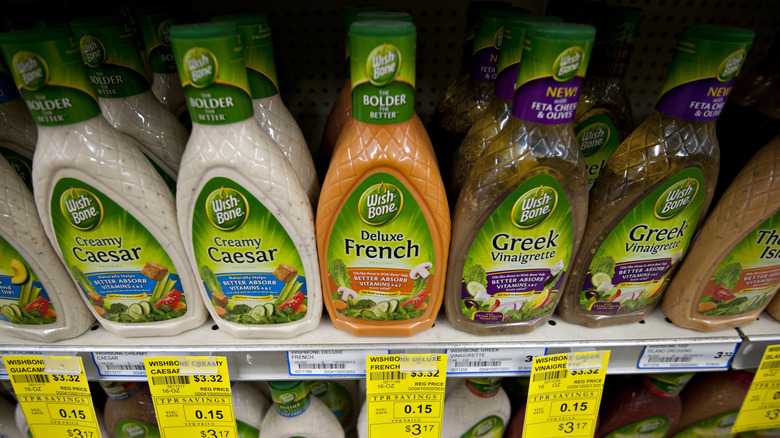 Bloomberg/Getty Images
Major food company Conagra Brands, Inc. has recently announced it is recalling two Wish-Bone brand salad dressings due to a potential allergen. According to the U.S. Food and Drug Administration, the affected products are Thousand Island salad dressing and Chunky Blue Cheese salad dressing in both 15- and 24-ounce bottles. In concert with retailers, Conagra Brands is trying to see to it that all recalled dressings are pulled from store shelves. The reason for the recall is that the dressings contained eggs, but the ingredient was not listed on the product labels. Eggs could potentially make those with egg sensitivities or allergies sick. Thus far, the recall has not been linked to reported illnesses.
There are a number of identifiers customers can look out for. The 15-ounce bottles of Wish-Bone Thousand Island dressing have the UPC code 0-41321-00645-6, Batch/Lot codes 4254200620 and 4254200720, and best-by dates of January 31, 2023, and February 1, 2023. The  24-ounce bottles come with the UPC code 0-41321-00731-6, Batch/Lot code 4254201720, and a best-by date of February 11, 2023. The 24-ounce size of Wish-Bone Chunky Blue Cheese salad dressing is being recalled. It can be identified by the UPC code 0-41321-00691-3, the Batch/Lot code 4254201320, and a best-by date of November 9, 2022.
Egg allergies can cause serious illness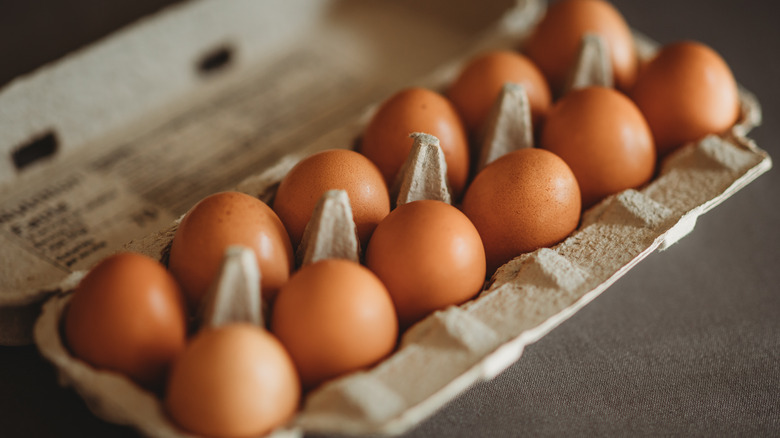 MaryShutterstock/Shutterstock
Around 2% of children are thought to have an allergy to eggs, making it one of "the most common food allergies" among young people, according to Food Allergy Research & Education. While it is common for children to outgrow this allergy as they get older, not everyone does. Those with egg sensitivities who consume the ingredient could experience mild reactions, including hives, rashes, and nasal congestion. But consumption can also lead to serious and even potentially fatal reactions like anaphylaxis, according to the Mayo Clinic. Possible signs of an allergic response include nausea, vomiting, cramps, shortness of breath, and coughing.
Therefore, to avoid risking exposure to a potentially dangerous allergen, customers who have any of Wish-Bone's recalled salad dressings should get rid of them, per the U.S. Food and Drug Administration. For more information, customers can reach out to Conagra Brands Consumer Care with questions by calling 1-800-881-3989 on weekdays from 9 a.m. to 5 p.m. CST, or by sending an email to Consumer.Care@conagra.com.