This Pasta Hack Will Give You The Prettiest Valentine's Day Dinner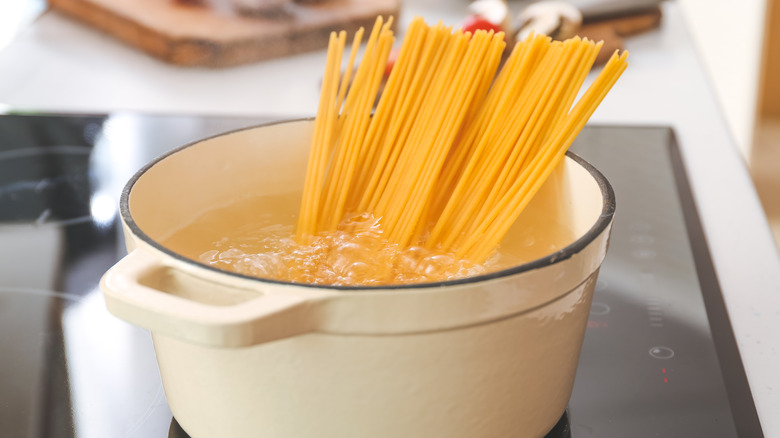 Pixel-Shot/Shutterstock
Let's be honest: There are those of us who flat-out refuse to join in on anything that could possibly be mistaken as being festive just for the sake of a holiday. And then there are those of us who will use any designated calendar day as an excuse to theme it up. If you're in the latter group, then bring on the pink sweaters, heart-shaped candies, and sappy cards. Valentine's Day is right around the corner, and it's your chance to celebrate love as loudly or low-key as you want.
If your Valentine's Day plans involve making dinner, you won't have to cover the table in Cupid-shaped confetti to get in on the spirit of the holiday. Cooking, after all, is an act of love — and self-love! If you're looking for ideas on what to make, Barilla might just have your solution. The company shared a pasta recipe perfect for the occasion, and it has a colorful twist.
Add red wine to linguine to create picture-worthy, pink noodles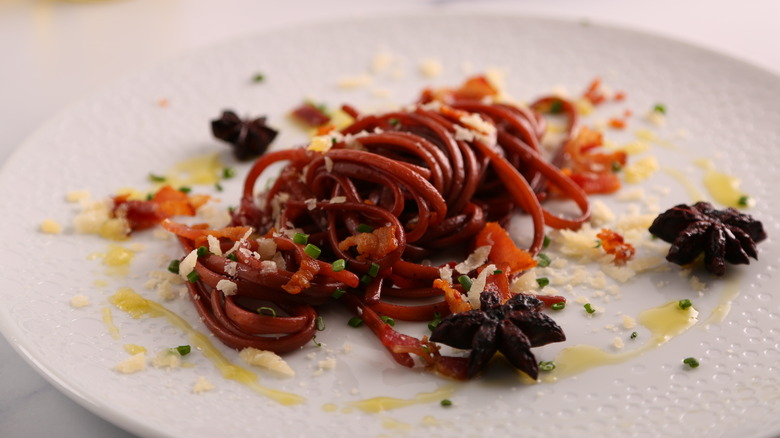 Barilla
Wine and pasta are a perfect dinner pairing any night of the year. But putting wine in the pasta can create a vibrant dish surprisingly fit for Valentine's Day. Barilla's executive chef, Lorenzo Boni, has created a recipe for red wine linguine that uses wine to create a rosy-hued pasta. Boni posted a video, along with the recipe for making the dish, on Instagram, where he explained that chianti is used to give the red wine linguine "a natural pink hue that tastes as good as it looks."
In a press release from Barilla, Boni shared some extra tips for making this picturesque dish. He recommends using fresh spices, as "spices lose their aroma over time." He also emphasized reducing the wine to lessen the alcohol content but keep the chianti's aromatic and acidic components. 
Beyond being a feast for the eyes, red wine linguine features butter, bacon, and Parmigiano cheese, which are sure to be a hit for your taste buds, too. Whether you've got a date, you're cooking for the fam, or you're just cooking for the 'gram, this red wine linguine is sure to impress.